When one thinks of sabudana, vadas and khichdi come to mind.
Taruna Deepak shares an interesting recipe for an enticing appetiser from sago pearls.
Spicy, vegan and gluten-free these Sabudana Kebabs can be had on days of fasting or served for cocktail nights and parties as well.
Make the mixture ahead, and you'll just need to pan-fry them before dinner.
They can be had with a mango dip or green chutney.
Taruna lives in Mumbai and gave up a corporate job to raise her child and blog on food.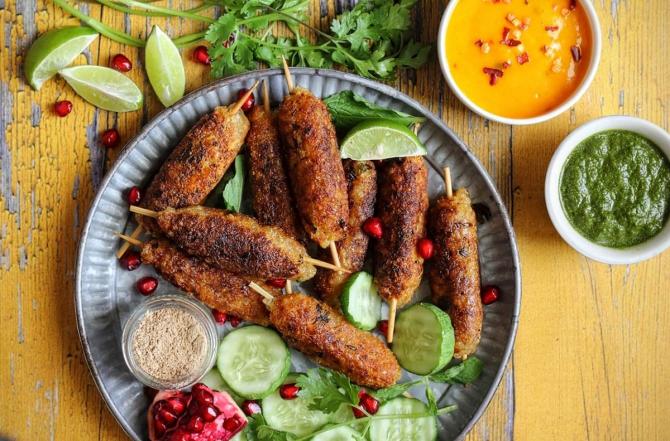 Sabudana Kebabs
Serves: 3-4
Ingredients
½ cup sabudana or sago pearls
1 large potato, boiled
1½ tsp finely chopped ginger
1½ tsp finely chopped green chillies
3-4 tbsp peanuts, roasted
¼ tsp red chilly powder
¾ tsp dhania or coriander powder
¾ tsp jeera or cumin powder, roasted
½ tsp garam masala
2 tbsp roasted besan, only if required (or use singhada or rajgira aatta or amaranth flour)
2-3 tsp lime juice
1 tbsp chopped green dhania or coriander or cilantro
Oil for frying
4 bamboo skewers (soaked in water for 15-20 minutes)
½ tsp salt
Chaat masala
Green chutney
Mango dip or chutney, optional
Method
Wash the sabudana in water 2-3 times.
Discard the water and soak the sabudana in ¾ cup clean water for at least 3-4 hours.
To check whether the sabudana is soft enough, simply press a sabudana pearl between your forefinger and thumb.
It should flatten easily with the pressure.
Drain the sabudana using a sieve.
Keep aside for at least 30 minutes.
Transfer onto a flat plate and spread it out to get rid of extra moisture.
Peel and mash the potatoes.
Keep aside.
Rub the roasted peanuts between your hands to get rid of the skin.
Discard the skin and coarsely grind the peanuts in a blender.
In a mixing bowl, add the sabudana, mashed potatoes, ground peanut powder, chopped ginger, green chillies, red chilly powder, coriander powder, cumin powder, garam masala, salt.
Add the fresh coriander and the lemon juice.
Mix everything together without over working the mixture, else the potato and sabudana will release starch and make the mixture sticky.
Ensure that the mixture is neither dry nor sticky.
If the mixture is dry, if it is not binding well, you probably need to add some more mashed potatoes.
If it is sticky, add some roasted besan.
Moisten your hands and roll the mixture into small 1½-inch balls.
Insert the skewer right into the centre of the ball and then using your fingers, spread the mixture over the skewer (length-wise) to create a cylindrical shape.
Repeat process with all the skewers.
Set the kebab skewers aside on a greased plate.
Heat a frying pan or skillet over medium-high heat.
Add 2 tbsp of oil and place the skewered sabudana kebabs in the pan to cook.
Cook the kebabs in batches.
Flip the skewers so they cook evenly.
Fry the kebabs till golden brown.
Add more oil if required.
Once done, take out of the frying pan and transfer onto a plate.
Sprinkle with chaat masala and serve with green chutney or a mango dip and slices of cucumber on the side.
Editor's Note: Make mango chutney using Mayur Sanap's recipe.
To make green chutney from scratch, use Lahu Kapudskar's Green Chutney recipe.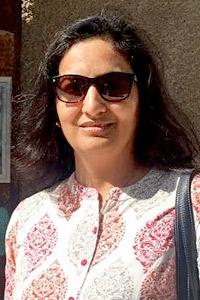 Taruna Deepak lives in Mumbai and is the creator of the food blog Easyfoodsmith.