If you are planning breakfast in bed over the weekend, keep it nutritious with a cuppa chai/coffee or fresh fruit juice and one of these delectable recipes by Chef Sabyasachi Gorai.
Chef Saby's wondrous cooking always has an eye on the bottomline -- health.
Pancakes With Fresh Fruits
Serves: 2-3
Ingredients
1 papaya or a handful of strawberries or a sliced bananas
1½ cup maida or all-purpose flour
2 tbsp granulated sugar
1 tbsp baking powder
¼ tsp salt
½ cup mashed, ripe banana
11/3 cups no-fat milk
1 egg
½ cup chopped walnuts
Maple syrup or honey, optional
Oil or butter for the griddle or skillet or a frying pan
Method
Peel and halve the papaya.
Scrape out the seeds.
Cut it into ½-inch chunks.
Keep aside.
Rinse and pat dry the strawberries with a paper towel.
Slice them and keep aside for the topping.
In a medium bowl, mix together the flour, sugar, baking powder, salt.
Keep aside.
In a large bowl, whisk together the ripe banana, milk, egg, chopped walnuts.
Stir in the dry ingredients and whisk until the mixture is almost smooth.
Some lumps in the batter are okay.
If the batter seems too thick, add a bit more milk.
Heat a griddle or skillet, preferably non-stick, until medium hot (a few drops of water sprinkled on it should sputter before evaporating).
Brush with a little oil or butter.
Spoon the batter onto the griddle, using about ¼ cup batter per pancake.
Cook for about 2 minutes, until the surface is dry and full of bubbles.
Turn and cook up to 1 minute longer or until golden brown.
Keep the pancakes warm in low heat oven.
Serve hot with a topping of strawberries or papaya or bananas or all three.
Drizzle maple syrup or honey, if preferred.
Editor's Note: For gluten-free pancakes substitute the maida with ragi flour.
For sugar-free pancakes, substitute the sugar with stevia powder. Each brand of stevia has its own stevia for sugar substitution ratio provided on its packing.
For no-sodium pancakes skip the baking soda and salt and instead of adding the egg all together, separate and beat up the egg white. The pancakes will be flatter but just as delicious, although the whipped egg white will add fluffiness.
To veganise this recipe, swap the eggs for flax seeds -- 1 egg = 1 tbsp ground flax seeds + 3 tbsp water. Use cashew butter instead of regular butter and almond milk instead of no-fat milk.
---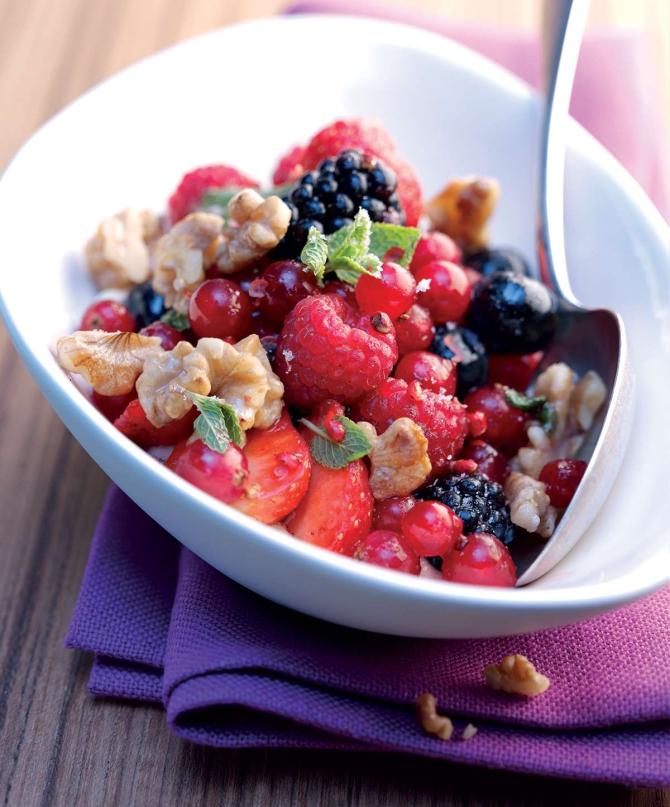 Walnut Berry Salad
Serves: 2-3
Ingredients
750 gm mixed berries like strawberries, raspberries, mulberries, red currants, blueberries and blackberries
1 vanilla pod or 1 tsp vanilla essence
1 tbsp sugar
Pinch freshly grated nutmeg
½-1 tsp crushed pink or regular black pepper
50 gm walnuts
½ bunch fresh mint
Method
Rinse the berries, pat dry and transfer into a bowl.
Cut the strawberries in half.
Cut open the vanilla pod lengthwise and scrape out the soft pulp and keep aside.
In another small bowl, mix the vanilla pulp or essence with sugar, nutmeg and the crushed pink/regular pepper and add to the fruit.
Add the sugar to the bowl of berries and mix together.
Chop up the walnuts roughly and roast them in a small frying pan over low heat.
Leave them to cool on a plate.
Wash the mint, shake dry and pluck the leaves from the stalk.
Mix walnuts and mint with the berries.
Serve.
Chef Saby's Note: This salad also goes well with vanilla ice-cream, whipped cream or vanilla custard.
Editor's Note: For sugar-free pancakes, substitute the sugar with stevia powder. Each brand of stevia has its own stevia for sugar substitution ratio provided on its packing.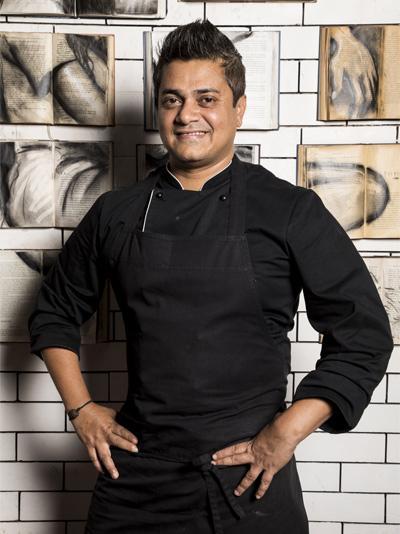 Chef Sabyasachi Gorai is a consultant chef and mentor.