A rich and mouth-watering palak kofta recipe from Chef Hari Ballabh Singh of Tradition Saffron, Ozen Reserve Bolifushi's Indian hotel in the Maldives.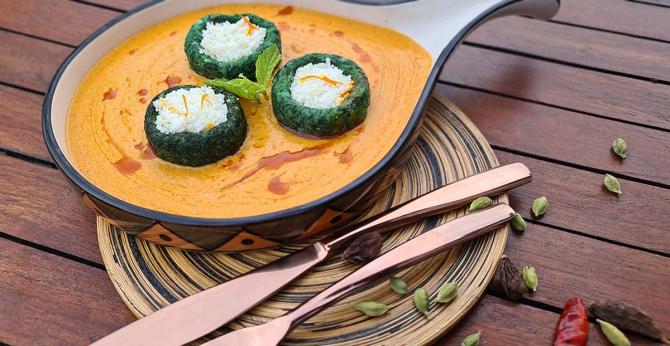 Anjeer Aur Palak Ka Kofta
Serves: 3-4
Ingredients
For the kofta
250 gm palak or spinach, rinsed and drained
120 gm dried anjeer or figs

50 gm onion paste

1-2 green chillies, chopped fine
2 medium-sized potatoes, boiled, peeled and grated
100 gm paneer, grated
½ tsp ginger paste
1 tsp besan or gram flour
Salt to taste
Dash of black pepper powder
Oil, for frying
Kesar or saffron strands, to garnish
A little crumbled paneer for garnish
For the gravy
220 gm tomatoes, roughly chopped
1-2 medium-sized onions, sliced
15 ml oil, for frying
½ tsp jeera or cumin seeds
2 green chillies
75 gm cashew nuts
2 garlic pods
20 gm ginger
½ tsp Kashmiri chilly powder
Pinch of garam masala
Salt to taste
A little water for the gravy
50 ml cream
1-2 tsp kasuri methi or dried fenugreek leaves
20 gm green dhania or coriander or cilantro
Method
For the kofta
Soak the figs in a bowl for 3-4 hours.
Drain the excess water and chop into small pieces.
Keep aside.
In a heavy-bottomed saucepan heat water.
Blanch the spinach for a few minutes in the heated water, strain in a colander and place in a bowl of ice water.
Squeeze the blanched spinach to remove as much as water as possible and puree in the blender.
In a bowl combine the grated potato, paneer, spinach, gram flour, green chilly, ginger, onion paste, salt and pepper.
Mix well.
Divide into equal parts and roll into balls.
Using your palms, flatten the centre portion of these balls.
Place a few fig pieces in the centre and press them down and close the ball, so that they stay intact during frying.
Heat the oil in a heavy-bottomed frying pan or kadhai and fry the balls in batches until golden brown.
Drain excess oil and transfer onto a plate lined with tissue or a paper towel.
Add the crumbled paneer on top and garnish with a few strands of saffron.
For the gravy
Heat the oil in a heavy-bottomed pan and add the cumin seeds.
When the cumin browns a little add the onions and saute.
Add the cashew nuts, ginger, chilly, garlic and stir fry for 3-5 minutes.
Add the tomatoes and simmer for 10-12 minutes or till the tomatoes are completely softened.
Add the chilly powder, garam masala and salt.
Taste for seasoning.
Take off heat, cool, transfer into a blender or mixer and grind to a fine paste.
Strain through a sieve and return the mixture back into the pan.
Cook over low heat and add little water.
Add the cream and kasuri methi.
Carefully add the kofta and garnish with the chopped coriander.
Serve warm with rice or roti.