Is he the coolest world leader we have?
Justin Trudeau helps prepare the Pongal meal.
He has earlier helped prepare chapatis for a langar in a gurdwara.
Photograph: @JustinTrudeau/Twitter.
Canadian Prime Minister Justin Trudeau in Indian wear is not an uncommon sight.
He has worn kurtas to a gurdwara, to Diwali celebrations, to India Day parades and even done the bhangra wearing one.
But he did even better at the Pongal celebrations in Toronto this year when he attended the event in the traditional south Indian veshti.
Tweeting photographs from the event, he wrote, 'Iniya Thai Pongal Nalvazhthukkal! Had a great time celebrating Tamil Heritage Month and Thai Pongal in Scarborough this evening.'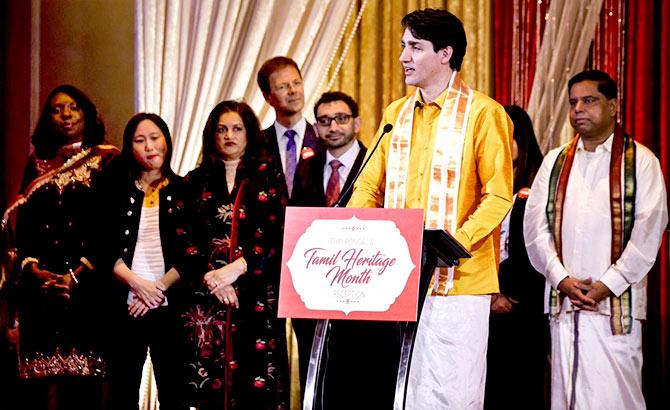 The Canadian Parliament decided to celebrate January as Tamil Heritage Month in 2016.
Trudeau had earlier issued a statement on Thai Pongal, saying, 'Today, Tamils in Canada and around the world mark Thai Pongal, the Tamil harvest festival...
'In January, we also mark Tamil Heritage Month, and reflect on the important contributions of Canada's Tamil community. Tamil Canadians help make Canada stronger, more open, and more inclusive.
'As we move forward together in 2018, let's continue to honour those values, and work to make Canada an even better, more inclusive place to live.
'On behalf of the Government of Canada, Sophie and I wish everyone celebrating a very happy Thai Pongal.'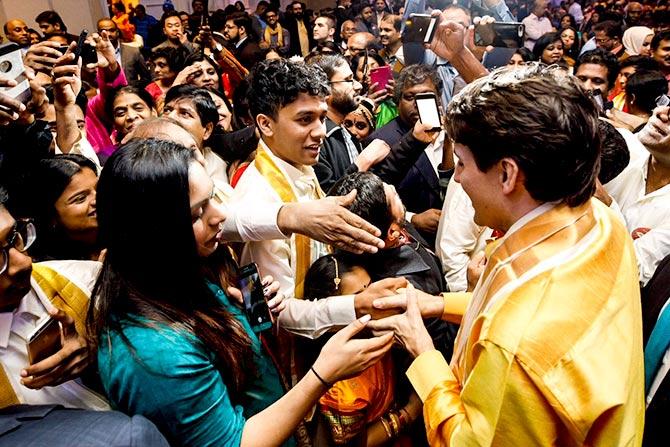 Canada has a significant Tamil population.