There is so much all of us Indians need to learn from the Northeast.
The region is not only about spellbinding beauty. Certainly, the Northeast is visually bewitching. Its allure will keep beckoning you back like a siren.
But there's more. The everyday life of its people offers little secrets on how to live.
That's key in our era where knowledge of the art of unspooling our lives graciously has slipped away.
Rediff.com's Rajesh Karkera, on the fifth and final leg of his 1,800 km, 10-day Mahindra Adventure-organised road/offroad journey through Assam, Arunachal Pradesh and Meghalaya, returned to Mumbai with warm memories of the simple-hearted folks he met, the glorious food he tucked into and the sights he saw.
He came home too with memories of a more ideal life and a better society.
Of floating down still water rivers, sparkling clear, and venturing into clean countryside, unsullied by pollution and too much development.
Of understanding why the Khasis prefer primeval living root bridges and sacred forests to the ugly concrete monstrosities we surround ourselves with.
Of the enchantment of seeing an open Indian border, unguarded by soldiers or barbed wire; the way a border should be.
Of tuning into the music that hangs, almost celestially, in the air of Shillong.
Of peeking into the soul of the Northeast.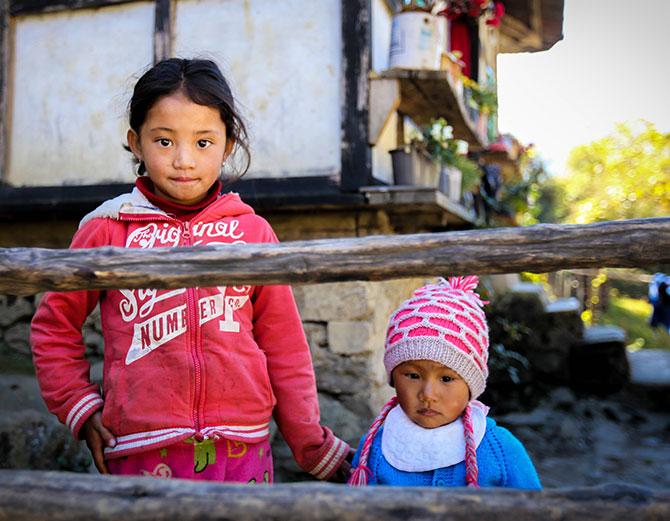 Leg 5: Kaziranga to Shillong, 307 km, 7 hours of driving, plus rest stops, and back to Guwahati, 105 km, 2.5 hours driving, plus rest stops
After our rendezvous with the rhinos of Kaziranga, we headed due southwest, out of Assam's vast grasslands into the dense tropical jungle state of Meghalaya and onto Shillong, located 302 km southeast.
The team gathered that morning at 7.30 am. We had an eight hour drive ahead of us, we were told.
The first halt was at Amoni, still inside Assam but close to the state border, 70 kilometres away.
Group leader Vikram Kapur and Vinod Nookala of Mahindra Adventure added that a live music, by a talented local singer, awaited our arrival in Shillong.
It was going to be a total -- literally -- a rocking day and a swinging evening ahead.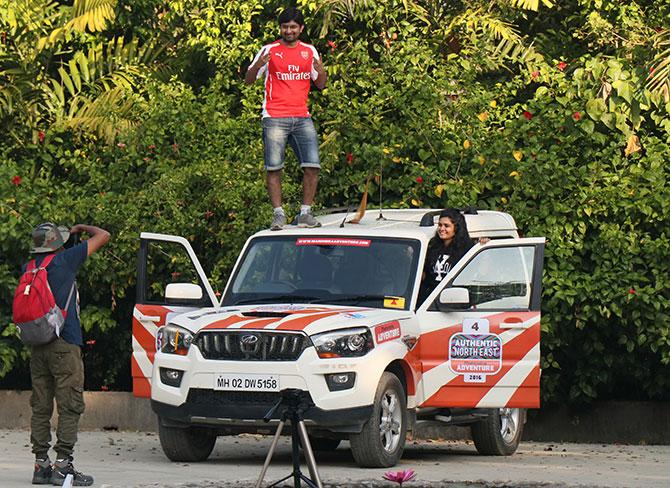 A quick photo session ensued before the convoy of 20 vehicles, no worse for having traveled 1,393 km through snow too, bumped back onto the highway. (We were later presented with framed copies of the pics, with our certificates.)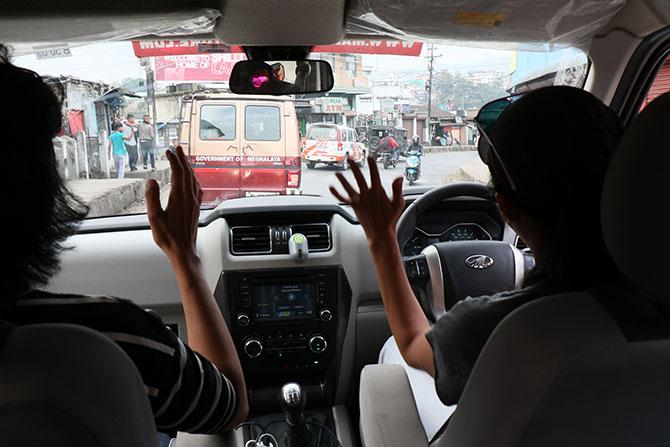 It was totally smooth sailing for our trusty Scorpio.
A nice, flat ribbon of a highway right up to luscious Shillong where we encountered, a few kilometres from our destination, our first traffic jam in daaaaaays!
After so many days away from Mumbai I had forgotten what traffic jams even looked like :/
Poinisuk Hotel, where we were booked, was quite different from all the other hotels we had checked into earlier on this trip.
Situated smack in the middle of one of the busiest areas of Shillong, called Laitumkhrah, parking all our roadsters there took an age.
Poinisuk, which meant 'welcome to comfort' in Khasi, the concierge told me, was a cosy, neat, clean and small place to stay. On this journey we had stayed in quite a variety of hotels.
After the eight hour run, we werent ready to turn in and wanted to stretch our legs. We chose to sample Shillong's famous dumplings at the cute The Hut opposite our hotel.
Excellent pork and vegetable dumplings, accented with local spices. The Pork Chilly was even better. Out of this world.
Another good reason to come to visit Shillong, folks. I have never eaten Pork Chilly as good as this.
The evening performance was put up by a multi-talented local singer, who sang, played the keyboard and his guitar, at the same time.
He was Kupar, a Khasi who hailed from the Jaintia Hills. He sang lovely renditions of both Hindi and Western songs, with that exclusive Shillong lilt to them. Blowing in the Wind, Pehli Nazar Mein Kaise Jaadu Kar Diya, sang with a fusion touch (please see video below).
Dancing too started up. No one was left sitting! Ultimately we had to be told to shut down.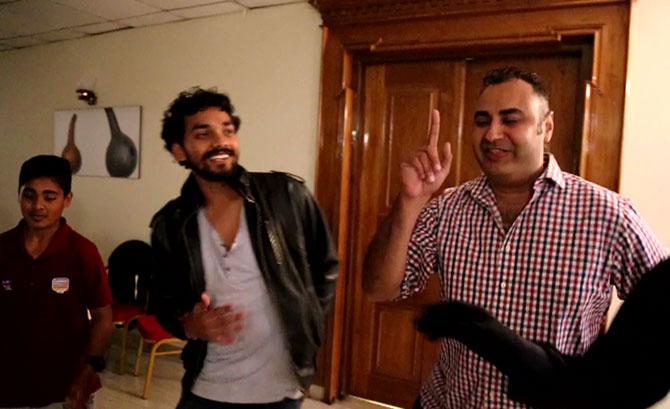 Do you know what's so attractive about Shillong?
There's music in the air.
Everywhere in Shillong!
You actually felt the influence of music on this town.
Youngsters seemed to have given their souls to music.
Trucks and vehicles sported Bob Marley, Michael Jackson and Kishore Kumar stickers.
I walked through a traffic jam and heard numbers from the 1980s wafting from a truck carrying local alcohol.
Lovely.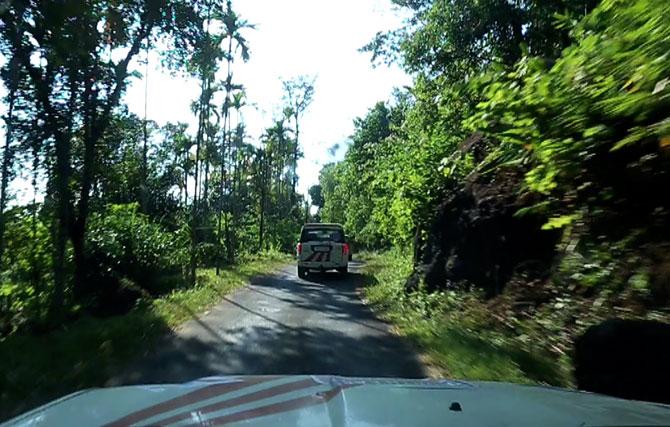 The next day afforded a chance to explore other parts of Meghalaya.
The convoy divided up into two teams.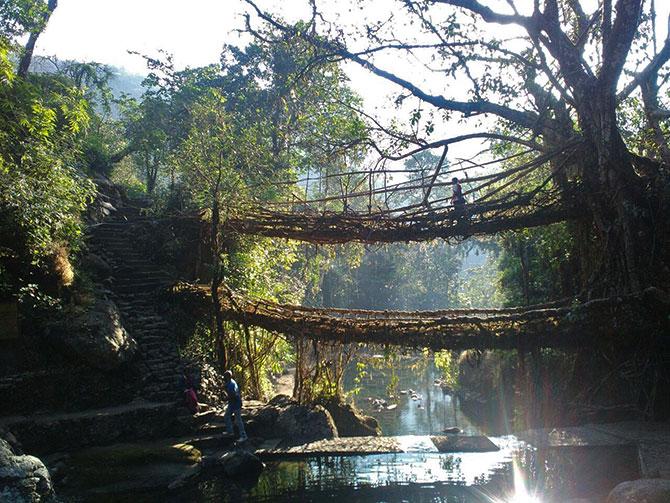 The first headed out 5 am for a trek to the double-layered root bridges at Nongriat village (above).
The second opted to laze around and started out at 10 am. I joined the Lazy Latifs.
Waking up late in Shillong too had its perks. We missed out on a four hour trek but saw gorgeous places closer.
We set out -- four to a vehicle -- for Dawki, on the banks of the Umngot river.
Fantastic drive. It was great to be taking an ordinary country road and not a highway.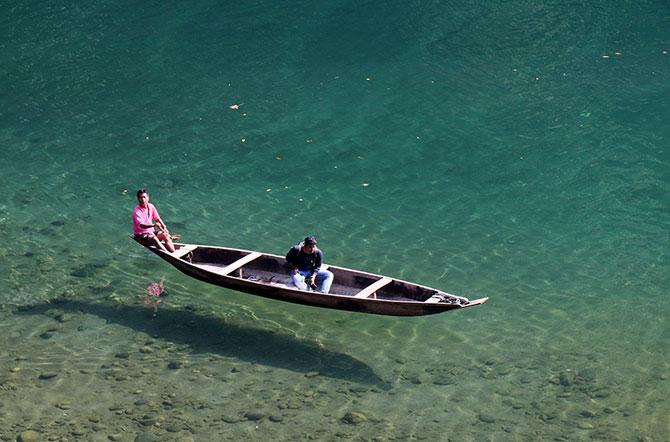 The first sight of the calm river made someone like me, who was from Bombay, feel like I had dropped by for a few hours in Paradise.
The river was shallow. Crystal clear, turquoise water.
You could see the bottom of the river bed even from high up.
As we approached the river from the road we could hardly take our eyes off the lovely, soothing, emerald water.
Canoe-kinds of fishing craft were floating up and down the river. You could see their shadows on the river bed.
Incredible.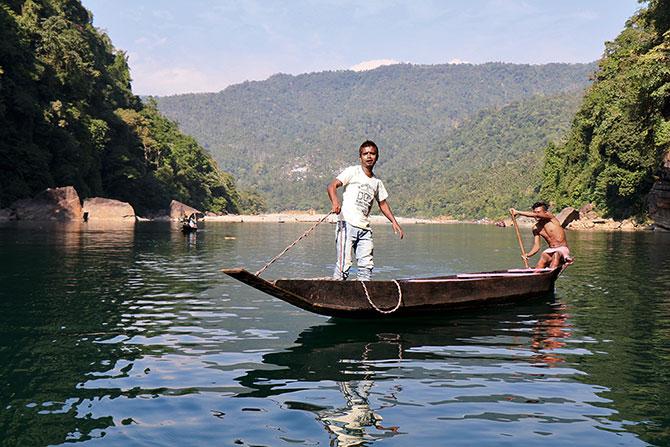 A ride in one of these canoes made you realise how new tourism was in these parts.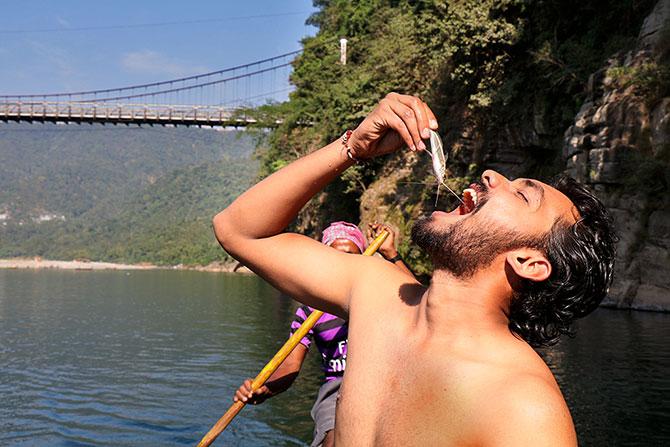 The boat we hired had small catfish swimming in the water in its bottom.
We thought perhaps the catfish had gotten trapped inside the craft -- and after a few photographs -- we returned them to the water.
Our boatman chided us, without anger: "Those are for my children, sir. Don't throw them back into the water!"
Oops. We felt awfully guilty. And decided to give him whatever fare he had asked for the ride, without bargaining.
It was only later we realised that the boatmen only got a small part of the Rs 500 we paid for the ride. And he was totally unaware of it.
Most of the boatmen's earnings went into the pockets of the smooth-talking locals prowling the river's banks, persuading tourists into the boats.
As we rowed up down the river, we could see bunches of people on the other side of the river partying and picnicking.
"That side," said our boatman, "is Bangladesh."
Like just maybe 50 feet away?!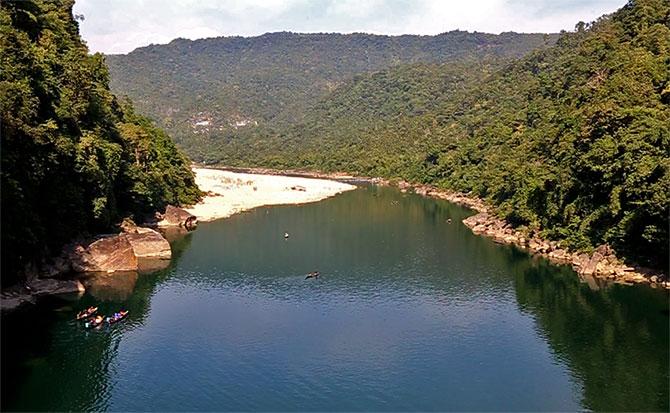 Can you see the white sand bordering the water, in the picture above. That's Bangladesh!
You could have swam across in a few minutes. Or walked across when the river level dipped.
Another phenomenon I had never encountered before in my life.
Unforgettable.
No fences. No demarcations. Or walls.
Just the way the world should be. Without borders!
I felt like rowing to the other side and stepping into Bangladesh. But our boatman said it was illegal to do so.
No wonder the Bangladesh-India border is so porous. You could just walk in.
Isn't that how it should really be?
Was there need for guns and barbed wires?
There in front of us was a natural border even a bird flying overhead could understand.
How I wished all our borders were like this.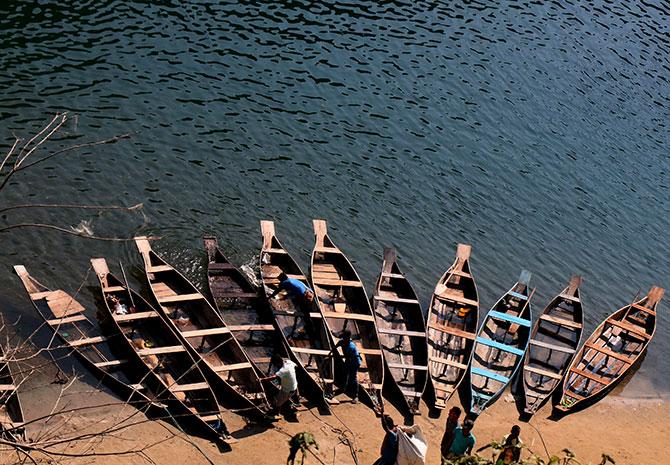 After the boat ride, climbing up to the road was an impossible task.
You couldn't help looking back at the river longingly and at the boats tied up at its banks.
I couldn't take my eyes off this divinely beautiful river.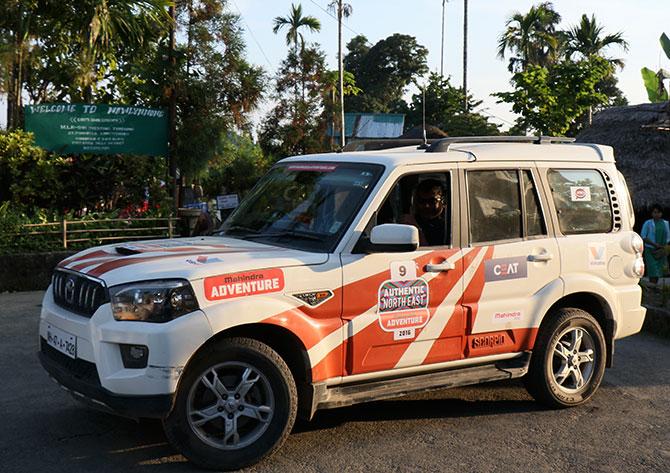 A short drive later -- and much excitement! -- we had reached Asia's cleanest village of Mawlynnong.
I had visited Mawlynnong in 2013. Boy, was I surprised at what had happened to the cleanest village.
It was still clean. On that trip -- it was a Sunday -- there were hardly any tourists. Or vehicles. Ours had been the only car.
Though remote and special, falling off the map kinds of place, it was then like any other village where simple people were going about their daily chores.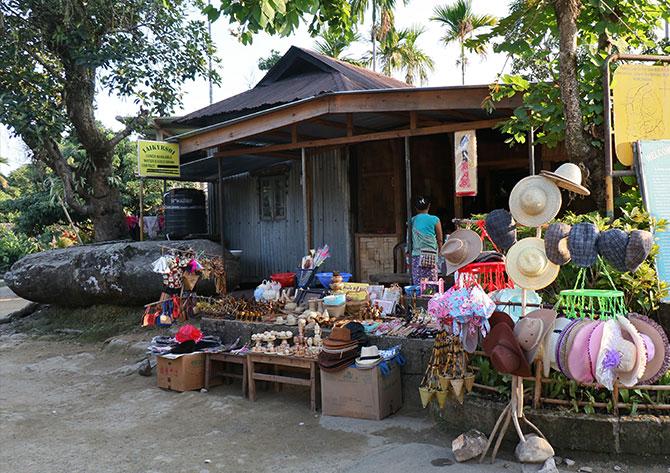 But this was an entirely new village.
Touristy stalls selling hats and handicrafts had come up.
Billboards advertising home-stay places greeted us as we neared the village.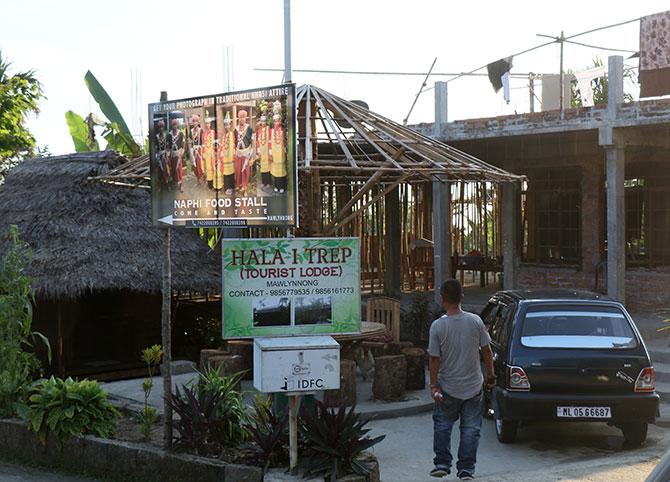 Numerous concrete structures were rising.
Hotels, presumably, will soon come up around this lovely village.
Sigh.
In 2013 Mawlynnong had just one place to eat. Now we were spoilt for choice.
Where should one eat? How to choose?
Even the centre parking area was surrounded by eateries.
Some things fortunately had stayed the same.
When I saw the printed menus I groaned, thinking it would probably be populated with Pav Bhajis and Paneer Masalas.
But no, the food was the same. When the food arrived it made us all very happy :)
Local Khasi chicken curry, rice, a very plain dal, unlimited vegetables and a salad.
They offered four main items: Chicken thali, fish thali, omelet thali and vegetable thali, each for approximately Rs 150.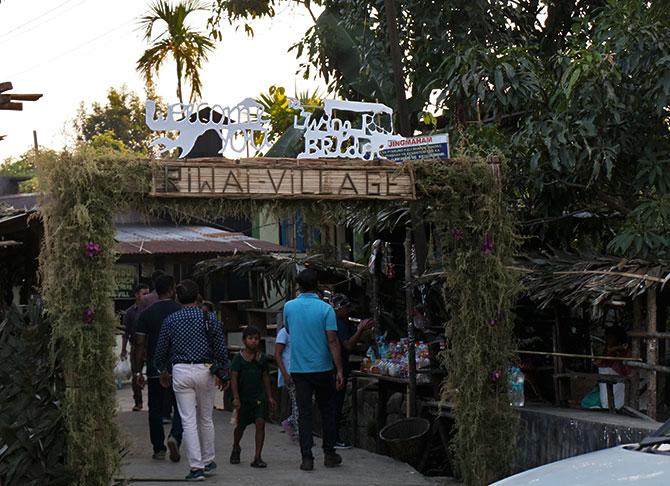 Two minutes away from there was the village of Riwai, home of the living root bridges of Meghalaya.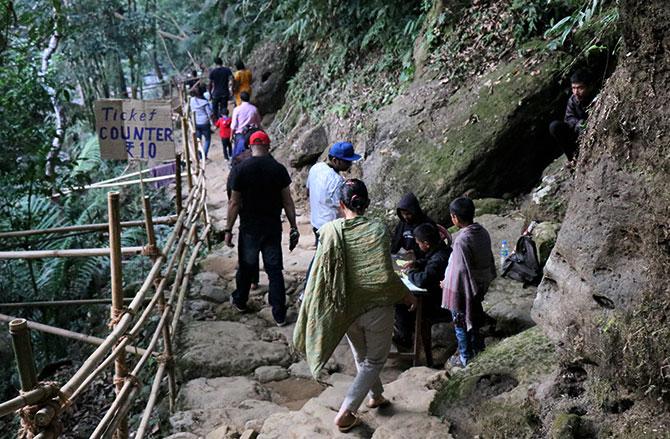 Tickets to see the root bridges? Now, this wasn't there when I last came either.
Hmm, again more touristy touches.
After you paid up, a short walk ahead brought you to the spot where you could feast your eyes on one of Nature's unbelievable wonders.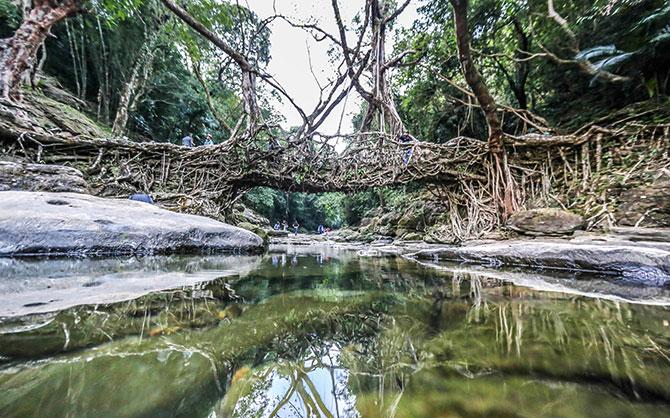 Fellow traveller Gitanjali, who left TCS to found greenmylife.in and loves plants and greenery explained, "These root bridges are made from the roots of Ficus elastica, the humble Indian rubber tree."
"Made?!" I asked.
The story goes: The Khasis living nearby realised the strength and flexibility of the rubber tree roots and saw an opportunity to build bridges out of them.
They followed a very scientific method. These folks placed the hollow branches of local betel nut trees across a river, from bank to bank.
The roots of rubber trees, growing on the banks too, were then coaxed to grow in the direction they required, through these hollow betel tree tubes.
After a long, long, long time the roots grew and extended elegant fingers across the river to eventually clutch the opposite bank. These root branches then took hold into the soil there and -- voila! -- they had a bridge.
The betel nut branches eventually disintegrated away, leaving just the roots.
Later, when the grip of the roots strengthened, the gaps in the bridge across the river were filled with stones to make a proper pathway.
These bridges are still growing. Yes. And they will only become stronger with time.
Eternal bridges.
They are never cut/trimmed. They can take heavy loads, with minimum or no maintenance even today...
What an eco-friendly, stylish solution.
Think of the tonnes of cement that go into our clumsy city footbridges.
They really need to co-opt the innovative Khasis, whose mythology celebrates trees as divine, onto our urban planning committees.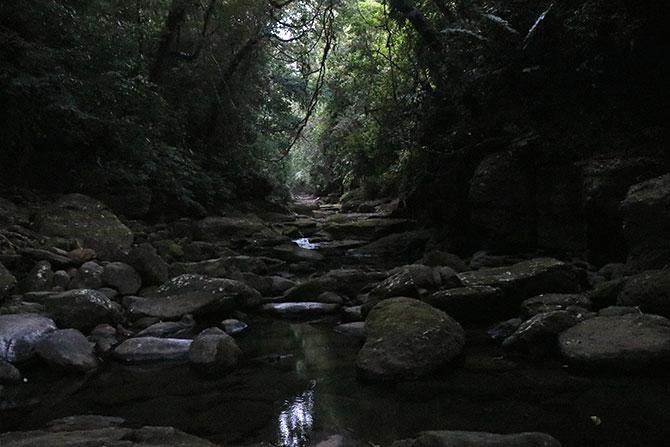 It was time to explore the unexplored part under the root bridges and go deeper into the eerie shadows under the foliage.
Kanishk, Anchal, Gitanjali (see the picture below) and I hopped from stone to stone, across the water, going deeper and deeper into the forest.
The jungle and canopy was so thick we couldn't make out where the daylight had escaped to.
The sunlight had seeped away.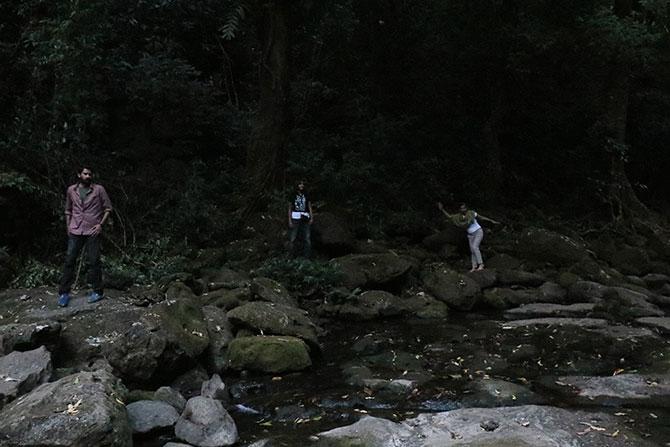 Interesting as it was, we realised it was getting late and the others may be waiting for us. And had no way, of course, of reaching us.
Yes, there was no mobile network in the breathtaking Land of the Ancient Root Bridges.
Thank god for that. I shuddered to think what it would have been like if there was.
Reluctantly, we turned back.
Locating our shoes in the dark shadows was tough -- some of us Flower Children had taken them off before venturing deeper along this lovely rock-and-water laden path.
Snakes? Insects? Nah. No worries.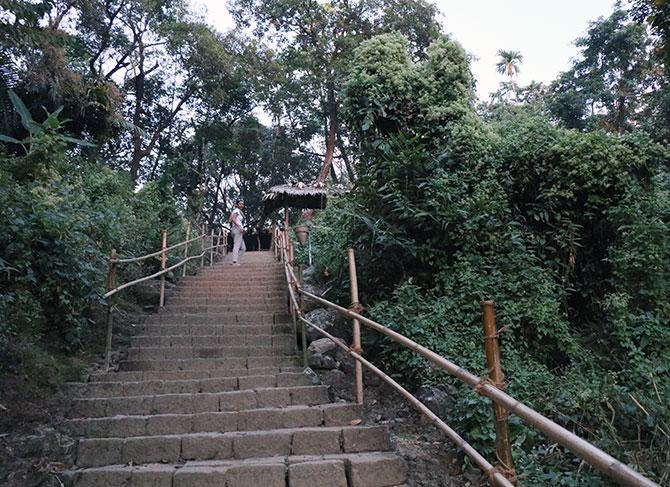 Heading back meant climbing innumerable steps. A job.
Back at the hotel it was once again party time till the wee hours of the morning.
We had the early morning available to explore Shillong.
A late-morning start was planned the next day for Guwahati.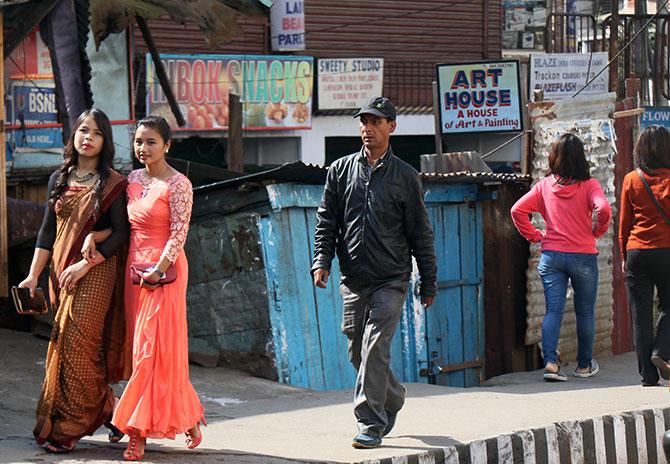 Adieu Shillong... and its good-lookin' Ki Khun U Hynniewtrep people.
Translation: Khasis call themselves The Children of the Seven Huts.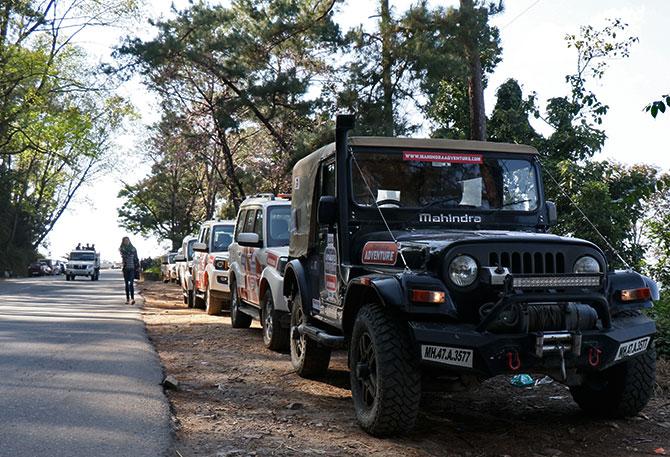 A leisurely stop, outside the city, at a look-out point on Shillong Lake, as our expedition drew to a close, was time for a bit of end-of-trip tamasha.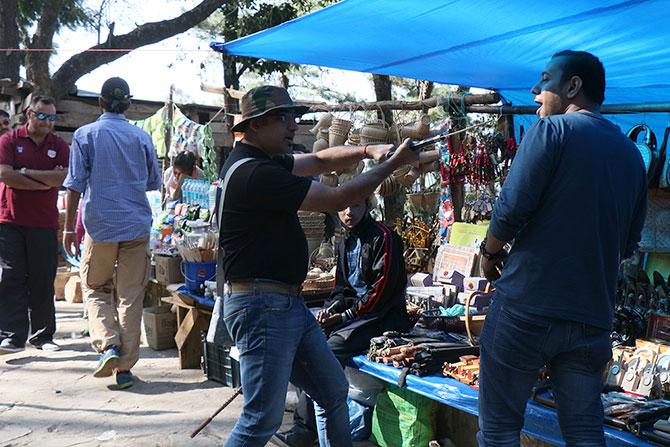 Tapan shows Doc Manjul his best fences with a fearsome Khasi sword (a traditional tribal weapon), he had taken from one of the local tourist trinket shops.
And then we drove on to Guwahati.
At Radisson Blu, Guwahati, a 2.5 hour drive from Shillong, our expedition formally came to an end (from there we were all heading off in different directions to catch flights home).
And the 20-vehicle convoy broke up.
Sadness. Joy. Partings...
From new friends who had become old acquaintances.
And, of course, celebrations for successfully negotiating 1,800 varied kilometres in the specified time, with nary a mishap.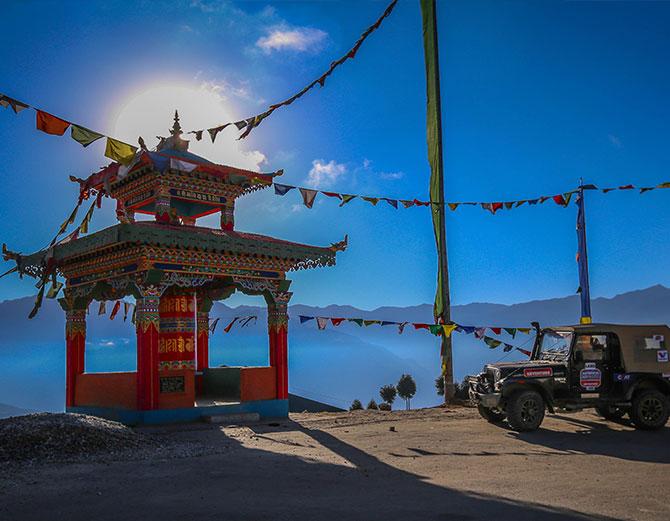 It had been an outstanding 10 days. You don't often have the urge to redo a holiday. Or return.
What is it about the charm of the Northeast and its mountains that it takes prisoners?
It will call me back soon.
And I will return. Of course.