Veer Arjun Singh finds out what a bunch of passionate bikers can teach us about the adrenaline-fuelled hobby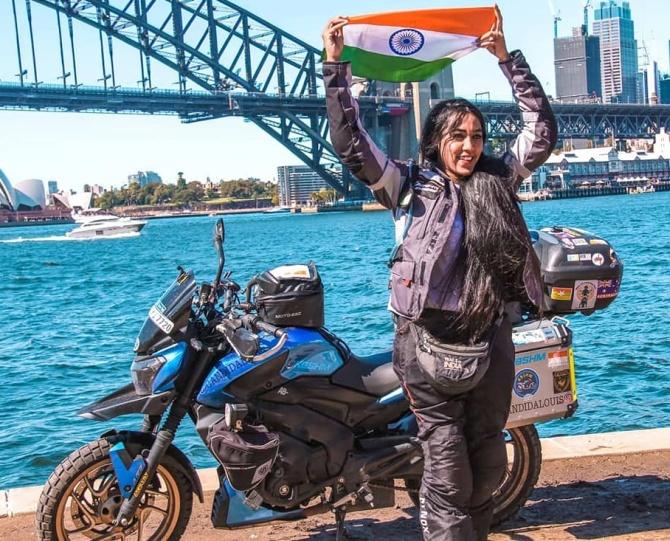 Preetham Vallala, 19, started with cruisers in his early teens. On his 18th birthday, his motorcycling enthusiast father, Vallala Yashodhar, bought him a BMW R 1200 GS, a sophisticated beast that belts out 125 horsepower with a peak torque of 125Nm and a top speed in excess of 200 kmph.
Last year, they rode their shiny new motorcycle to the level one training of the BMW GS experience in Hyderabad, where Preetham met Shahnawaz Karim, a chief trainer at BMW Motorrad, who would teach the six-foot and growing young man how to tame his 240-kg birthday gift. "It almost feels like riding a bicycle once you have learnt it," Karim told him.
Vallala participated in the GS Trophy soon after, a key event for GS owners in Goa, and managed to reach the top 20, the youngest participant to do so at the event.
Karim, 36, sure knows a thing or two about bikes. At Vallala's age, in 2002, Delhi-based Karim was competing at the famous Kari Motor Speedway in Coimbatore on his TVS Apache RTR 150.
It was the same year 22-year-old racing prodigy, Valentino Rossi, lifted his first Grand Prix World Championship trophy at the TT Circuit Assen in The Netherlands. But in India at the time, motorcycling was best harboured as a hobby.
Karim would spend the next 15 years building a successful career in marketing, while every day flipping through the pages of Autocar and Overdrive in swanky corporate offices and religiously planning biking excursions for vacations.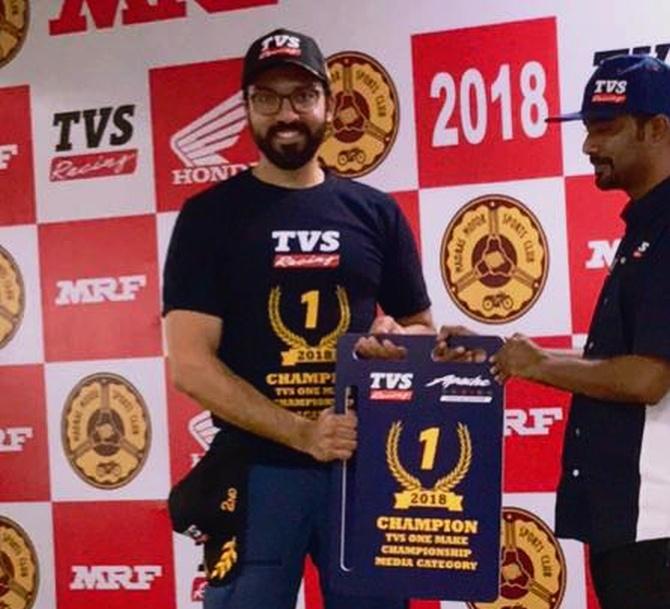 On the side, though, he trained himself and others, ran a motoring Web site (wheelsguru.com) and started a company, Ulkagear, that manufactures a racing jacket that can be inverted into a backpack.
He was the general manager, heading brand and marketing for Internet service provider, Spectra, when he finally quit his job last year to become a full-time trainer, racer and adventure-seeker.
So, at the BMW training track in Hyderabad last year, there were two men trying to find their footing in the mud.
"It's not just about being a racer. As a privateer (freelancer) or even as part of an Indian racing team, you still have to be a hustler to earn a living through the sport," says Karim.
Especially since a decent ensemble of racing leather -- suit, jacket, gloves -- and a racing helmet cost over Rs 1 lakh. "Protection is paramount. You will need to invest in better gear as your speed increases," he adds.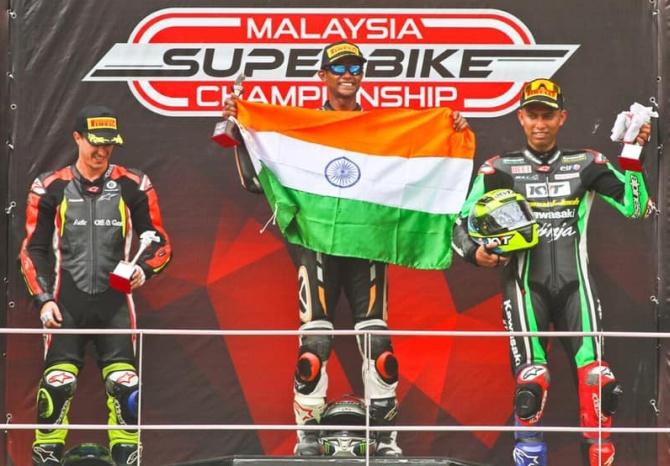 Like Karim, Rajini Krishnan was also a curious motorhead searching for direction in the early 2000s.
Without ever having owned one, he dominated every two-stroke 100-150cc motorbike he could lay his hands on -- the better ones were barely found in India then.
His family in Chennai could not afford much and Krishnan had to work in a small business with his brother. But the pull of the tarmac brought him back to the racetrack, again and again.
Krishnan is 39 today and India's most successful moto racer. The man who was once stuck with a 100cc motorcycle on the racetrack for several years has won the Indian National Championship a record nine times in various categories.
His international accolades include a 2013 championship win at the Losail Asian Championship, Qatar in the 600cc category and a 2015 Malaysian Championship win in the 1,000cc category. And he still does not own a superbike.
"It's still hard to find sponsors and there's not a single recognition or reward from the government," says Krishnan, who is often pictured on international podiums with the Indian flag fluttering in his hands.
He is also routinely forced to take breaks from his career in racing to run a racing academy in Chennai.
"The cost of practising on a 1,000cc motorbike on a racetrack is over a lakh a day. I don't make that much from trainings in a month," he laments.
The last prize money he won at an Indian National Championship was Rs 60,000. The irony, Krishnan says, is that most circuit racers around him don't come from moneyed families.
"Even if you enter the sport with some money, it takes Rs 8 crore to Rs 10 crore (Rs 80 million to Rs 100 million) to participate in the MotoGP," he says. If you graduate to that level, that is.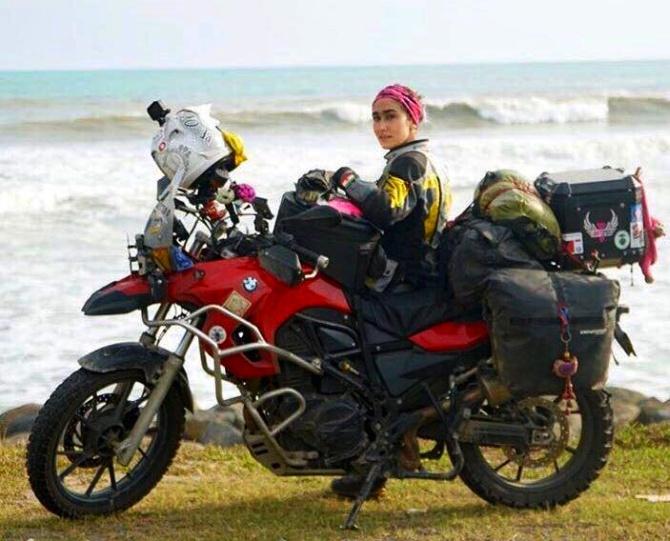 The situation on the Indian racetrack is abysmal. Social media influencers get more sponsorships than riders. But this rarely discourages passionate riders from finding the peak of their adventure.
Cross-country biking, rallying and motocross have picked up serious pace in the last decade. Raid de Himalaya, the world's highest altitude rally, is organised in India and sees mass participation.
So much so that a trip to Khardung La in Ladakh has become a well-trodden cliche. Especially if you happen to know a ballsy Iranian woman living in India who has covered all seven continents on a motorcycle -- a single round trip through 64 countries covering 11,000 km. On a BMW R 1200 GS, no less.
"I even rode in the sixth month of pregnancy," says Maral Yazarloo-Pattrick. She was the first woman in Iran who was given an exception to ride a motorcycle after a hard-fought campaign.
Inspired by her, women continue to ride illegally in the country today while the courts deliberate.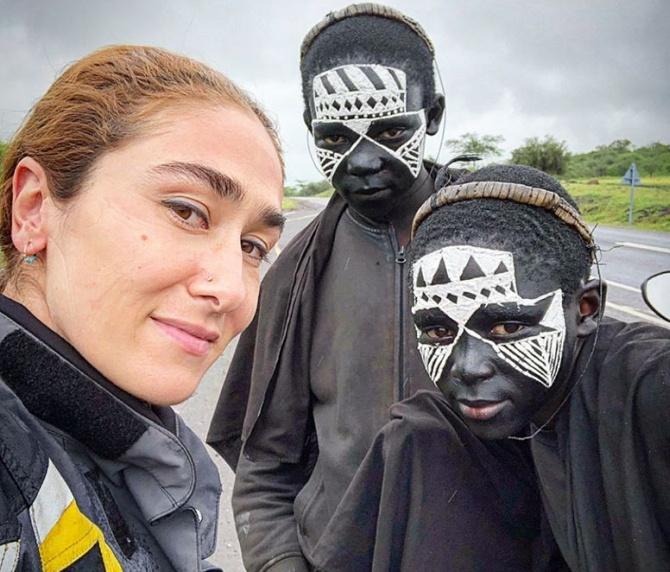 Yazarloo-Pattrick has been living in Delhi for the last 17 years. She worked 12 years with a luxury real estate firm before quitting her job to tour the world.
But before that, she explored the length and breadth of India on a 22-state tour. "A few women have since sought my itinerary and followed the course. It's a refreshing change in India," she says.
She talks of a time seven years ago when she was the only woman in India to own a Harley and then a Ducati and then a BMW, and participate in bike meets and rallies.
Candida Louis, 24, from Bengaluru was perhaps too young at the time to be riding solo. She quit her job at Infosys five years ago to ride full-time.
She has since done a Bengaluru to Sydney solo ride on her Bajaj Dominar, covering 27,500 km and six countries.
But despite her trails, sponsorships are hard to come by. "As a privateer, I spent everything that I had saved on my travels to gain more experience,"
Louis tells me over a call from Sikkim where she is leading a few Australian riders on a tour. The network was patchy and she has a long road ahead of her.
All of these people -- racers, trainers and adventure seekers -- will be among the 20,000 people expected at the India Bike Week in Goa, which starts December 6 this year.
If you are a biking enthusiast or better yet a hustler, you'll find your direction there.