'I have reached this far. I am an optimist. My desire is to meet Messi. Don't know if it is possible.'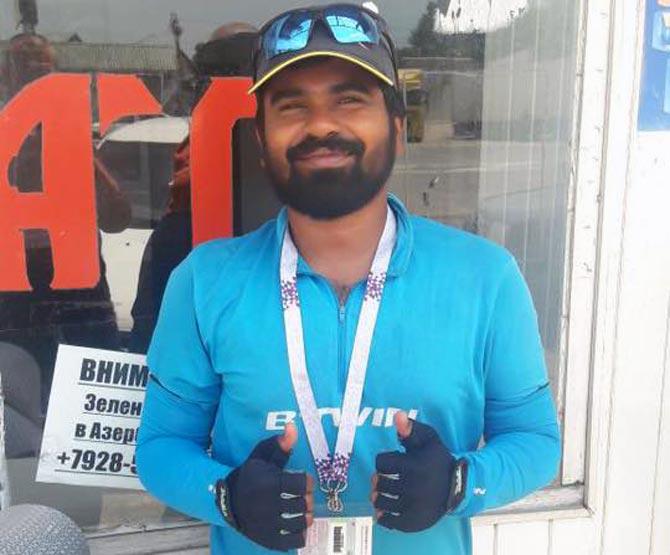 As Kerala is in the grip of World Cup fever, a football crazy fan from the state has cycled all the way to Russia to watch the tournament and realise his dream of meeting Argentina's living legend Lionel Messi.
Clifin Francis, 28, flew to Dubai from Kerala on Febraury 23, bought a cycle, took a ship to the port city of Bandar Abbas, the capital of Hormozgan province on the southern coast of Iran, before embarking on his cycling odyssey to Russia.

"I am very happy. It was a four-month-long journey," Francis said from Tambov, a countryside town in Russia on Monday.
He said he has bought a ticket for the France vs Denmark match on June 26 and is waiting to watch it with his fingers crossed.

"Every day you meet new people, see new landscapes, new culture....," he said, adding both good and bad experiences came his way during the journey.

Francis says though all his papers, including visa, were in order, he was denied permission to enter Georgia through Azerbaijan, forcing him to take an alternative route.

"I felt sad at their behaviour as a German cyclist was allowed to take the route. But there were times when I saw the goodness in human beings as people whom I had never met gave me shelter, the warmth of their homes and offered food," the software engineer said.

Football has always been his first love and watching the World Cup a long cherished dream.

After obtaining his B.Tech degree, Francis worked at the Infopark at Kakkanad in Kochi for some time, before taking up a job as a mathematics teacher at a coaching school, Saji, his paternal uncle said.

"He was always a hard worker and slogged at the coaching class without taking any leave and saved as much as he could to have his dream fulfilled. Relatives also chipped in (with money)," Sam said from Kochi.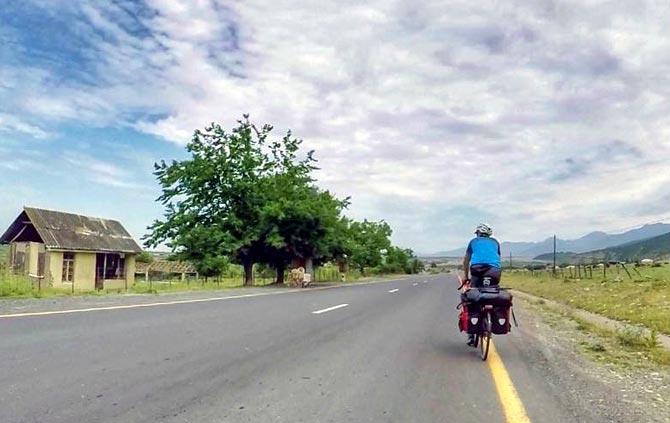 Francis said he celebrated his birthday with the residents of Maymeh in Iran, enjoying the hot kebabs they served with 'Istak', a local drink, an experience he would never forget.

The local people there are great fans of Indian filmstars like Raj Kapoor, Amitabh Bachchan and Mithun Chakraborty, while the younger ones especially enquired about Salman Khan and Aishwarya Rai, he said.

When I visited a family, they were watching an old Raj Kapoor starrer, he revealed.

Francis, who hopes to reach Moscow by June 21, said it is his long cherished dream to meet Messi.

When asked if he would be able to make it come true, he said, "I have reached this far. I am an optimist. My desire is to meet Messi. Don't know if it is possible... I am a diehard fan of his."

Football fans in Kerala have painted roads, private vehicles and public transport buses in the colours of their favourite teams. Fans sporting jerseys with images of their heroes can be spotted in even small towns of the football crazy state.