Or at least easier.
Away from parents and in-laws, many couples find themselves unprepared for parenthood in a digital age. Nikita Puri explores apps that can ease the way.
Illustration: Dominic Xavier/Rediff.com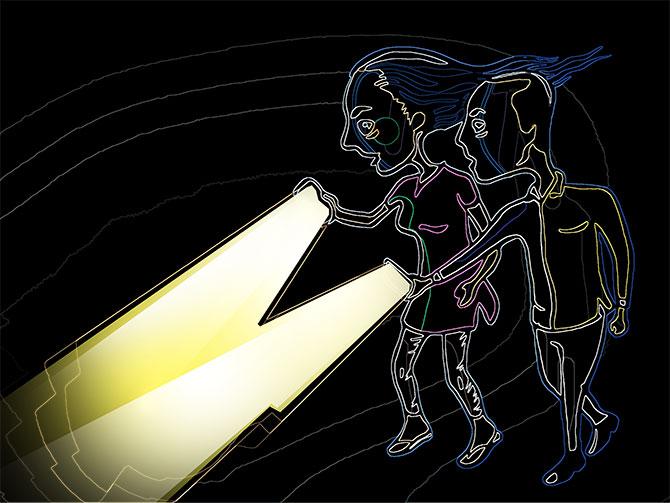 Soon after the birth of her son, Ayan, a 28-year-old Delhi-based homemaker who doesn't want to be named says she was overwhelmed at the sheer number of things she had to remember to do. While she had done enough "homework" during her pregnancy, she found herself becoming anxious and forgetting things.
On a friend's recommendation, she downloaded an app called Nurturey. Not only did it quickly adapt to her situation and streamline all the appointments she had to make, it also synced with her husband's calendar, ensuring he was around when necessary.
"Guiding a parent through pregnancy and then child-rearing requires a specific kind of domain knowledge," says London-based Tushar Srivastava, founder and chief executive officer of Nurturey. And many, including Bengaluru-based ZenParent's Sumit Dhar, agree with this thought.
With more people moving to cities and the concept of nuclear families gaining ground, there was an information asymmetry: you no longer had your parents or parents-in-law supporting you, says Dhar.
"Besides, the style of parenting seen in the previous generation has also been questioned a lot. The new, preferred way of parenting is 'less-parenting,'" he adds.
When the founders of Bengaluru-based tech platform ZenParent started experimenting with the idea of building a platform aimed at helping parents, their first idea was to create a smart watch-like gadget that could help keep track of a young child's whereabouts. But primary research showed that the actual need was for a platform dedicated to guiding parents: many couples found themselves unprepared for parenthood in a digital age.
"I may have a diary to manage my work schedule, but as a parent, my needs are different. It's not just my activities I have to keep track of, but also my child's. Moreover, you also need a lot more coordination with your spouse," says Srivastava.
"The concept of a personal assistant for an individual is really not applicable when you consider the life of a parent," he says, citing the need for an app like Nurturey.
Srivastava remembers the time that his son was only four and he'd pick him up after school.
"The teachers would tell him that he was supposed to come dressed in green on the coming Friday, and I'd hear it, but I forget to communicate it to my wife who dresses him. This is one of the many small things that parents have to remember," says Srivastava.
Though London-based Nurturey has been downloaded in 30 countries since the company was established in 2014, the app is currently focused on India.
From immunisation recommendations to meetings with doctors, Nurturey's personal assistance services can be customised according to the needs of a family in India.
Currently, it is designed to guide you through pregnancy and up till the child reaches the age of eight. And, it doesn't just tell you when a vaccine is due; it'll also suggest what to read up on.
"In most cases parents don't know what questions to ask the doctor, but here is an app that's intelligent enough to gauge that for you," says Srivastava.
A host of chat rooms have also emerged to help guide new parents.
Browse through Tinystep, a social networking portal meant for parents, and you'll find questions like can a baby be fed channe ka daal ka paani (lentil soup) answered by more experienced parents.
"We also have separate chat rooms to connect parents who live in a particular locality and have children of similar age groups," says Suhail Abidi, the founder of Tinystep.
Such parent-focused chat rooms are also available on ZenParent where, over the last two weeks, the focus of a featured chat room was on the emotional wellness of the mother and child.
Sessions on child psychology are also thrown in. For example, an expert talked about how to make a child more assertive.
ZenParent, which began operations about two years ago, currently reaches out to 5 million mothers across the country in English and Hindi.
From weekly email advisories on dos and don'ts of parenthood (like raising opinionated kids) and pregnancy, ZenParent also offers relevant reading columns.
Additionally, there's also a fictional character called Aunty Vasantha, who doles out advice on nutrition in a humorous fashion.
"Your children will grow like a coconut tree if you make this for dabba," she begins, before going on to write, "Ayyy, don't simply-simply complain" if the child isn't growing.
"Oats is not horse food, like I thought first-first. Lots of fibre, yes, and lots of protein also," she says in one of her recipes.
Characters such as this Aunty (there are more) have helped ZenParent build a more personalised relationship with their readers, says Dhar.
"Each of these characters has its own challenges, and the way we communicate through each of them is very different," he adds.
Besides health, tips on different parenting styles and how to build a child's character are just one of the issues covered. With a combination of onboard-experts and chat-rooms, the idea behind tech platforms such as these is to help parents make decisions using traditional wisdom and scientific knowledge, says Dhar.
While Aunty Vasantha and her gang of fictional columnists churn out tips and information mixed with humour, you can also store memories and record milestones through pictures and videos on Nurturey. Digital parenting, these apps have ensured, is a balance between work and play.