You could be signing a business deal, shaking hands with a client or holding a wine glass to raise a toast at a special occasion.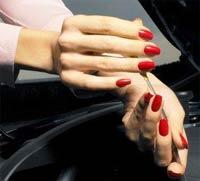 Now, imagine what a poor impact it would make if your hands were rough and dry and your nails, chipped!
More often than not, we spend a lot of time pampering our faces but fail to pay attention to other parts of our body -- like our hands and feet. We don't realise they are equally important and must be cared for, not only from the aesthetic point of view -- for that well-groomed look, but also to keep them disease free and healthy.

It is really not that difficult to ensure immaculately kept hands and feet. Here's how you can care for yours.
Torturing your nails? Stop!
~ If you are a nail or cuticle biter -- stop immediately. Vent your stress on other things. Try squeezing a rubber ball or chewing gum instead of biting your nails.

~ Use rubber work gloves while washing clothes and doing the dishes as even a single contact with detergent or strong soaps can cause your hands to itch, crack, ooze, peel and even bleed.

This condition is known as housewife's eczema and prevention is the best cure.

~ Do not expose your feet unnecessarily to the elements; wear closed shoes especially in extreme cold and dry weather.
Your daily hands and feet regime

~ Every night, rub a few drops of olive oil on your nails working well into the cuticles.
~ Use a good hand/ foot cream liberally. You could also use a softening lotion like Cetraben cream (Rs 75 at all chemists) or Boroglycerin (also available at all chemists) diluted in the ratio of 1:3 with rose water.
If your hands are in really bad shape, for the first few nights tie plastic bags on them after applying the cream.
~ Cracked soles can be repaired by mixing one part of Propysalic-N ointment (Rs 85 at all chemists) into one part of your foot cream. Apply every night. Don't forget to cover your feet with plastic bags or cotton socks.
~ Scrub hands and feet with a medium soft brush daily during your bath and moisturise with a lotion immediately afterwards.
Get a pedicure/ manicure at home
Pamper yourself with a good pedicure and manicure each Sunday. Don't worry about the dent in your pocket -- all of us can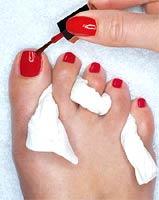 do these at home and get equally professional results. 

i. Soak your hands/ feet in a tub of warm water with a cap full of shampoo added to it, for about 15 minutes.

ii. Scrub out the dirt with a soft brush (an old toothbrush would do). Focus on areas between toes and fingers. Clean out dirt from under the nails gently with a nail file or a similar pointed instrument.

iii. Scrub your soles and any rough areas with pumice stone or a foot brush (available at the chemist's and at all beauty stores) for two or three minutes.

iv. Dry well and massage with a cream of your choice. You can use Cetraben or Elovera (available with your chemist). Massage firmly from tips upwards for 10 minutes to boost your circulation.

v. Put small cotton balls between your toes to separate them.

vi. Clip nails to a suitable length. Your nail clipper or scissor must be very sharp, so that it can cut through in a single stroke and not unnecessarily twist or traumatise your nails.

vii. File to an even, rounded shape. Do not make your nails overly pointed. File from the sides towards the centre. 

After soaking, your nails are soft and less likely to break; they will also be easier to trim and file.

viii. Ideally, don't fiddle with your cuticles. Contrary to popular belief, they do not hinder your nail growth but play a protective role. Many a nail fold infection are caused by rough pushing back of cuticles. Do this very gently if necessary.

ix. Nail paints and lacquers must be used to the minimum as pigments can cause permanent discolouration of nails. The acetone in nail polish removers and thinners erodes and weakens nails.
In rare cases, nail polish allergy can cause itching and soreness of not only finger tips but also eyelids when we unconsciously touch them with painted fingers.
Don'ts for home treatments

~ If the skin on your palms and soles is excessively and repetitively cracked, thickened, scaling or even bleeds sometimes, you may have a disease called psoriasis. Visit your dermatologist for treatment.

~ Discolouration (yellowish or greenish black) or disfigurement of one or more nails, swelling, tenderness and redness of nail folds are signs of infections -- fungal or bacterial. Consult your dermatologist immediately.

~ Do not try to peel, shave or cut your corns; you might infect or hurt yourself. Get them removed surgically by a dermatosurgeon.

~ Dark velvety flat growths on your soles or a similar growth on your hands or palms may be warts. This is a viral infection. Please do not self-treat. Visit a dermatologist who will be able to solve your problem.

So, now, you know the secrets to great looking hands and feet!
DON'T MISS!
Do you have a skin query for Dr Parul Kolhe? Write to us.
Dr Parul S Kolhe is an M B B S, DDV and DNB in dermatology.