'Art Deco was the last of the truly international styles.'
Ranjita Ganesan reports.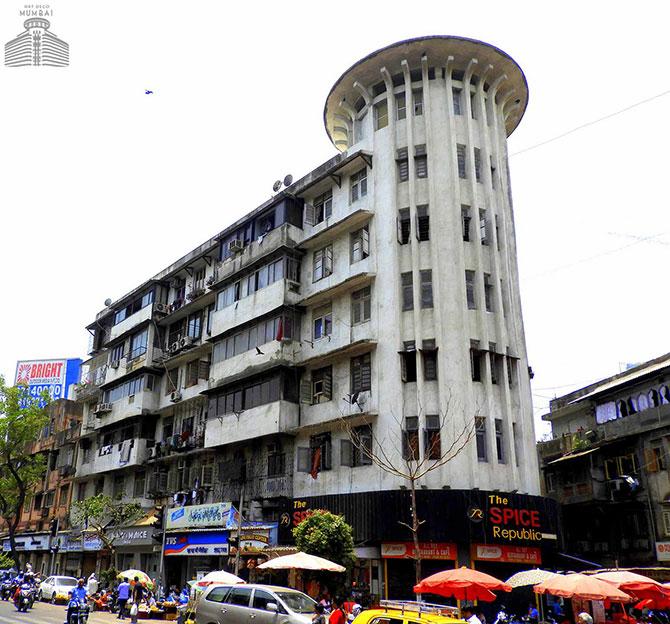 The things about Art Deco that make it interesting are also the things that make it easy to look past.
The modernist style which came from Europe and prevailed in Bombay from the 1930s to 1950s was unfussy relative to its more ornate predecessors.
Clean and streamlined, economical with ornamentation.
Efficient fun.
Built using concrete and steel rather than stone, these buildings are at times confused for later contemporary structures.
That is why, in the course of designing a map listing South Mumbai's Deco heritage, Shubhika Malara of the non-profit organisation Art Deco Mumbai chose to include a section on how to identify such architecture.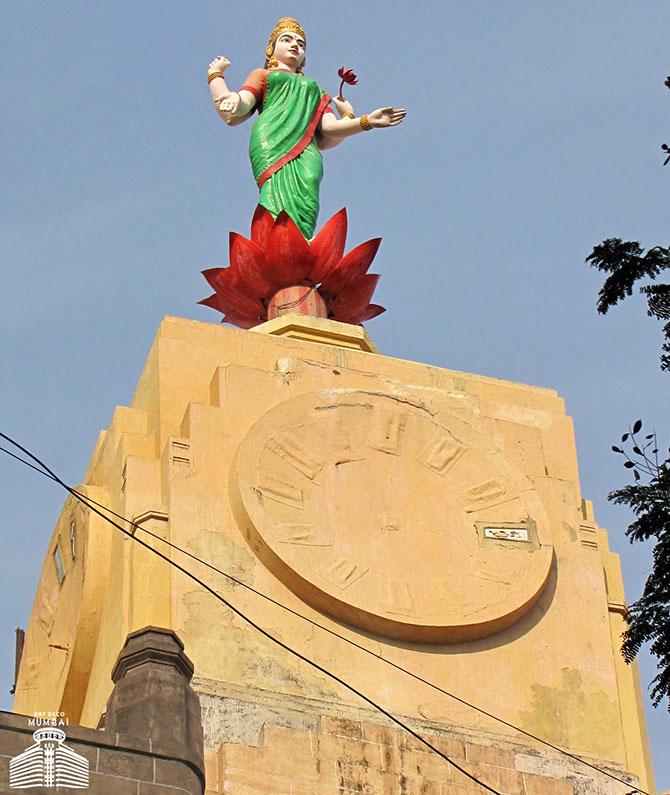 The map meant for tourists and history buffs was released by conservationists at Mumbai's Chhatrapati Shivaji Maharaj Vastu Sangrahalaya last month.
Last year, the stretches of Art Deco structures along the Oval Maidan and in Marine Drive, south Mumbai, together with the grand Victorian Gothic buildings in their vicinity, were recognised as a Unesco World Heritage Site.
While discourse around Deco is dominated by the structures in that precinct, the echoes of 20th-century modernism reached architects working in various pockets of the city.
So Art Deco Mumbai, which documents the style and advocates its conservation, also chose to make a set of postcards that sought out and illustrated some of the hidden gems around central Mumbai.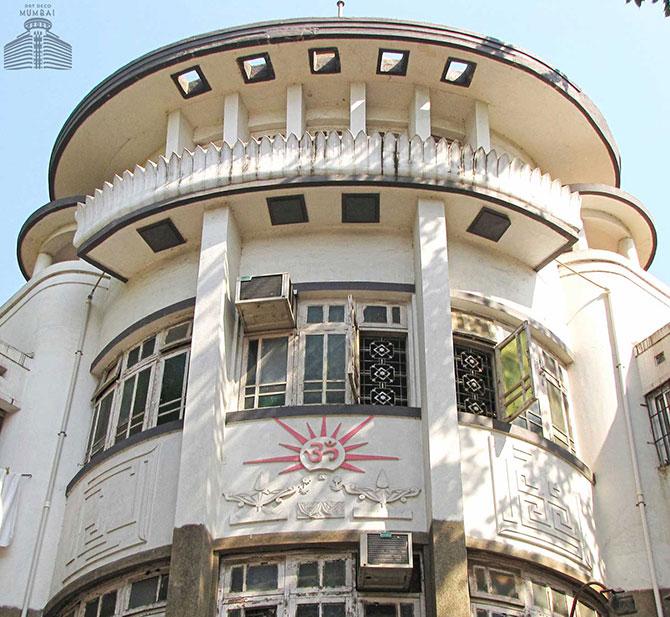 "There is a swadeshi context to Deco that is more evident in these buildings. They did not celebrate Western design form, they were about celebrating who you are," observes Atul Kumar, a finance professional and buildings enthusiast, who founded the group.
After being true to the European style in the initial years, building names began to include 'Mahal' or 'Niwas' instead of 'Court' in an expression of domestic pride by the colonised.
Indeed, Bombay Deco icons -- like distinctive lettering, geometric sunburst or observation decks -- often feature in neighbourhoods as far afield as Matunga, Chembur, Babulnath and Byculla.
And often, these appear together with diverse Indian scripts and emblems like swastiks or the national flag.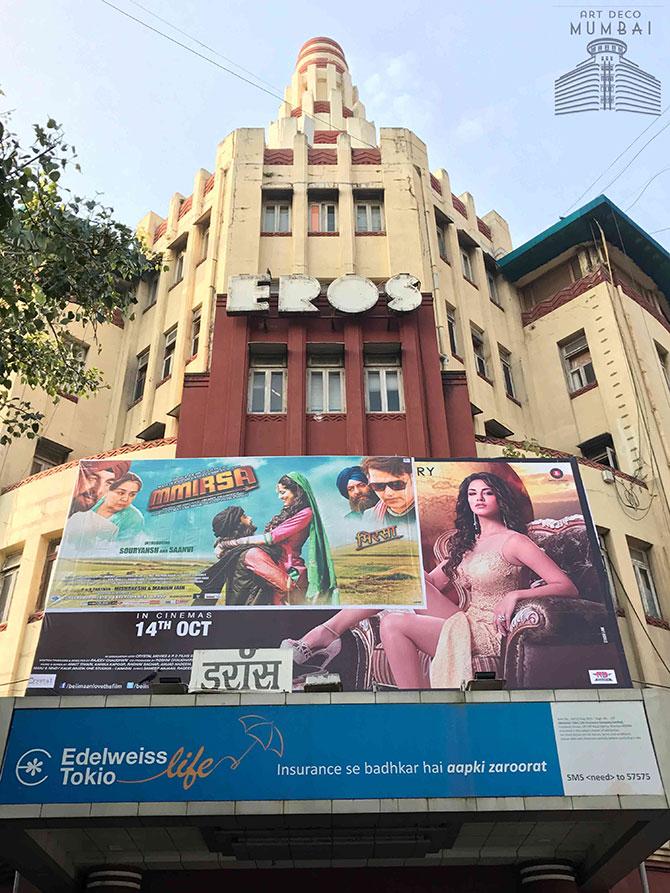 Kumar's personal favourite is the red-and-white Pai House in Matunga, with a rising sun on its grilled gates and to which the owners added an elevator at the rear so as not to mar the beauty of its façade.
The Ismail Begmuhammad high school on Mohammad Ali Road features its title in Urdu script, capped by iconic sunburst and pyramid motifs.
In her illustrations for the cards, Tarini Gandhi played on this juxtaposition. She abstracted the local and Western influences of the buildings, along with elements that show how these buildings are still very much used by the city -- clotheslines, lampposts, traffic signs.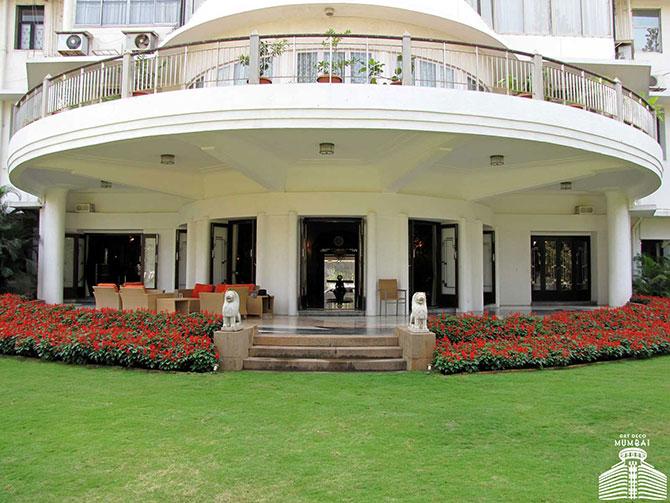 By and large, the Art Deco movement had no room for religious symbolism.
However, in Wadala's Hira Mahal, you see the Om symbol, underlined by diyas and flowers.
A Parsi place of worship, the N M Petit Fasli Agiary in New Marine Lines, south Mumbai, was also built in this style.
As such, Lamassu -- the Assyrian mythical figure depicted on the edifices of Zoroastrian fire temples -- got a Deco makeover in this structure.
The creature's typically ornate wings and flowing beard were rendered in clean, clipped lines instead.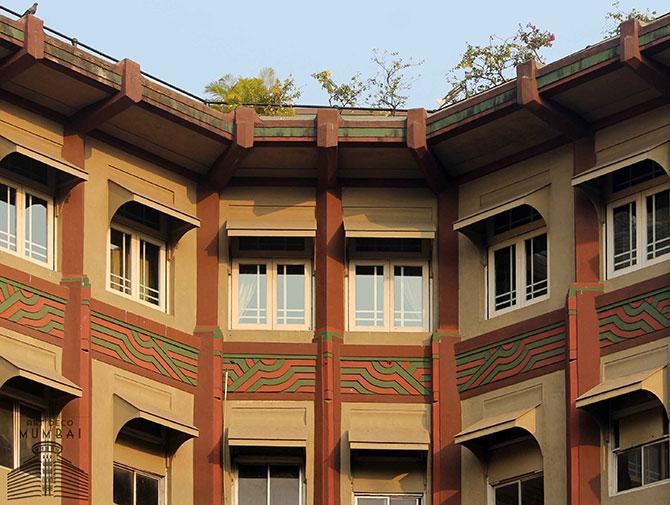 These modestly decorative examples sometimes allowed for using embellishments like stained glass to show off the building name.
Uday Vihar in Dadar, north central Mumbai, for instance, announces its name in Hindi, while Daulat Villa does so in Gujarati.
The group is simultaneously recording stories of Art Deco architects like Sohrabji Bhedwar who Eros Cinema and the firm Master, Sathe & Bhuta, which built the swadeshi-influenced insurance buildings.
It also documents experiences of people who live in and use these buildings.
"People in Mumbai have a strong sense of identity with space," finds Kumar.
"Talking to them about this modern heritage they are a part of helps them appreciate it even better."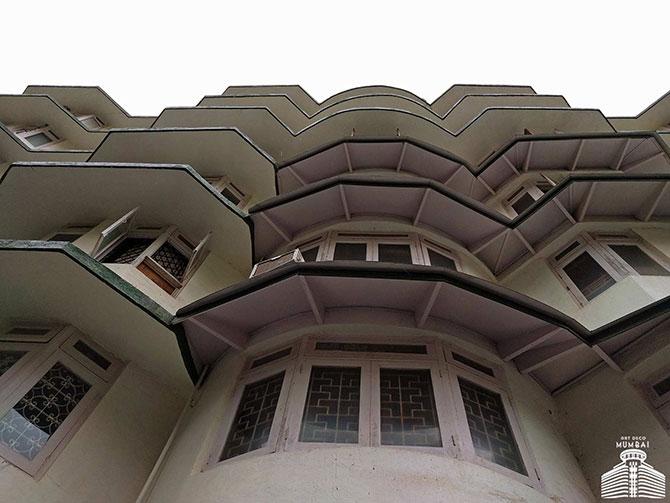 Nearly all of Goa's fine Deco architecture can be labelled 'hidden'.
It is emphatically overshadowed by older styles like Baroque, Indo-Portuguese and Neo-Roman, which were used to build the state's churches and homes.
Still, Panaji in the north, Margao in the south, Mapusa and even rural pockets have a meaningful presence of such sparingly adorned contemporary structures.
Panaji alone has more than 50 buildings of Art Deco importance, reckons architect Raya Shankhwalker, honorary secretary of the Goa Heritage Action Group.
The group recently listed all of the city's heritage buildings.
By the beginning of the 1950s, many buildings there had become dilapidated and were in need of redevelopment.
With no school of architecture of its own, some architects were brought to Goa from Bombay, which was in the grip of the Art Deco sensibility.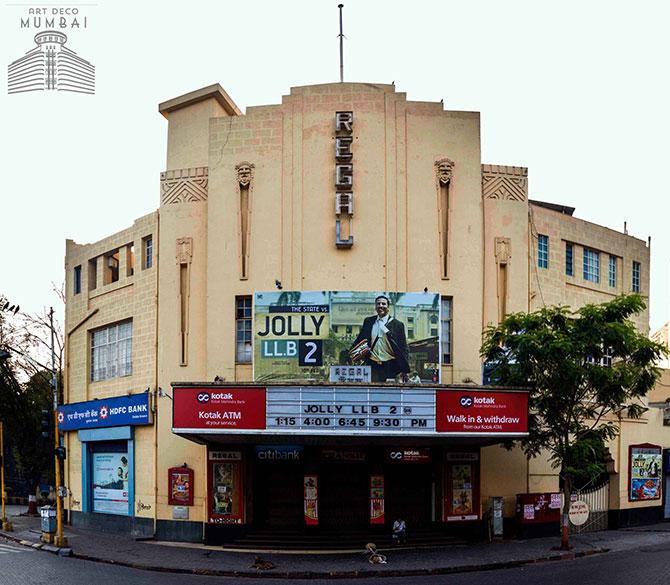 The earliest result of this was the Hotel Mandovi, constructed to house the swarms of people who were to attend the exposition of St Francis Xavier in Panaji in 1952.
This also became the first multi-storeyed building in Goa.
'The Art Deco style may thus have been a necessary stepping stone to a more robust modernity,' scholars Sarto Almeida and Jaimini Mehta noted in an essay.
Designed by Master, Sathe & Bhuta of Bombay, it included a bas-relief sculpture showcasing the local way of life.
Goa Deco, too, mixed Western and domestic ideas and sensibilities.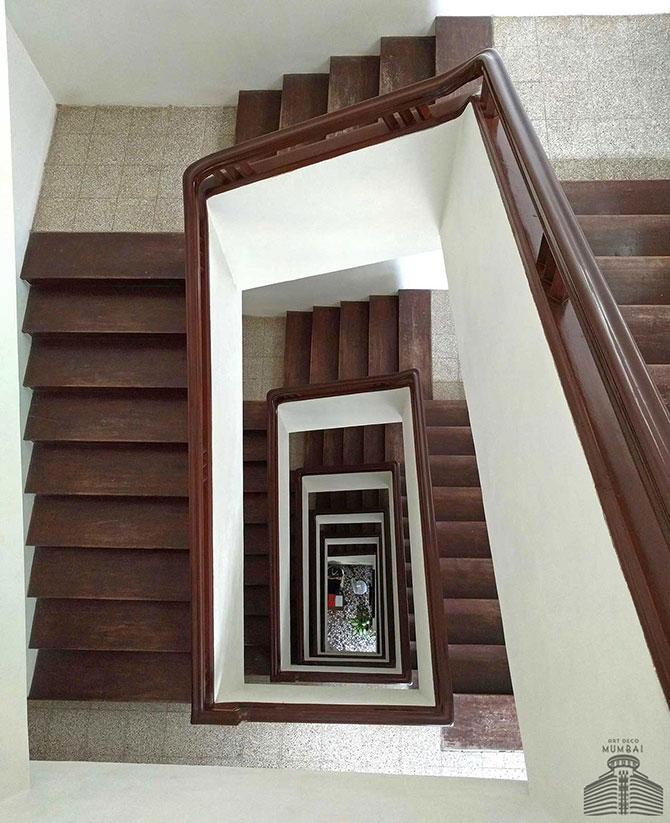 A short walk away from the hotel is Damodar Niwas, built the same year, which now houses shops and homes.
Its contours were shaped quite like the wings of an aeroplane -- archetypal of Deco's ode to the modern world.
The Old Municipal Building, used by bookshops and a pizza chain today, features torches and zig-zags on its façade.
Amble into the mostly residential neighbourhood of Dada Vaidya Road to find more evidence of the fondness for Deco in the state.
There is Rama Niwas, with stripes on its edifice reminiscent of car bumpers.
The Waglo residence there has distinctly Art Deco window grills.
Civil engineer and buildings buff Jose Lourenco has been writing on Goa Deco for some years now.
Striking among the structures he has covered are the Pilar Seminary, again a rare religious structure to be built with a Deco vision, and photographer Prasad Pankar's house in Mapusa, which was in the American Art Deco tradition.
In later years, experts say a hybrid style emerged where Indo-Portuguese homes featured Art Deco details, and vice versa.
Art Deco gates and grills, in particular, were used for decades after Deco itself had faded, Shankhwalker points out.
That was also the case with terrazzo flooring, first popularised in Goa during the Deco movement.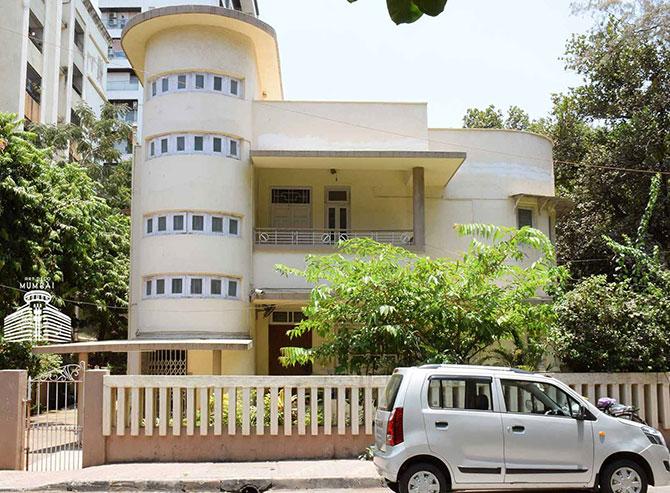 The Goa Heritage Action Group now intends to launch a detailed effort to record examples of Deco in other parts of Goa.
In matters of conservation, too, more time and attention is paid to Goa's ancient, pre-Deco heritage.
According to Lourenco, because the buildings are not readily recognised as heritage, they are at risk of being demolished instead of restored.
While Deco is younger than most heritage design movements, the preservation of these buildings cannot wait, given concrete's relatively shorter life, says Lourenco.
He hopes this threat will be evaded because "Art Deco was the last of the truly international styles".