In an online chat with readers January 24, Rajeev Mahajan of Antworks answered queries on personal loans and peer to peer lending.
Here's the chat transcript:
Illustration: Uttam Ghosh/Rediff.com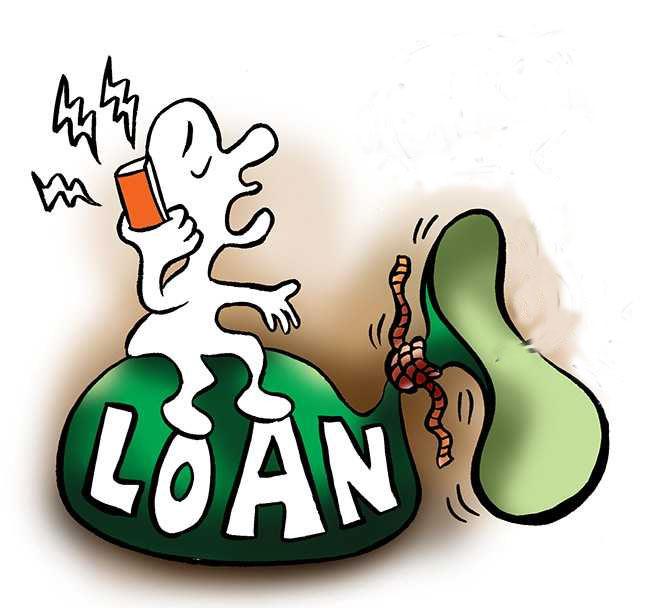 Rajeev Mahajan: Hello Everyone Thank you for joining the session. My Name is Rajeev Mahajan, and I work in my capacity as Founder Director and CEO for Antworksmoney.com. I am here to answer all your questions related to Personal Loans
TheWorld: Hello Sir, What is the CIBIL score required for Personal Loans? Is it different for all categories like housing loan, vehicle loan?
Rajeev Mahajan: Banks look at CIBIL score above 750 though there are few banks which are ok with looking at CIBIL score of 650 plus basis other positive factors in the proposal.
Navami Patil: Is gold loan better than personal loan?
Rajeev Mahajan: Gold loan can be taken by salaried and self employed and will have lower interest rate as compared to PL.
Pankaj Kumar: What are the benefits and loss of balance transfer? After how many EMI it would be good to go for BT?
Rajeev Mahajan: If we talk about the benefits, you are allowed to revise the interest rate as per the new market rates. However, there is a foreclosure charge involved in repayment of existing loan.
A borrower needs to accordingly see the benefits and cost involved. Generally one can look at BT after min 6-12 months.
Omi: What happens when you if you can't pay back your loan?
Rajeev Mahajan: One should be very careful at the time of borrowing. Any non repayment will have negative impact on your credit score and it will make borrowing money from other banks very difficult in future.
Banks will also take legal steps to recover their loan.
Vijay: Which is the best bank for personal loan?
Rajeev Mahajan: It depends upon your credit profile and which bank is giving you a good deal as per their policy. We recommend that one should look at online portals for best deals before applying.
Vimlesh Purohit: Is it possible to take a personal loan on a floating rate? Will that be beneficial for a borrower?
Rajeev Mahajan: Yes, most of the banks have floating rate products as well. It's beneficial in case interest rates are going down.
Ashish: Why don't banks eagerly allow old customers to switch their loans?
Rajeev Mahajan: No bank wants to let go their good existing customers. They will try their best to retain customer.
Anirudh Karthik: what is peer to peer lending? How does it help borrowers?
Rajeev Mahajan: Peer to Peer lending is loan given by an Individual to another Individual through platforms like p2ploan.antworksmoney.com. There are big lending platforms outside India providing P2P lending and RBI has recently allowed this in India.
We expect this to grow big time in India in coming years.
Jenny Dsouza: What if I want to increase the amount on my personal loan? Is that possible?
Rajeev Mahajan: Yes, you can do that through top up from existing bank. Or you can go to another bank for BT and top up.
Hemant Shivsharan: Usually what are the documents needed to apply for a personal loan?
Rajeev Mahajan: KYC, salary, Aadhaar, photographs, bank statements.
Sunilkumar-Chaudhari: Can we take PL to close home loan? Is it good idea?
Rajeev Mahajan: Not a good idea. I think you should continue with home loan.
Rana Dhindsa: Normally there is a condition when taking personal loan that the loan shall not be used for investment in stocks etc? What happens if I still invest personal loan money in stock? Will the bank file a case against me?
Rajeev Mahajan: You should not do that as a prudent borrower. Banks will generally not take action unless you are a defaulter and they figure out that you have used money for ineligible purposes.
But it's not about bank taking action or not. It can impact your credit rating if they figure out covenant breach.
Varsha Singhe: I want to have personal loan of Rs 50000 to pay the credit card bill, but the issuer of my credit card has declared me as a defaulter and my loan application is not being approved bcoz of the reason. Plz suggest me if there is any bank which gives loan to the person with bad credit record.
Rajeev Mahajan: It depends upon your credit score. You can apply for loan on antworksmoney.com and p2ploan.antworksmoney.com.
M S Sanghavi: I had applied for a personal loan for two times in HDFC bank. It was rejected both the times because of the following reasons. 1. I was staying in a PG. 2. The 2nd time, I had shifted to a rented house and they asked me for an agreement which should be done between me and my house owner.
Rajeev Mahajan: Yes, all banks look for your current residence proof while processing your application. If you don't have one, you can get it ready and apply to HDFC or any other bank.
sneha shetty: How do I negotiate with my lender for finer personal loan rates?
Rajeev Mahajan: One needs to look at not just interest rate but also processing fees, tenure of loan and foreclosure terms.
You can negotiate a better rate if you have competitive offer from other bank. If you have good credit history and existing relationship with bank, it will help you in getting a better deal from that bank.
Baskar: Is Antworks also a lender? If yes, how does one benefit by borrowing from Antworks?
Rajeev Mahajan: Antworks Money is not a lender, however, we facilitate lending through Banks/NBFCs and on our P2P Platform.
For borrowers who are not fitting into the lending norms of Banks/NBFCs, there are definite advantages of Borrowing on our P2P platform.
jasin dmello: Can I get a personal loan to marry off my siblings or for my own marriage?
Rajeev Mahajan: Yes you can get it for specified purposes.
Nitin Deshmukh: what are the regulations that govern peer to peer lending?
Rajeev Mahajan: RBI as come out with detailed guidelines for P2P lending platform which is available at their website.
A platform has to comply with all compliances as done by other Non Banking Finance companies.
In addition, there are restrictions on flow of funds, credit scoring of borrowers, type of lending that can be done, tenor of loans amongst other conditions.
Vinayak Tavade: What if a borrower defaults in peer to peer lending?
Rajeev Mahajan: In case a Borrower defaults on loan taken on P2P platform, it will have same set of negative repercussions as is the case in case of Bank loan. It will affect your credit score.
Also the lending platform will take all steps to recover money on behalf of lenders.
sanjeev singh: I am looking for 5 lakhs personal loans for 3 years. Please tell me how to find the best and minimum interest rates and what to consider while communicating with banks.
Rajeev Mahajan: You can check out best rates and offers by applying on antworksmoney.com or any other online portal. Rates depend on your credit profile and generally range between 12-18% or even higher.
You should communicate to Bank about purpose of loan, your present occupation and income sources.
Banks will also have a checklist of docs, which you will have to complete at time of application.