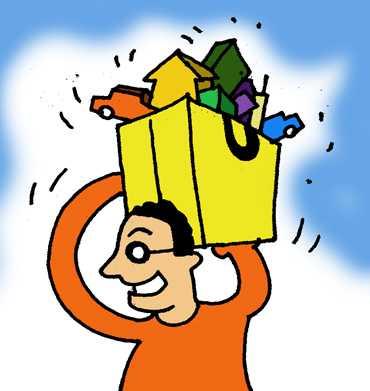 Don't have a credit card yet? Rajiv Raj helps you decide if you should have one...
Illustration: Dominic Xavier/Rediff.com
Priya Shandilya is a Bangalore-based BPO employee. Her friends constantly laugh at her because she does not have a credit card. While it seems unheard of in metros that people do not have a credit card, majority of the Indians do not own a credit card.
In fact till 90s, the concept of credit card was not known in India. It is only in the 90s that the credit card market picked up. So before you choose to opt for a credit card, it is important to understand the advantages and disadvantages of NOT having a credit card.
The advantages of not having a credit card:
Less debt: If you are too dependent on credit card, people tend to over spend. So if you don't have a credit card you have one less debt to worry about.
Better purchasing decisions: When you carry cash or debit card you are dependent on the money you have and not more than that. The advantage here is that you will buy only what is required not what is not required unlike buying through credit card.
Fewer hassles: When you have a credit card, you have to keep worrying about keeping the balance low, paying bills on time and keeping the card safe.
The disadvantages of not having a credit card:
Restricts your payment mode: It is generally found that many hotels and online travel portals prefer credit card payment over debit card. While the introduction of debit card has made it much easier for all of us, still many companies insist on credit cards. So this restricts your choice to some extent.
Credit history: Credit cards help you build a credit history unlike debit cards. It is good to start working on your CIBIL score. A good CIBIL score enables you to get home loans, personal loans and car loans at attractive interest rates.
Contingency funds: Credit cards are like contingency funds. In case of some emergency in the family and you do not have funds to pay for it; you can swipe your card.
So what will you choose?
The author is a credit expert with 10 years of experience in personal finance and consumer banking industry and another 7 years in credit bureau sector. Rajiv was instrumental in setting up India's first credit bureau, Credit Information Bureau (India) Limited (CIBIL). He has also worked with Citibank, Canara Bank, HDFC Bank, IDBI Bank and Experian in various capacities.