If you are panic-stricken because of your inability to repay even your minimum amount due on your credit card, help is at hand.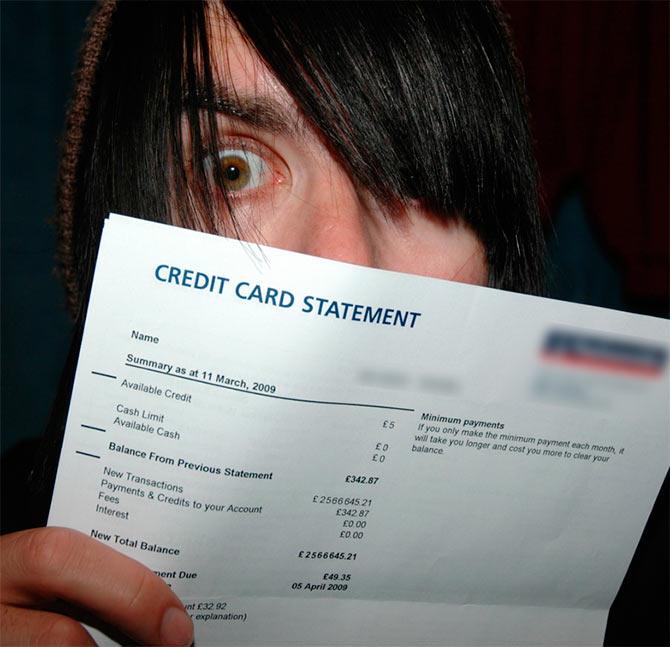 Photograph: Jason Rogers/Creative Commons
The banking regulator, Reserve Bank of India, may have just made life easier for you. The RBI has recently asked banks to revisit overdue charges on credit cards that are sky high currently. While this spells good news, it is not the end of troubles for you. So if you are feeling bogged down, here are some hacks to get out of a sticky situation like this.
The RBI in its recently published Annual Report on Banking Ombudsman has said that banks must revisit the charges they levy on credit card overdue. This is after taking into cognizance the interest rates on overdue payments on credit cards are as high as 36 per cent as compared to the prevailing base lending rates of 10-15 per cent.
Banks had in the past vehemently defended such charges, saying credit cards are unsecured and the delinquency rates on such products are high, but the RBI now insists that such high rates of interest are not in alignment with other products that carry a similar risk profile.
While this move by the RBI may make life a tad easier for you, you cannot wish your woes away if your credit card spend has soared out of control and you are unable to make the repayment of even the minimum amount due. In such cases, here are the best things you can do:
Get in touch with your bank
Strange as it may seem, banks dislike delinquency as much as you do, so if you are in a position where you cannot repay your overdue amount, approach your lender. Just having spent recklessly may not help your case, but if your case is genuine such as an illness you or a close family member is battling, job loss or some other serious problem that has led to a fund crunch, your bank may be willing to give you a hearing and try and find a middle path.
Penalties are still applicable
For any amount that is overdue on your credit card, the issuer charges you annual percentage rate (APR). This, as mentioned earlier, is as high as 36 per cent. While this may be rectified soon as a result of the RBI directive, you are still charged a penalty by your bank if you turn delinquent (i.e you do not pay the minimum amount due) for more than 90 days. This amount ranges between Rs 100 to Rs 500 if the overdue amount is below Rs 20,000 but for amounts of over Rs 20,000 this penalty may be between Rs 600-700.
This is the exact reason why you have to be proactive in opening a dialogue with your issuer. If your case is genuine, these penalties may be waived off for at least the first two cycles, your grace period extended or the interest rate revised as the case may be. However, do be prepared to give up all other rewards and be prepared to pay some penalty, albeit of a less harsher value.
Try to think of ways to repay your debt
The first thing you do if you find yourself approaching delinquency is to stop using your card altogether. You do not want to pile up your debt burden any higher than it already is. Secondly, think of the best means to come up with a plan to repay your outstanding. You can perhaps sell some valuable item that is lying around the house and you no longer have any use for it.
You could also ask your family members or friends to lend you some money that will help you tide over the crisis. These are obviously not the most pleasant of acts, but desperate times do call for desperate measures!
Keep a check on your CIBIL score
Your issuer may be willing to consider your case and give you some temporary relief, but delinquency does mean that your bank will report the same to CIBIL, as a result of which your CIBIL score is going to take a major hit. While this is not a happy situation to be in, the good news is that your CIBIL score is not etched in stone. Try and make all other repayments on time and work hard towards repaying your credit card overdue.
While resurrecting your credit profile may take years at a stretch, do not get disheartened and work towards making the full repayment as soon as you can. Needless to say, applying for any fresh loans at this stage is a bad idea as it may hit your credit score even further.
Once you are done repaying your entire debt, access your CIBIL score and CIBIL report to see that things are back in order and you are in the best of your credit health.
Having credit card overdue permanently, is like being at the long end of a rope called a personal finance crisis. The best thing to do therefore is to try and repay as soon possible. So if you are not there yet, let this serve as an alarm bell, and keep your credit card spend under check.
The author is a credit expert with 10 years of experience in personal finance and consumer banking industry and another 7 years in credit bureau sector. Rajiv was instrumental in setting up India's first credit bureau, Credit Information Bureau (India) Limited (CIBIL). He has also worked with Citibank, Canara Bank, HDFC Bank, IDBI Bank and Experian in various capacities.