Sri Lanka lost to Rohit Sharma, reads a WhatsApp message. Rohit Sharma's 264 runs not only set a world record in cricket history but also made many of his fans happy. Centuries, double centuries and victories are surely seen by most of us, but when one leads to a world record, one must wear his thinking hat.
So what money lessons did we learn after watching Rohit Sharma's magnificent, world record inning unfold?
Those who set world records do know their goals, but they never crumble below the weight of their own expectations. Rather they prefer to stand on the big hype of expectations and then reach the high post. A good batsman, like Rohit Sharma, waits for poor deliveries to hit boundaries and sixes.
On good deliveries he keeps taking singles. He keeps the scoreboard moving by contributing regularly.
When it comes to your money, you can mimic Rohit Sharma. You may start saving from day one and keep saving regularly. This will give you a headstart in your journey to financial freedom.
World records begin with the first ball the record-maker faces. They face each ball as if it is the maiden delivery of the day.
Double century, or for that matter any respectable figure can be put up when one behaves on the pitch and tackles each delivery diligently.
Similarly, being responsible with every rupee counts when it comes to your money. Personal finance is no different -- it is all about being prudent throughout. One miss -- reckless shopping, no saving, over leveraging, etc -- and you may have to return to the pavilion.
However just being there won't score you fame. Your choices are equally important.
Many cricket fans did not notice that Rohit Sharma not only scored highest runs in a one day international, but he also hit maximum number of fours in an inning. Smashing the ball beyond boundary counts. It accelerates the journey to world record.
In money matters too, go for some high scoring options.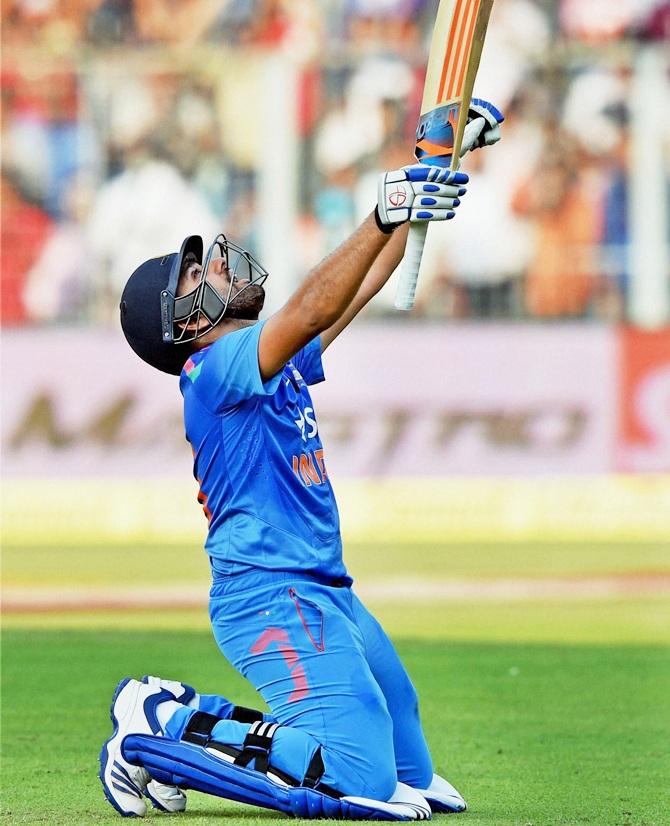 There is no point shunning equities just because you don't like volatility. The way a batsman chooses easier deliveries to score fours or sixes, you have to invest in equities when they are cheap.
Do invest in high scoring equities and alternatives if your asset allocation allows you to do so. This will help you build a large corpus in the long run, something like Rohit Sharma's 264.
Though one should aim for high returns, one should not be penny wise and pound foolish.
Never let go those small opportunities where you may get a small extra return without taking much risk. If you have idle funds park them in liquid funds rather than keeping them in savings bank account.
It is like taking a single by placing the ball between two fielders.
Such extra singles count. Biggest of the scores always have singles in it. Do not ignore them.
And finally it is the attitude that counts. Be optimistic and wear the shirt of the winner.
While scoring such a high score, Rohit Sharma never appeared negative. He probably knew that by end of the day he was going to be there at the top.
The world of investments and money is all about believing that there will be a better tomorrow and working towards it. Pessimists can't be investors!
After all it is all about forgoing today for a better tomorrow.
Photograph: BCCI
The author is a credit expert with 10 years of experience in personal finance and consumer banking industry and another 7 years in credit bureau sector. Rajiv was instrumental in setting up India's first credit bureau, Credit Information Bureau (India) Limited (CIBIL). He has also worked with Citibank, Canara Bank, HDFC Bank, IDBI Bank and Experian in various capacities.