Many youngsters take financial discipline as putting restriction on their freedom. That's a myth. You can very well enjoy as well as save and grow your money at the same time. Salil Dhawan shows you how
Illustration: Dominic Xavier/Rediff.com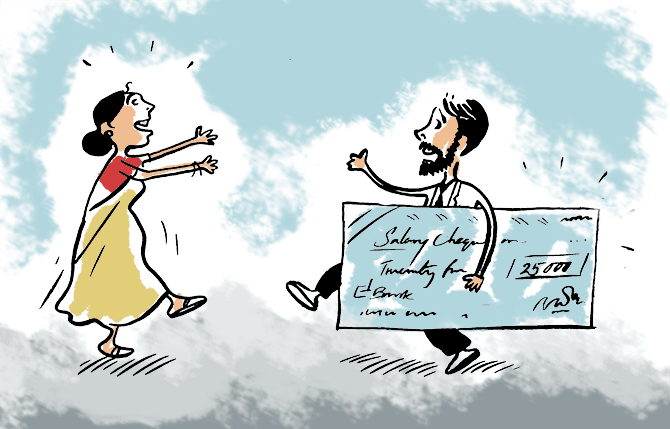 Congratulations, in case you are one among those who have recently got their first paycheck.
Waiting for that all elusive message (Your salary has been credited…) beep on the day you expect your first salary to be credited is always one the most difficult things to do. It is a great sense of achievement too for you and your family who stood by you through the thick and thin of your journey.
Once the salary is credited to your account and you get over those emotions which each of us possibly could have gone through in the past or many of us will go through in future, there are few significant things you must remember to lay a strong financial foundation.
It has more to do with disciplined saving and subsequent investing rather than have a blanket ban on the expenditure.
Many youngsters take financial discipline as putting restriction on their freedom. That's a myth. You can very well enjoy as well as save and grow your money at the same time.
There are few proven facts which you must remember while saving, investing and spending in the early years and as to why a financial discipline right from your first job will pay you by leaps and bounds in the years to come...
Click on each point below to read more
Courtesy: investment-mantra.co.in