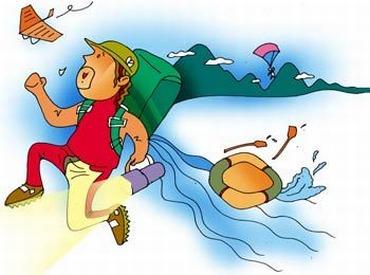 After all, when you are studying, it is better if all you have to worry about are your grades.
Are you travelling abroad to pursue higher education? If yes, then have you considered buying a student travel insurance policy for yourself?
Today, going abroad for higher studies has become very common. However, selecting the right student travel insurance plan still is a conundrum to many. While some make the mistake of buying a regular travel insurance policy instead of a student travel insurance policy, many tend to avoid purchasing of such plans and exposing themselves to higher financial risks.
Let us see how student travel insurance differs from regular travel insurance and why every student studying abroad should consider buying one.
At the very basic level, a travel insurance policy is meant to cover you during your trip and expires with the end of the journey. A student travel insurance policy, however, is more comprehensive in nature and covers you so long as you are studying in a foreign country.
The student travel insurance covers all your medical expenses and covers you during non-medical events as well. Depending on the policy, these can include loss of passport, loss or delay of checked baggage, personal accident, personal liability cover, payment of bail amount in case the student is arrested, cover for accidental disability, reimbursement of tuition fees in the event of accident or death of sponsor or parents, and travelling cost for attending to a family member in case they are hospitalised.
It helps the students to pay their hospital and medical bills without causing them any financial harm. Student policy is expressly meant for students travelling abroad for higher education and has a blend of benefits specifically directed towards insurance protocols of foreign universities.
Like any other insurance policy, there are certain factors for you to consider before buying a student travel insurance policy:
1. One of the most important factors to consider is pricing. Students going abroad from India should always consider buying the plan in India as an insurance policy from an Indian insurance company is much cheaper than the ones available overseas.
Many insurance companies in the market offer maximum coverage at a very economical premium. However, in such cases, it is crucial for the students to know the policy plan in detail and make a comparative study before buying one.
2. The second key factor is the sub-limit and pre-existing ailment coverage. Sub-limits refers to the upper limits applied on room rent, diagnostic tests, ICU expense, ambulance costs, etc., charged by the insurance company.
Students should buy a policy either with no sub-limit or a higher sub-limit. Although most of the student travel insurance policies do not cover the pre-existing ailments, the insurance company may provide this coverage if required by the university.
3. Look out for policy deductibles and co-payment clauses. Policy deductibles refer to the expense students have to incur before they avail the benefits of health insurance, whereas co-payment is the sum that the student needs to pay every time they visit a hospital or a doctor.
These amounts are over and above the policy deductibles. Therefore, always remember, lower the policy deductible and co-payment, higher is the premium. You need to pick up one that offers a right balance of two.
4. Always check out the claim settlement ratio of the insurance company before buying a policy because after spending a lump sum amount on premiums, claim denial is the last thing you would want to hear.
5. Before purchasing a policy, students must know the universities mandate for insurance requirements. In many universities, it is mandatory to buy an insurance coverage from their country, while many schools offer the flexibility of buying it from your countries of origin. If you are buying the policy from India, you should check if the benefits provided by the policy meet the university's requirement.
Considering the high cost associated with studying in a foreign land, it wise to buy a student travel insurance policy and protect oneself from the uncertainties. After all, when you are studying, it is better if all you have to worry about are your grades.
Illustration: Dominic Xavier/Rediff.com
Parag Mathur is General Counsel and Head of Compliance, BankBazaar.com