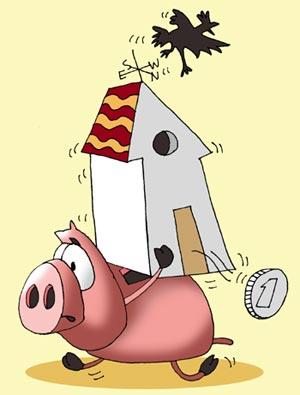 Find out with this five-point checklist
Owning a house and making it your home is a dream come true for many. But making the decision to take up a home loan of the right amount, at the right time, is no easy task. So how would you ensure that the right home loan choice is made?
Gaining ownership of a house is a matter of pride, commitment and number crunching. The financial stakes are high along with a huge involvement of time and energy. One needs to be prepared to make an investment of this magnitude.
This article will help you in doing a self-assessment about how ready you are to take up a home loan. Read on to know more.
Is your score good looking?
An important factor among the many that lenders look at while accessing a potential borrower is their CIBIL score. The CIBIL score is mentioned in the CIBIL report. An unsatisfactory CIBIL score can have many implications, ranging from a lesser sanctioned amount to application rejection.
Facing an obstacle at a stage when one has already started considering properties can be disappointing. Instead, how about obtaining the report directly from CIBIL, a couple of months before applying for the loan? It gives you sufficient time to work on improving the score, if required and paving a smoother road to the sanction process.
Are you prepared to dig deep in your pocket for a down payment?
Lenders want to understand the quantum of the down payment amount which the borrower can contribute. Inability to commit a sufficient down payment amount can even lead to a loan application being disqualified. This amount constitutes a considerable chunk and cannot be arranged by using small credit limit products like a credit card.
Saving up for the down payment amount beforehand takes care of an important aspect of the home loan process. Draw up a rough calculation to understand how much the down payment amount is adding up to.
Check for the various sources from where these funds can be arranged and be prepared!
Is it a smooth road with the existing debts?
A home loan is going to increase your debt obligation many folds. Hence, it is important that you are financially comfortable to handle this additional debt.
Analyse your existing debts and check if you are having any trouble meeting current liabilities. Lenders will definitely take a look at your debt to income ratio.
If the outstanding debt amount is high, in comparison to your income, then it may spell trouble. Consider this point before applying for the loan and work towards clearing existing debt obligations.
Are you ready for a commitment?
A home loan decision is one with which you have to stick for a really long time. It is crucial to ask yourself earnestly, if you are indeed ready to take on a commitment of this tenure and magnitude. It would mean making sustainable alterations in the way finances are managed.
Whether it is cutting down on expenses or restructuring your investments, be ready for major changes. A long term commitment would also mean that fulfilling this liability remains your priority over other things.
Is your income ready and steady for EMIs?
EMIs are going to hit your account every month! Is your cash flow ready to take the blow? The time to analyse that is now, before applying for the loan. Note down the income and expenses incurred for a month. Now make a provision for accommodating an estimated EMI amount on the expense side.
Do you have inflow sources pumping in sufficient cash to help clear monthly outstanding dues? Are the sources of income reliable and steady? If you have answered this in the positive then take a step forward towards getting that home loan!
Answering these questions will enable you to decide if going in for a home loan now, is a good decision. It will also help by highlighting points which need to be worked on before applying for the loan.
Planning is the key. The tedious application process will be a cake walk and loan disbursal will be smooth when the preparation is on point. We wish you a dream run through the loan process to your dream home. Of course, only when you are ready!
Illustration: Uttam Ghosh/Rediff.com
The author is a credit expert with 10 years of experience in personal finance and consumer banking industry and another 7 years in credit bureau sector. Rajiv was instrumental in setting up India's first credit bureau, Credit Information Bureau (India) Limited (CIBIL). He has also worked with Citibank, Canara Bank, HDFC Bank, IDBI Bank and Experian in various capacities.