There may be huge discounts and easy EMI options on your favourite expensive smartphone, but do not swipe your credit card left, right and centre, warns Rajiv Raj
Illustration: Uttam Ghosh/Rediff.com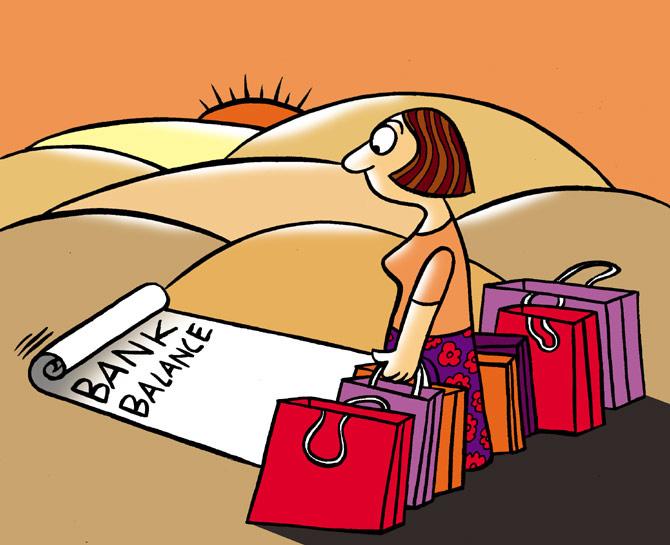 With the onset of festive season, most ecommerce companies have rolled out their online sale offers. Several occasions are coming one after another, bringing joy and celebrations in every home. Navratri, Dussehra, Diwali, Thanksgiving, Christmas and New Year, are the time to rejoice with loved ones.
As the festival season approaches, newspapers, social media sites, magazines, TVs, and radios are filled with different offers that entice consumers to spend money to make their festivals happier and brighter.
However, festival season is also a time that can wreak havoc on your financial health. While saving money may be the last thing on your mind when you are busy celebrating Diwali with your family, this is the right time to make sure that your expenses are under control.
Here are some credit card tips for you to ensure that the festival season does not lead to a huge credit card debt.
Make a spending budget for the festivals
The first thing you need to do right now is to set up a budget for your spending. List down every possible event where you will spend money. This may include gifts, household items, clothes, shopping, food and drink, lighting, socialising and so on.
Allocate a budget for every category and try not to dither from it.
Check your credit report
If you have not yet ordered your credit report, now is the right time to do that. Your credit report will give you a fair idea about your financial health. It will help you in managing your credit in a better way.
Credit reports also let you know whether there are any discrepancies like inaccurate personal details, incorrect account details or incorrect ownership. Credit reports are also at times the first indicator of any kind of identity theft.
If there are credit cards in your name, reflecting in your credit report, and you do not own them, it is the time to stop these frauds.
Pay down the balance on your credit card before festivals
If you already have credit card debt, now is the right to time to start paying it off. This will have a positive effect on your credit score.
It will also ensure that you have sufficient credit limit on your credit cards during festival seasons to make your purchases. However, do not overspend or use your entire credit limit as it will hurt your credit score.
Do not overuse your credit card
While it is easy to spend more than required during festival season, the right approach will be to have a budget in mind. Do not swipe your credit card left, right and centre.
To avoid overusing your credit card, make a list of all the items that you need before you go for shopping.
While there will be innumerable things in the supermarket to distract you, the best way to avoid credit card debt is to stick to the list.
Purchase only what you can afford to pay
While there are so many tempting offers during the festival, purchase only what you can pay back with your income. There may be huge discounts and easy EMI options on your favourite expensive smartphone during the festival season, but do not buy it if you cannot afford to pay the credit card bill with your monthly salary.
The interest rate as well as late payment fees on the credit card is exorbitant and you may end up paying more that what you have bargained for.
The author is a credit expert with 10 years of experience in personal finance and consumer banking industry and another 7 years in credit bureau sector. Rajiv was instrumental in setting up India's first credit bureau, Credit Information Bureau (India) Limited (CIBIL). He has also worked with Citibank, Canara Bank, HDFC Bank, IDBI Bank and Experian in various capacities.