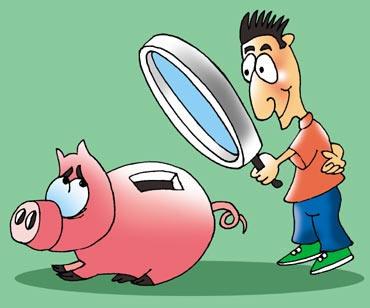 Here are few steps that if followed will put your finances on track and help you live a prosperous life with comfort
Most of the young adults entering their working years are clueless when it comes to managing their finances. While some do not think about financial planning until late, some others find it to be a daunting task. One doesn't really need to be good with numbers for managing personal finance. All it takes to get started on the right path is the readiness to do a little reading and working towards it.
1. Practice self-control while spending
Understanding the difference in what you need and want is just to satisfy your urge to own something while managing your finances. Before buying any item measure its consequences on your finances and weigh its need for you. If buying that item is your essential need and does not put significant stress on your finances, then go ahead. This does not mean that you stop enjoying life, going out with friends and have entertainment because that is one of the primary and legitimate need for any youngster who has come through the rigour of education years. But certainly, practice self control on your urge to buy things you don't need.
If you have the habit of carrying too many credit cards, be careful; they may put you off the track. Use credit cards only for the convenience of making your purchase without any burden of carrying cash not for the credit facility offered by the instrument. Do not get into the trap of revolving credit.
2. Stick to your goals
It's the time to work towards the goals set prior to entering into a job. Goals can be of different time horizon -- short-term, medium-term or long-term but always work in the direction of your goals. Setting goals and working in the direction of them not only helps one to move closer to achieving their goals but also helps one invest their money and time in the right things.
3. Budgeting and tracking the expenses
Once you have set your financial goals, make a budget and track your expenses. Over a course of a month, you will realise how budgeting and tracking your expenses helps you plan how much money you should spend and how much you need to save.
It also gives you a clear representation of your financial affairs and helps you live within your means by evading unnecessary expenses or borrowings. A well-planned budget emphasises the areas of concern and facilitates elimination of wasteful expenses. One needs to understand that smart spending is also saving.
4. Save for emergencies too!
Those days no longer exist when there was job security. Now, one might lose one's job any time -- recession may hit you, or one might lose the job due to change in business strategy or you may simply decide for higher studies. It is essential to save some money for the troubled times. Treat the regular monthly amount that you put into the fund as a non-negotiable monthly expense. Having a healthy emergency fund will provide you the much needed financial cushion and comfort.
5. Family security
Prepare for the worst!
An insurance cover can help you prepare for the worst by protecting you and your family with the financial bedrock for something unforeseen like hospitalisation, injury or death that may turn your world upside down. A life insurance provides the safety and security from such unforeseen events. While opting for life insurance you need to see that you are adequately covered to support those who are or will in future depend on you.
It is time to get money wise because your small steps today may become the giant leap for you to build a secure financial future for you and your family.
Illustration: Uttam Ghosh/Rediff.com
V Viswanand is Senior Director and COO, Max Life Insurance