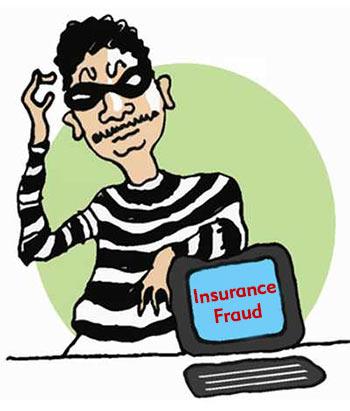 Here are some simple points to remember...
It is a general phenomenon that fraudsters target industries which witness high growth. Be it property market or e-commerce, there have been millions of people who have come across frauds whether by conmen, companies or hackers.
Given the pace at which the demand for insurance plans is growing in the market, insurance sector too has caught the attention of fraudsters. The nature of frauds differs from case to case.
There have been incidents under which an individual has acted as an insurer's agent or officer and duped a person. At the same time, there have been cases wherein fraud firms have come into picture and have wiped out money from several people.
In most cases, the common man has suffered due to his innocence and tendency to trust others. So, is there any way out? At times, the police are able to catch hold of fraudsters and victims are given their money back but it is rare.
It is better to prevent frauds. Here are some simple points to remember:
Do not reveal any details of your policies
If you receive a call from someone acting as some consumer rights forum or society and asks about any complaints about your protection plans, then be alert.
The Insurance Regulatory and Development Authority of India (IRDAI) keep releasing ads and public information that it never makes such calls. These are fraud calls and people try to misuse its name or a name similar to the IRDAI.
Never reveal any details about your policies. If you do, they may try to sell you another policy with higher returns. Such callers can face police action, if you register a complaint in the police station.
Never deal in cash
It is a thumb rule to not make any cash payments to anyone towards premium of your policy. Also, if you are paying through cheque or demand draft, then issue it in the name of the insurance company directly. Do not issue it to any private firm -- even an agent of a company. This will safeguard your interests and make sure that your money does not go in the wrong hands.
Check credentials of agents
There is no harm in asking for the identity card (ID), when dealing with an agent. Considering that even an ID can be fake, it is advisable to take the copy or picture of the card and then cross check with the insurance company whether he or she is an authorised agent.
Buying online
There are several advantages associated with buying insurance online. You are entitled for better features, low premium, etc. You can pay through credit card and get cash back along with credit period of 30-55 days.
At the same time, you have to be careful. The same principles apply here too. Do not make payments except to insurance companies. Make sure that you are making payment to the insurance company directly and there is no third party involved.
Remember that even insurance aggregators do not ask for payments to them. They just provide you the right information and connect you with the insurer. There is no financial dealing involved in this case. If any website is taking money from you towards premium in its own name, then it can be a fraud.
The new Insurance Act
Recently, the government passed the new Insurance Act with stringent norms to prevent insurance frauds. The IRDAI has got more powers to rule out possibilities of frauds.
Insurance companies are instructed to follow certain processes and procedures for agent recruitment and training. Also, there are heavy penalties in case of mis-selling. Companies are also expected to deal with consumer complaints in a transparent and efficient manner.
The IRDAI has developed its own consumer grievance redressal system also. Just visit irda.gov.in and file a complaint online. If you have any queries and wish to have any assistance, you can call up toll free number of IRDAI at 1800 4254 732.
You can also send a hard copy of the complaint to the following address:
Consumer Affairs Department
Insurance Regulatory and Development Authority
3-5-817/818, United India Towers, 9th Floor
Hyderguda, Basheerbagh
Hyderabad – 500 029
Thus, you can say that your interests as a consumer are sufficiently guarded. However, you must prevent being a victim of a fraud and take care of the aforementioned points while making an insurance buying related decision.
Naval Goel is CEO and Founder, PolicyX