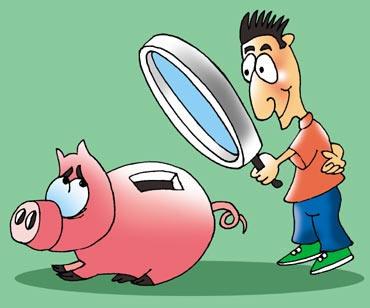 To be sure that you are committing your money to the right person, you must ask these questions to your financial planner. There is no point in cribbing after you have committed your money! Is there?
Okay you are too lazy to make a financial plan yourself, right? I will be more charitable -- you are very busy and your wife reads financial blogs. She has been bugging you and saying 'Wake up, make a plan...' so at last you have found a financial planner. What will you ask her/him?
Here is a primer... a good place to start. You can add to these questions, not reduce them. Tell her/him that you may be carrying a tape recorder and may want some answers in writing. See if this itself puts her/him off, or do the questions put her/him off!
1. Are you a fiduciary?
Well in the USA a financial planner who claims to be a fiduciary is duty bound to put your interest ahead of her/his. In the Indian context ask her/him 'I will pay you a fee, but tell me that this is the only fee that you receive'. And I want this in writing.
The problem is it is much easier to earn Rs 50,000 as a commission by being an investing agent and it is very difficult to justify Rs 5000 as fees -- even if you can save the client much more than Rs 5000 in MF and ULIP fees.
2. What will you do, what will you not, and how much will you charge me?
This is a big question and deserves a separate post! But nevertheless ask your financial planner about her/his charges.
3. What are your qualifications?
Qualifications do not matter but ask her/him whether s/he have taken the trouble to go and get yourself a good degree lik CA, CPA, or MBA from a decent institute.
4. Are you alone in your practice or do you represent a brand?
If you do represent a brand, what all services do you do other than planning? For example ask the planner whether s/he is a mutual fund agent, a life insurance agent, a PMS provider, a broker, an income tax return filer... s/he could be many things.
In such cases conflict of interest is more difficult to handle.
5. In all the products that you recommend to me can you assure me, in writing, that you or your firm is not being compensated for the investments that I am making?
6. Will you admit to me the mistakes that you have made in my portfolio or will I have to appoint another professional to ratify what you have done?
7. If I am paying you a fee, can I assume you to be asset agnostic? This means you will not really worry about my shifting from MF to bank FD or MF to real estate or vice-versa?
8. What type of clients do you deal with?
Financial portfolio wise will I be in your top 20 per cent or where will I lie? Is this business attractive to you or not?
9. Can I see a sample financial plan -- you are of course welcome to mask the name of the customer but all other details will have to be accurate and I would prefer a client who has two small kids, dependent parents, own apartment and monthly expenses should include a pet, one vacation in India and one foreign vacation once in three years.
10. Do you have any strong investment philosophy? I am pro-real estate and would hate you if you are pro-equity like Subra of Subramoney!
11. How often will you be in touch with each other? Will we communicate on email, social media or phone? I am happy if we do a bunch of SIPs and meet once a year -- unless there is a strong reason for us to meet.
12. Will you please speak in a simple language that I can understand and not in a language that requires a PhD in finance? I have a PhD, but in law, not finance.
Financial jargons scare me.
13. Who are the others in your team with whom I will have to work? Or is it only you that I will work with?
14. What makes your client experience unique?
15. Can I have three of your client references -- people who are like me and who will answer many questions about you?
Well there could be more but this is for now!