We'd asked you, dear readers, to share photographs of you and your mother and tell us what she means to you.
Avani Bhavya Shaliya from Borivali, Mumbai writes about her mother Chandra Ravilal Dedhia: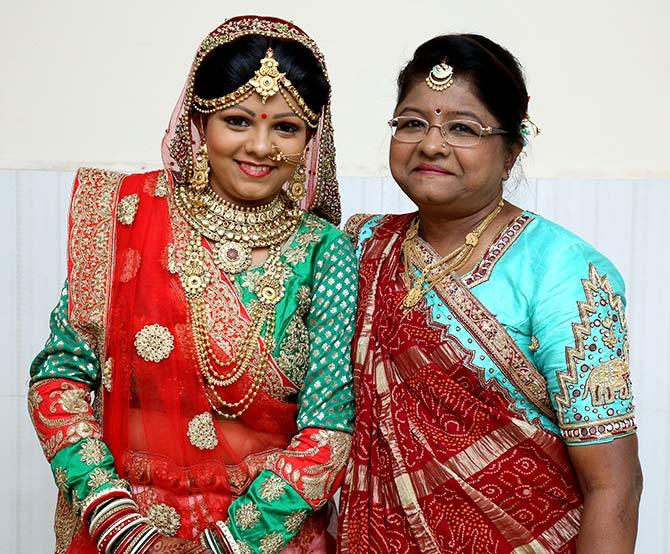 I will never forget the year 2011.
It was the same year my father passed away due to heart attack and I was diagnosed with alopecia universalis -- a condition in which you lose hair on your scalp and body.
I had lost all hope and it was my mother who helped me cope with the stress.
She played the role of a mother and father.
I understand how difficult it must have been for her but she has done it all with a smiling face.
I remember not going out to meet friends because I had developed this complex in me that due to my disease no one will want to socialise with me.
My mother encouraged me to wear a wig and come out of it.
She made me believe that if something rare like this has happened to me, I must be the lucky one; that is why God chose to make me different from others.
On May 5, 2019, I got married to the love of my life and she happily supported my decision.
I am also blessed to have got my mother in my mother-in-law as well. She is very much supportive in my decisions of studying and working ahead. I adore her.
We often forget what our parents do for us but, we should always acknowledge the role they play in our respective lives.
I am thankful to God to have blessed me with such wonderful parents as well as in-laws.
---
Do send us a picture of you with your mother and tell us what she means to you.
If you don't have an old photograph, you can take a selfie and send it to us!
Simply write to getahead@rediff.co.in (subject line: 'Mom and me') along with your NAME, MOTHER'S NAME, LOCATION and the story behind the picture. We'll be posting the best entries right here on Rediff.com.