'The main meal consisted of one soup, a salad, 2 or 3 vegetarian dishes (including at least 1 green vegetable), a variety of rice, freshly prepared Rotis or Phulkas, Dal, and yogurt.'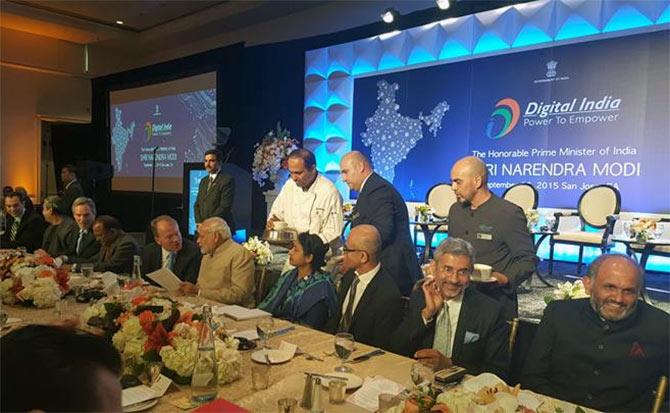 Executive Chef Sandeep Basrur of the Amber India Restaurant in San Jose was involved in creating the meals for Prime Minister Narendra Modi's stay in California.
Vijay Bist, the founder-CEO of the Amber India Restaurant Group, and Basrur spoke to Arthur J Pais/Rediff.com about how they catered for the Digital India banquet in San Jose September 26, and Modi's meals.
Tell us about yourself and the Amber India Restaurant Group.
Vijay Bist: I have been working on creating these culinary offerings for the last two decades. It was a real honour for Amber to be chosen to cater for Prime Minister Narendra Modi on his recent visit to California.
Why was your cuisine chosen to cater for Prime Minister Modi's stay and banquet?
Sandeep Basrur: I am an award-winning chef who believes in modern Indian food with a California touch. My belief that Indian food can be light and healthy is evident from some of my creations at Amber India.
How much were you involved in Prime Minister Modi's daily meals?
Sandeep Basrur: I had the honour to personally cook the prime minister's meals during his stay in the Bay Area.
The banquet dinner showcased a four course plated meal featuring delectable items from various regions around India: Kothimbir Vadi from Maharashtra, Patra and Bhutta nu Shaak from Gujarat, Kashmiri-style Bharwan Murg, Karavali Spice Paneer Shashlik inspired by coastal Karnataka and Khajoor Kheer influenced by the classic milk-based desserts of Calcutta. The California influence was evident in the Organic Tri Color Quinoa Pulao.
Describe the challenge of preparing the daily meals for Prime Minister Modi, especially under the supervision of security.
The first day's lunch was set featuring some Gujarati dishes like Bhindi Kadi, Val ni Dal and Srikhand, all of which he relished.
At the end of the meal his personal assistant would give me his requirements for the next meal and when it had to be served: Snacks like Batata Vada and Masala Chai. These had to be made fresh in the hotel suite.
His basic requirements were simple: The meal had to be pure veg (no egg, no gelatin). The main meal consisted of one soup, a salad, 2 or 3 vegetarian dishes (including at least 1 green vegetable), a variety of rice, freshly prepared Rotis or Phulkas, Dal, and yogurt,
He made a special request for chanss (less oily food). Some of the dishes he relished were Dal Khichdi, Tomato Nariayal Ka Shorbai, Bhindi Kadi, Undhyo, Palak Shorba, Basundi, Poha, and Mix Veg Paratha.
The protocol was stringent. Security personnel or embassy personnel would always be present when we were cooking his meal.
At the time of food pickup, the security technical officer would taste a sample of each and every item while the other representative would take small samples for lab testing.
Only then was food allowed to be taken to the prime minister's room, escorted by security.
Chef Basrur -- a graduate of the Institute of Hotel Management, Mumbai, and the Johnson & Wales University, Rhode Island -- shares some of his recipes exclusively with Rediff.com
Palak Shorba
(Creamy Spinach Soup)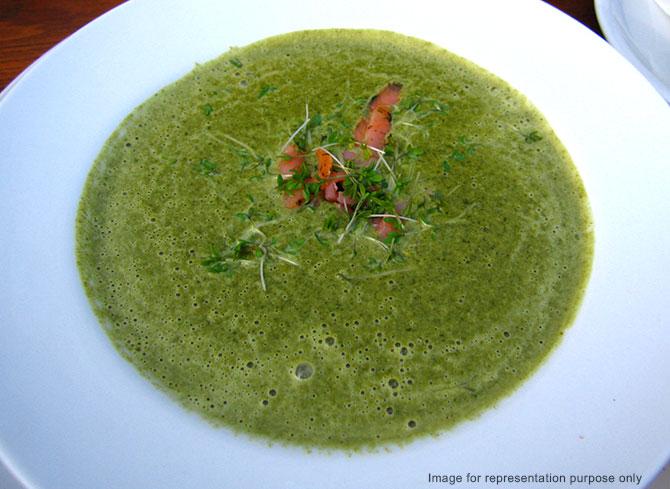 Photograph: Julian Bleecker/Creative Commons
Ingredients
4 cups spinach (palak), chopped
2 tbsp mint leaves (pudina)
1/2 carrot
1/2 onion
2 to 3 green chilies
1/2 cup cream
Salt to taste
1 tsp black pepper (kalimirch), freshly ground
1 tsp lemon juice
1 tbsp ghee
1 tbsp crushed garlic
1 tbsp ginger juliennes for the garnish

Method
Boil 2 cups of water in a pan. Add the spinach and cook for 3 to 4 minutes. Drain and keep aside to cool.
Saute onion and carrot in little oil, cook until soft.
Combine spinach, onion, carrot, mint leaves and green chillies. Blend to a smooth purée.
Transfer it into a deep pan, add the cream and 1 and 1/2 cups of water and bring to boil.
Add the salt, black pepper powder and lemon juice, mix well and simmer for 1 to 2 minutes.
For the tempering, heat the ghee in a small pan; add the garlic and saute till it turns golden brown.
Add tempering to the shorba. Mix well and simmer for 2 to 3 minutes.
Serve hot garnished with ginger juliennes.
Bhindi Kadhi
(Sauteed okra simmered in spicy, little sour yogurt gravy)
Ingredients
For the okra
1 tbsp oil
15-20 okra or bhindi, cut into pieces
For the kadhi
1 cup sour yogurt
2 tbsp besan or chickpea flour
2 tsp sugar
Salt to taste
1/4 tsp turmeric powder
1 tsp red chilli powder
1and 1/2 cups water
1 tbsp oil
1/4 tsp mustard seeds
1/2 tsp cumin seeds
1 green chilli, chopped
3-4 curry leaves
1 tsp ginger paste
Cilantro or coriander leaves, few chopped finely
Method
Clean the okra, trim the head and tail. Slice the okra. Clean the knife at regular intervals.
Heat the oil in pan on medium heat. Once the oil is hot, add okra with some salt.
Cook uncovered till the okra gets cooked. Transfer to a plate and keep it aside.
Take yogurt in a bowl. Add besan, salt, sugar, turmeric and red chili powder. Mix well so there are no lumps. Then add water and mix.
Heat the oil in the same okra frying pan on medium heat.
Once the oil is hot, add mustard seeds and let them pop.
Then add cumin seeds and let them sizzle.
Next add ginger paste, green chillies and curry leaves.
Add the yogurt mixture and stir the mixture as you add, so yogurt does not curdle.
Let it simmer for 5 to 7 minutes. Then add okra and simmer for 4 to 5 minutes.
Finally, stir in chopped cilantro and serve.

Dal Khichdi
(Rice with Yellow Lentils)

Ingredients
1/2 cup yellow split peas, picked over, washed, and drained
2 cups long-grain rice
3 tbsp ghee or vegetable oil
1/2 tsp whole cumin seeds
1/2 tsp garam masala powder
1 tsp salt, or to taste
4 tbsp fresh coriander, finely chopped
2 2/3 cups vegetable stock, water may be

Method
Soak the split peas in two cups water for three hours. Drain.
Wash the rice in several changes of water and drain.
Soak in 5 cups water for 1 hour. Drain.
Heat the ghee in a heavy pot over a medium flame.
When hot, put in the cumin seeds. Stir them around for a few seconds. Now put in the drained split peas and rice.
Stir and saute for 2 to 3 minutes or until the grains are coated with the ghee.
Add garam masala, salt, and fresh coriander.
Stir and saute for another minute or so.
Add vegetable stock and bring to a boil.
Cover tightly, turn heat to very, very low and cook for 25 minutes.
Turn off the heat and let the pot sit, covered and undisturbed for some time.
Stir gently with a slotted spoon or fork before serving.
Additional inputs: Mabel Pais