If you are serious about your future, here are some MBA programmes and short courses you can consider, advises Arun Jagannathan is co-founder and CEO, CrackVerbal.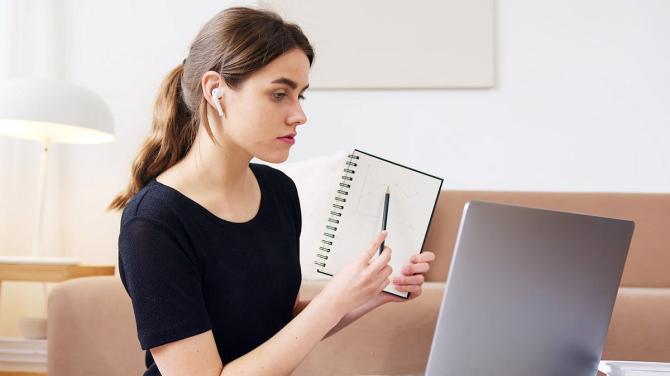 The demand for tech MBA graduates has been on the rise over the past couple of years.
Giants like Google, Amazon and Microsoft are constantly on the lookout for fresh MBA graduates and interns who will help them to build on their existing technologies and to bring in fresh ideas.
And this just means one thing -- more job opportunities.
Over the years, we have had many MBA aspirants with tech backgrounds come to us and tell us that they wish to remain in the same field of work. But they want to upskill, get into managerial job roles and go up the career ladder.
With the COVID-19 situation across the globe, tech has begun to play a larger role.
In terms of work or personal life, technology is what is keeping us all connected. The offline mode of communication is no longer the primary mode of information.
Thanks to the ever-evolving technology, we have all embraced digital now.
With this, there is a rise in requirement for people who can work in the technology spaces, manage them and build them as well.
If you are serious about your future, here are some MBA programmes and short courses you can consider:
1. Technology Management
An MBA in technology management is a way to learn the managerial and business aspects relevant to the tech industry.
While the curriculum includes the learning of technological tools and systems, it also covers IT business functions and IT project management.
If you have a tech background and if you are looking to climb the career ladder in the tech industry, getting an MBA in technology management could be the right way to go about it.
Most of the technology management courses are two-year MBA programmes. However, some accelerated offline or online programs could be approximately one-and-a-half years long.
If you are looking to pursue an MBA in technology management from a top business school in the United States of America, you might have to pay a fee of approximately $80,000 or above annually.
Whereas if you plan to do an MBA in India, your course fee might come up to a maximum of INR 10 lakh.
Technology plays a huge role in companies in any industry these days. Hence, the scope is very large.
You could work as an IT project manager, computer and information systems manager or even as computer systems analyst.
2. Digital Transformation
The innovation in the digital world has actually brought the world closer.
Consider the online platforms we use to connect with our colleagues and friends now.
These platforms rose to fame especially after the global pandemic condition and the lockdown. And they utilise a combination of technology and the digital aspects to grow their business.
A specialised course in digital transformation will not only teach you the tools that you need to grow the business that you are in right now but also teach you to utilise and exploit the opportunities out there in the business space.
You will also get to learn about the latest artificial intelligence technologies and understand how you can implement them in your current workspace or in your future business.
If you have a tech background, it will definitely be an added-on advantage because you can easily understand what happens behind the screens as well.
You will find that a lot of business schools including the London Business School, INSEAD and Cambridge Judge Business School offer digital transformation or digital disruption programmes.
These courses are neither like your regular MBA programmes in which you have to attend sessions on campus nor like a master's programme. These are more like short certificate courses taught by experts.
The fee for these courses abroad could range anywhere from $2,000 to $11,000. These are just approximate fees and it could change based on the course you choose, duration and the institute.
The course will help you achieve your career goals if you are looking to become a chief information officer, a digital transformation consultant or change managers in a company.
You can also implement your learnings in your own company or build a new business with the knowledge you acquire.
3. Technology and Innovation
Technology and innovation go hand in hand. If you love technology and believe that innovation is the key to success, you will definitely benefit from this programme.
If you are working with an organisation right now, an MBA or any specialised course in technology and innovation will help you understand how to implement new technology and utilise it to better the business.
With the implementation of such technology and the introduction of such innovations, you can even learn how to change the business model as well.
Just like how it is with the courses in digital transformation, the technology and innovation programmes offered by many business schools are either certificate courses or executive MBA programmes.
For instance, the Indian Institute of Management-Bangalore offers a live online programme on Managing Technological Innovation whereas the Ryerson University in Canada offers a full-time MBA programme in Management of Technology and Innovation.
The fee for the short certificate programmes abroad can start from $5,000 and will vary based on the type of course you choose and the institute.
If you look at getting an MBA in technology and innovation, the fee might go up to $25,000.
You can complete a certificate course from a renowned business school in a few weeks or a few months's time. An MBA programme lasts between 12 to 24 months.
With an MBA in technology and innovation, you will be able to work with IT firms, FinTech companies and even big corporates.
Every company is looking for candidates who can bring in new ideas to grow their business. You can choose to be a technology manager, chief technology officer or innovation manager.
4. Information Technology/Information Technology Management
Unlike older times, almost every company utilises technology in one way or another. It could be to process data, build online tools or to communicate.
Given this scenario, companies will require employees who can understand the technology, maintain them and analyse their working.
With an MBA in systems management, you could be recruited as a project manager, systems analyst or even a supporting expert.
While some universities abroad offer a Master of Science programme in information technology management, others offer an MBA.
You could choose your degree programme based on your preferences. But an MBA programme has its own advantages when it comes to understanding the business world and management techniques.
The fee for a two-year MBA in information technology course in India will be above Rs 10 lakhs. And if it is a residential programme, it may go up to Rs 23 lakhs.
If you plan to go abroad, the fee structure changes based on the location and the ranking of the institute.
Post your MBA, you can look to work as an information systems manager, assistant manager or even a computer information specialist. In the long run, you could even look at taking up the role of the chief executive officer as well.
If you have a tech background and if you want to acquire more skills to go up the career ladder, you can surely consider any of the options given above.
Remember, technology is a space that will always keep expanding. There will be something new for you to explore every time you look at it.
So, if you want to remain relevant in the industry, you need to keep upskilling and learning. A tech MBA is the right way to go about it.
Note: Some of the programmes listed are not MBA programmes, but short certificate courses or specialisation courses.
Arun Jagannathan is co-founder and CEO, CrackVerbal, a coaching institute for GMAT, GRE preparation and admission consulting.