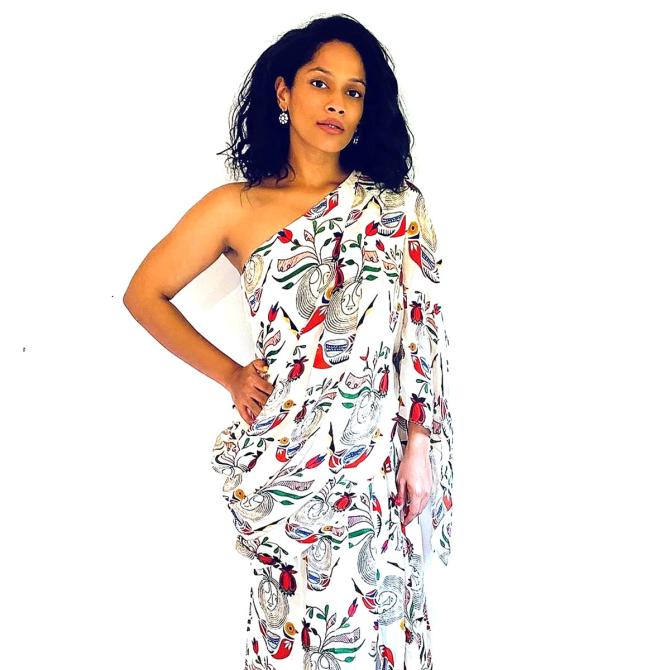 Fashion designer Masaba Gupta has crossed over to acting with Masaba Masaba with surprisingly positive results.
She is being showered with encomiums for her acting debut, and rightly so.
Subhash K Jha catches up with the newest star on the OTT platform.
Masaba Masaba has been received very positively. What are the best compliments you have received for it?
The best was from Vidya Balan calling me and congratulating me.
I was thrilled to see how she binge watched it. So that topped it.
And, of course, the fact that I was able to do as good a job as my mother, which is a huge compliment.
Someone called me a 'culture maker'. That's a big big deal for a generation thriving on content!
How did the series crystallise?
Ashvini Yardi, the producer of the series, was the one who came up with the idea.
It was way ahead of its time. But my gut feeling said it would be the right thing to do.
The only thing I was particular about was not making it look like a cheap reality show.
So, we worked on the script, built characters inspired by many people we all know, and the rest is history!
It is your story and that's your mom playing your mom.But then there are obvious fictional liberties.
How did you decide what to keep from your own life and where to stop and let the embellishments take over?
We knew from day one what this show would get from us and what it wouldn't.
Mom and I never even spoke about drawing a line.
I think when so much has been written about you in the press, that line is always present and never to be crossed.
But the best part was fictionalising instances borrowed from real life too.
We made sure we were clear not to hurt anyone's feelings or a moment in their life which may be personal and also that years later we shouldn't watch this and cringe.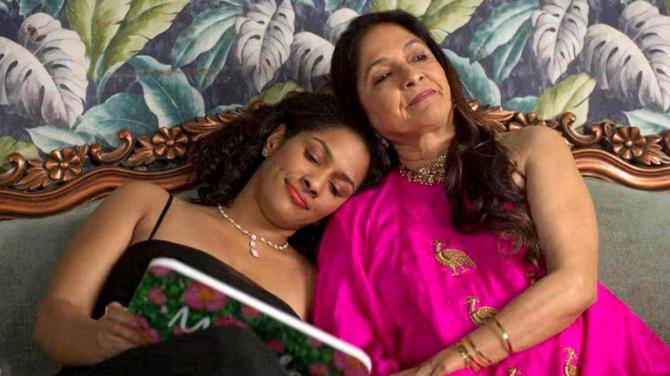 The real surprise is you can act! How tough was it facing the camera with Neenaji?
Thank you! I love the camera; always have. But didn't really have the confidence to face it because of my insecurities.
Also, I never said it out loud...that I want to act.
Somehow, I thought people would laugh at me.
Has acting been liberating?
I realised that the camera is my friend, and I have huge respect for it.
I will only take up work that excites me, because fashion is and always will be my first love and priority.
But I want to play characters. I find that an exciting challenge -- to slip into someone else's skin.
You have had an extremely unconventional childhood. Did you ever feel like the odd one out?
My childhood was honest, actually.
It was just that the institution of marriage is not where I come from. But how conventional is a kid whose parents have a turbulent marriage.
And that changes the very fabric of his being.
So I am grateful I had this unconventional upbringing. It was normal and full of honesty.
Was it tough for you to establish your identity in Bollywood and otherwise?
No, it wasn't. It would be hard if I had decided to pursue acting earlier.
I got lucky with fashion because I was behind the scenes. But in every other aspect, people have only welcomed and encouraged me.
What's next for you?
A new clothes collection and lots of collaborations. Back to the same old life!