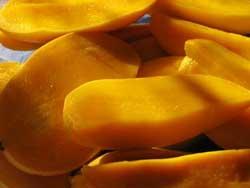 We invited Get Ahead readers to share their mango recipes with us -- great ways to enjoy the king of fruits in the sweltering heat. As part of an ongoing series, we present three such responses.
First up is Nalini J Kudalkar's recipe for Mango Bhaat:
Cuisine: South Indian
Type: Vegetarian
Preparation time: 10 minutes
Ingredients:
3-4 medium to ripe alphonso mangoes
3-4 red chillies
2 tsps chilly powder
250 gms rice (cooked)
Chana dal
A few mustard seeds
A few curry leaves
Salt to taste
Sugar
Preparation:
Peel the mangoes and cut to pieces. Keep soaked in ice-cool water.
Cook rice in pressure cooker and after cooling, mix with cubed mangoes.
Add sugar,salt, and chilly powder. Temper with mustard seeds, curry leaves and chana dal.
Next we have how to prepare Mango Pie by Dipti Pastakia:
Cuisine: International
Type: Vegetarian
Preparation time: 20 minutes
Ingredients:
2 readymade Graham Cracker crusts
1 can mango pulp
18 oz sour cream
1 1/2 envelopes non-flavoured gelatin
2 tbsps sugar
1/2 cup water
Cut-up pieces of ripe mango (optional)
Preparation:
Warm the water in the microwave (1 minute) and dissolve the gelatin in it.
In a large bowl, mix pulp and sour cream with a hand blender. Add the gelatin mixture and sugar, and continue to mix until well-blended (optionally, add the cut-up mango pieces and stir).
Pour the mixture into the readymade Graham Cracker crust shells and keep in refrigerator for 2 hours or until the mixture is firm.
Cut into eight pieces and serve with whipped cream on top.
And finally, we have Anjana Narayanan's Mango Margarita recipe:
Cuisine: Mexican
Type: Vegetarian
Preparation time: 5 minutes
Ingredients:
1 1/4 ounces silver tequila
1 ounce Triple Sec
1 1/2 ounces freshly squeezed lemon juice
2 ounces simple syrup or sweet-and-sour mix
3/4 cup mango
Preparation:
Place all of the ingredients in a blender and blend until smooth.
Pour the mixture into a hurricane-style glass.
Do you want to share your summer recipes with us? Simply click here and fill in the form on the page that opens up.