'As the night wore on, we could hear insects, see fireflies and slowly, the stars took over the naked sky.'
'For those of us who spend the largest part of our lives in a cement jungle and wake up to machine sounds, this was music.'
Today: Rediff.com's Divya Nair takes you on her ride from touristy Manali to less inhabited Jispa -- via Rohtang La (13,050 feet).
Day 3: Manali to Jispa: 138 km
IMAGE: The view from the Citrus Resorts, Manali, where we stayed. Photograph: Kind courtesy Pawan Sharma
I woke up leisurely by 7 am, dressed up and stepped out of the hotel room to soak in the morning view.
The property was nestled in an abundance of nature -- colourful flowers, green valleys and a view of the Beas -- enough sights to liven up your morning.
On the radio, it was announced that the media car would be positioned in the middle of the convoy (after Adventure 11), which meant that we'd be driving behind Adventure 9. It also meant that we could not drive at leisure or at a convenient speed.
We got into our respective cars and started our journey sharp at 10 am.
I was advised to take one tablet of Diamox to prepare myself for the higher altitude. Some participants had started taking the dose two days prior to the journey to avoid side effects.
Reluctantly, I took one -- a decision, you will discover, I would regret towards the end of the day.
Misty mountains, green hills and truck traffic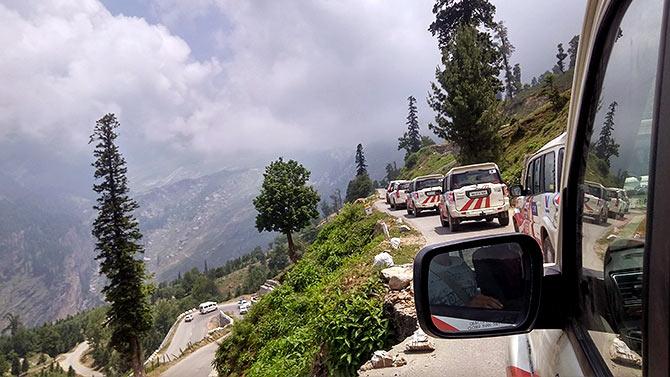 IMAGE: The convoy cruises through winding hills in Manali. Photograph: Divya Nair/Rediff.com
The road towards the Solang Valley was winding and picturesque.
I tried my best clicking photographs in 'sports mode' as the car leapt through narrow bends and unrelenting traffic.
Gitumoni kept telling me I should save my skills for the breathtaking views in Leh and Srinagar. But I find it hard to resist clicking; each winding road would open up a stunning view.
IMAGE: Manali is a haven for green panthers. Photograph: Divya Nair/Rediff.com
Driving through bends and steep turns alongside negotiating with oncoming traffic would soon be the prime skill required to complete this trip.
As if the stubborn, slow moving trucks weren't enough to test our patience, at one point, during the uphill journey, Adventure 10 wanted to know why the media car halted at a distance.
Jijo tried to explain over the radio that there was an array of oncoming trucks blocking the road. Shomakji appeared unhappy with our driving when he insisted that he'd like to drive ahead of us in the convoy.
We realised it was pointless explaining the traffic situation, so we let him drive ahead.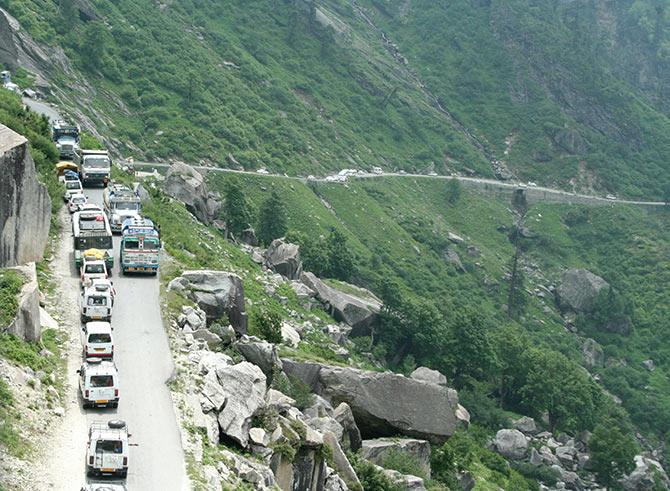 IMAGE: Oncoming truck traffic enroute to Rohtang La. Photograph: Divya Nair/Rediff.com
As we moved higher, we were driving into the clouds and there was a sudden nip in the air.
All of us rolled down our windows to see pockets of snirt and slush along the way.
We could also see vultures soaring in the sky, which was quite a sight.
At Solang Valley, we admired the young and old enthusiasts who had signed up for paragliding.
Rohtang La: Misty clouds, black snow and stinking toilets
Rohtang La (La meaning Pass) is situated at 13,060 feet and when we arrived, the temperature had dipped to 14 degrees.
In Ladakhi, Rohtang also means a 'place of corpses'. According to the locals, a huge number of people die in landslides while driving towards Rohtang La, hence the name.
We are informed that the pass is shut for most months of the year due to snow and fear of likely landslides.
The pass is the only way to access Lahaul and Spiti. During the few months that it is accessible, the locals transport food and other necessities to and from Kullu.
Thanks to the cold, my bladder kept nudging me that I badly needed to pee.
We stopped a few kilometres away for the break.
IMAGE: At a spot, we caught a group of vultures feasting and the smell of the rotten prey was unbearable. Photograph: Divya Nair/Rediff.com
There were couple of makeshift toilets for both men and women. The presence of the facility could be realised from the strong stench which could be smelt from a distance.
I tried to shut my nose and reluctantly walked towards it. As I got closer, I noticed that some ladies had instantly regretted the decision of using it.
Toilet rolls, I was told, would not help. I will refrain from the details of how bad it was.
For someone like me, who avoids public toilets for hygiene reasons and have suffered bouts of urinary infection in the past, this trip was going to be a nightmare I thought.
I decided to ditch the toilet and walked away from where the convoy was parked until I found a covering wall, away from prying eyes, and quickly relieved myself.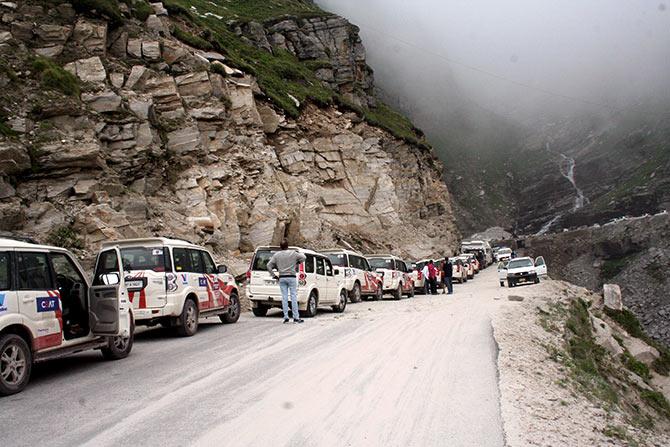 IMAGE: The convoy meets uphill traffic. Photograph: Divya Nair/Rediff.com
There was mist all around and the chilling wind froze every part of the body it seemed to come in contact with.
My face, particularly my nose, went numb in no time.
Do check the video of the Rohtang Valley:
I got back into the car, hoping the road ahead would be better, but we continued to move at a pace that would have made the tortoise feel like competition.
The roads were dusty and we could barely see anything ahead.
On a normal trip, we would wait for the vehicle in front of us to pass by, so the road got clearer, but here, we had to drive without stopping. Complaining about it was out of question.
Over the radio, some convoy members discussed trips to the Spiti Valley and how the road was equally tricky.
We continued to drive on the rugged path for more than two hours until we finally spotted tar roads.
It took me a while to get used to the fact that I shouldn't be happy about tarmac roads.
The convoy that would drive at nothing less than a speed of 100 kmph or more on rickety roads would drive at less than half the speed on tarmac. The only respite was that on tarmac, the drive was slightly more relaxed.
Lunch by a waterfall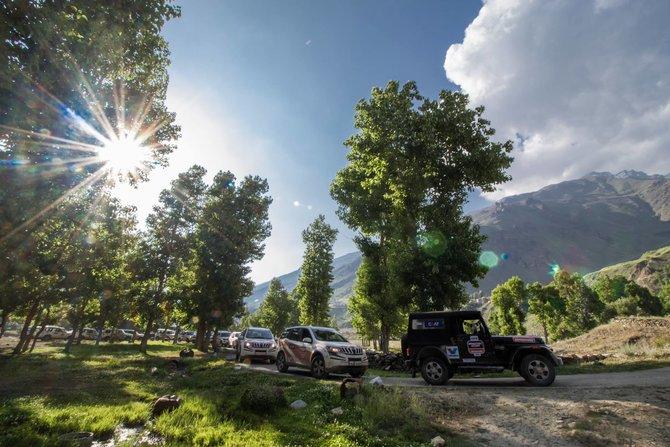 IMAGE: The lunch spot enroute to Jispa. Photograph: Kind courtesy Mahindra Adventure
Since the morning, we were all excited about having lunch at a spot near the Sissu waterfall.
From the description, it felt like a picnic out of a fairy tale. And the place was just what everyone needed after the tough ride.
An orange coloured welcome drink was served to soothe us. Jijo, who was already feeling under the weather, threw up immediately after having it. We asked him to relax and get some sleep.
The rest of us admired the beauty of the plunging water body amid the green and rocky ranges.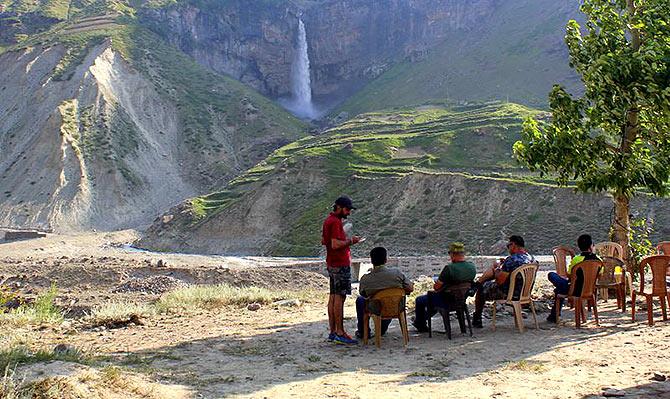 IMAGE: Lunch by the Sissu waterfall. Photograph: Kind courtesy Sudhir Babu
Lunch was served inside a tent because it was dusty and windy outside. There was roti, sabzi, rice, dal and kheer.
Since Jijo was unwell, we let him rest and got another driver.
If we were driving after lunch, Vinod would start a conversation that would involve and interest all the convoy members.
He would ask about a certain truck or SUV we spotted on our way or share some trivia about Mahindra cars.
He told me later that he did so, to ensure that the drivers and co-passengers did not feel sleepy after lunch. And since most of the convoy members are auto enthusiasts, they found this activity interesting.
We reached Tandi, the only hill station between Manali and Jispa. Here, we saw the Chenab -- the confluence of the Chandra and Bhaga rivers.
The waters were muddy from the massive deconstruction work along the river.
We were told it would be difficult to find a fuel station in Jispa so we filled up in advance.
IMAGE: As you go higher, there are lesser fuel stations. Photograph: Divya Nair/Rediff.com
It was 7.30 pm when we reached our night stay.
Padma Lodge in Jispa faces the Bhaga river and is protected by mighty ranges dotted with vegetation on either side.
We were at 10,500 feet now, our first spot of acclimatisation towards future higher altitudes.
As we got off the vehicle, we could hear the sound of the nearby river gushing away to glory. Since the phone networks were down, we entertained ourselves with the mystic sounds of nature around us.
As the night wore on, we could hear insects, see fireflies and slowly, the stars took over the naked sky.
For those of us who spend the largest part of our lives in a cement jungle and wake up to machine sounds, this was music.
The temperature outside was 9 degrees, so I resisted the temptation to sleep under the stars.
We assembled for a bonfire party at 8.30 pm.
I had never been part of a bonfire crowd before, so it was a new experience for me. Since we would not be driving the next day, there were drinks and music too.
Slowly, Hindi tracks were played and I couldn't resist myself. One by one, the Govindas, Mithuns and Madhuri Dixits came forward.
We were tired to the bone, but the three hours we spent dancing and teasing each other would be remembered for the rest of the trip.
The night gets longer
After a light dinner, I crashed at 12.30 am.
Half an hour into the night, I felt a weird pain build in my chest. I sat up for a while, thinking it must be a muscular pain from all the dancing I did.
The pain kept growing to a point that I felt I was going to die.
I popped in a painkiller and tried to sleep, but I could hear rumbling sounds of trapped gas in my tummy and I cursed myself.
I tossed and turned, trying my best not to trouble my roommate Soumi. She was already under the weather and had been yearning for some sleep.
At 4 am, I forced myself to throw up and felt slightly better. The pain reduced a bit, but I felt restless.
Day 4: Jispa: Free Day
IMAGE: The view outside the Padma Lodge in Jispa, Himachal Pradesh. Photograph: Kind courtesy Pawan Sharma
By 6 am, I gave up any hope of sleeping. So I put on my jacket and shoes and stepped out for a walk.
The view outside was surreal. Imagine waking up to the mighty Himalayan ranges. Had I walked 300 metres straight from the hotel gate, I would be wetting my feet in the Bhaga river.
I spent some time talking to a young woman who was busy making tea for a bunch of tired bikers.
In broken Hindi, she told me how Jispa was a small village and the population was just about a few hundred people.
The villagers had recently taken to farming and tourism was helping them survive, she said.
After 40 minutes of brisk walking, I returned to my room and freshened up for breakfast.
When I shared my night's ordeal with Vitan Joshi, one of the doctors in the convoy, he told me the gastric attack was one of the side effects of Diamox. Other side effects were vomitting and diarrhoea. I made a conscious decision to skip Diamox for the rest of the trip.
River crossing...Yay!
Around 10 am, we gathered for a short briefing on off-roading tips. Vinod Nookala from Mahindra offered a lot of useful gyaan on how to rev the engine and what to do when you are off-roading.
Yours truly being an amateur i10 learner, all I understood was 'have patience; keep distance'.
The XSO team members showed us how to do a four wheel drive crawl and walk which was very exciting.
Do check out the video below for engaging the 4X4 in a crawl and walk:
After we were done with our share of wows and applause we were told something we all agreed with. 'Your vehicle is powerful than you think it is.'
Then it was time for the obvious lesson: What to do if your vehicle gets stuck in the water.
When the river current is strong and your judgement goes wrong, the tyres sink lower to a point that any amount of power cannot get it out. Even a tractor could get stuck and would have to be recovered using an electrically powered winch externally.
It was demonstrated how the winch draws power from the battery -- one end of the spool is tugged at the vehicle that has to be restored and the other end is tugged at the vehicle on the road.
When the winch starts, the cables act as spools. Anything between 6,000 pounds to 12,000 pounds of power is applied to get the vehicle out of the water.
Do check the video below to find out how to haul a vehicle stuck in a river:
Two day off-roading training at the Mahindra Adventure Off-road Academy in Igatpuri costs Rs 15,000.
Post the theory session, we got back into our vehicles to test our skills in crossing the river.
Only the Scorpios and Thars that had 4x4 options were allowed to participate. The rest took turns in the driver seats.
IMAGE: River crossing in Jispa. Photograph: Kind courtesy Mahindra Adventure
Jijo did a fine job of crossing the river three times and told us it was child's play.
I wanted to try it too, but Soumi was hesitant.
When Gito volunteered to take the driver seat, both Soumi and I looked at each other with that familiar expression whether we should get off.
Eventually, we played sport and fastened our seatbelts.
I hoped the airbag worked in case something happened, but Gito looked confident.
He surprised us as he whizzed past the river smooth and safe. We told each other: 'Darr ke aage jeet hai.'
After the session, we all got off our cars. Some of us tried walking barefoot in the river. After the initial chill, within seconds, our feet went numb. By the time we were out of water, our feet looked red.
The misadventures of Secret Six
After a short break, some of us decided to visit a monastery located 5 km away from the hotel.
The six of us (Jjio, Gitu, Soumi, Rohan, Arpita and I) felt lazy so we kept delaying the idea. By the time we started, three groups had left and we ended up taking the wrong route.
With no one to lead or direct, we felt really good to drive.
'Get ready to get lost' we exclaimed as we drove through a road that offered majestic and scenic views of snow peaked mountains leading to smaller streams lined by pebbles and white sand.
We asked for directions, but in vain. After several failed attempts of trying to locate the monastery, we decided to go back as we did not want to risk burning any more fuel.
Although we were full, we chose to stop at a quaint restaurant near a bridge to have Maggi. Because, when you are in the land of Buddha, Maggi, you will discover, is mandatory.
Along with the soupy noddles, the smiling lady offered us a red sauce.
Before I could sense its contents, Soumi happily spooned it and mixed it in the Maggi.
Made from grinding garlic red and green chillies and onion, the sauce, we realised, could easily stir the dead.
In the first slurp itself, I felt smoke erupt from my nose and ears. Slowly, we gulped it with cold chai and coffee.
The shop sold small Tibetan flags as souvenir for Rs 50 each. Rohan decided to buy some 15 of them to gift his friends back in Mumbai.
I chose to chat with the restaurant's owner who told me the words Om Mani Padme Hum is a Buddhist prayer that is chanted to protect and bless people with good health and happiness.
The flags are made of cloth and need to be hung or tied at a place where the wind blows and must be visible to all.
The Buddhists usually tie it outside their homes, in their vehicles or near the source of water so that it comes in contact with the wind.
As the wind blows, the threads get swept by and your sins get washed away making you a better person.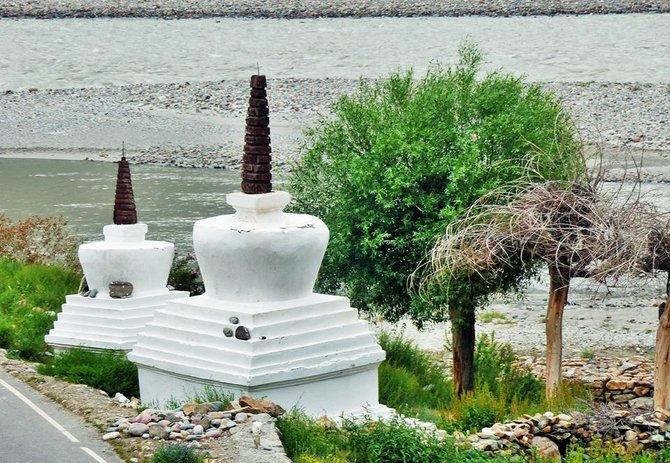 IMAGE: With no cellular network, there is ample time to soak in nature's beauty in Jispa. Photograph: Kind courtesy Pawan Sharma
It was starting to get dark so we drove back to the hotel.
We spent the evening in the garden area facing the hills, listening to the water making noises as it took its natural course.
Photographer Jatin Verma shared stories and pictures of shooting in the deserts of Rajasthan at 40 plus degrees.
He spoke about how he gave up designing jewellery to pursue his passion for photography and driving.
At dinner, the group that went to the monastery told us how they'd climbed about 100 steps to reach the top and that the view was spellbinding.
I wasn't sure if I should sulk over what I missed or be happy about our own misadventures.