'I have worked both on and off stage and I have realised that an increasing number of designers want to work with international models,' says Mumbai-based model and design graduate Ritu Rathod.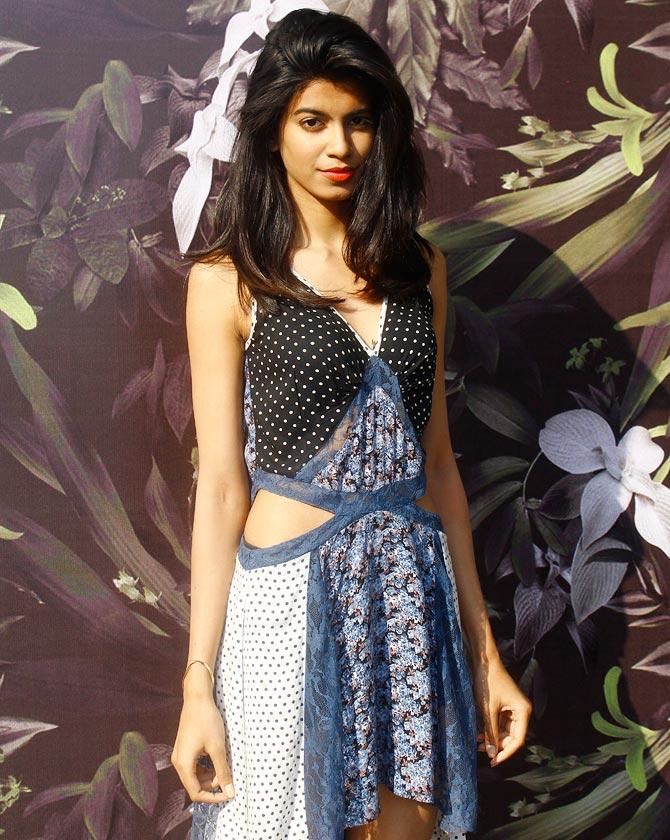 Ritu Rathod, 21, a student of fashion designing at INIFD, Mumbai recently walked the ramp for designer Dhrvv Kapoor.
We caught with the young talent backstage to find out more about her dreams, challenges and learnings from the industry, both on and off stage.
How did you enter modelling? Tell us about your first break
I never wanted to be a model, I wanted to be a designer.
I was pursuing my internship with IMG Reliance when fashion director Vinod Nair spotted me and suggested that I audition for modelling. That's how I got signed on for Toabh model management three months ago.
Two months ago, I walked for Abu Jani and Sandeep Khosla. I was the only newcomer in the show, the rest were established models.
I was very thrilled.
Last month I auditioned for Lakme and got through.
Were you always so fit?
Yes. And that was a major plus when I started preparing for the auditions. I did not have to work much on my body.
Also since I had been working with IMG, I used to work closely with models and I knew what it takes to be on the ramp.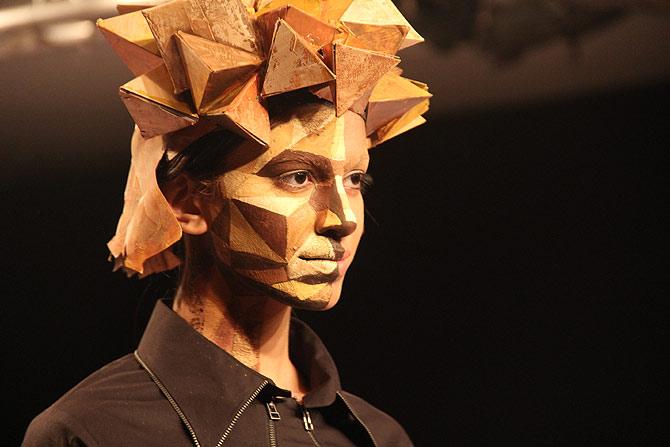 Image: Ritu Rathod walks for Lakme's 'Makeup Show'. Photograph: Uttam Ghosh/Rediff.com
What was your first salary?
I had visited a Loreal salon to cut my hair and I was asked if I would like to model for them for an upcoming contest 'Color Trophy'.
They gave me a makeover and paid me Rs 10,000. That was my first ever pay cheque as a model.
What kind of challenges do newcomers face when they enter the industry?
I have worked both on and off stage and I have realised that an increasing number of designers want to work with international models. Some of them don't say it upfront, but it's very evident from the elimination process.
I was once rejected and the agent told me that they had preferred international models.
I find it disappointing when Indian models are not given their due.
Tell us about some of the projects you have worked for.
I have been a model for the VH1 Gold All India promo. I was painted gold from top to bottom.
I also shot a couple of commercials for Kingfisher. One of them was for Kingfisher Oktoberfest.
At this season, I walked for designer Dhrvv Kapoor.
How do you stay safe?
I live in Vasai and most of the shows happen in the city. So when I travel home late, I prefer to take the train than go by road. I have travelled by local train as late as 12 in the night and I have been fortunate to have a cop in the compartment.
I rarely take the cab, but if I do, I ensure that I keep my family informed and updated during my commute.
What advice do you have for young aspirants who want to make a career in modelling?
I am new and still learning the ropes. But if you want to enter the profession, remember that you will have to deal with different types of people.
You have to stay calm and be prepared for rejections.
You can survive only if you are passionate.
DON'T MISS: Lakme Fashion Week Special Coverage