Two years ago, May 16, 2016, Narendra Modi and the Bharatiya Janata Party were elected to rule India.
Undoubtedly, the Modi government's biggest challenge is to generate jobs for the 1 million Indians joining the work force every month.
So, has achche din arrived for all those young Indians eager to find jobs?
Rediff.com correspondents will speak to young people all over the country in the coming days and weeks to find out.
Today: A Ganesh Nadar meets three youngsters at a government employment exchange in Tamil Nadu.
That a young man with an MBA works as a labourer reveals the frightening economic and social challenges that lie ahead if the Modi Sarkar doesn't move quickly to fix the jobs issue.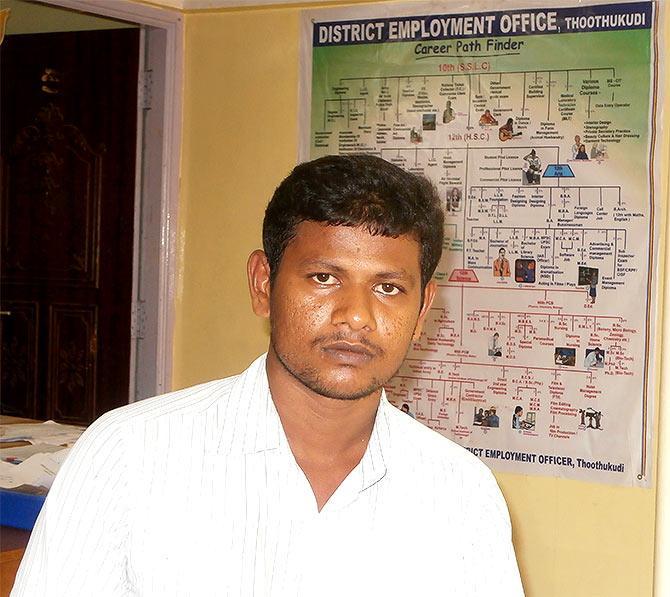 These three youngsters from the Thoothukudi district in Tamil Nadu share the same dream. They want to work for the government, discovers A Ganesh Nadar/Rediff.com, who met them at the district employment exchange.
Kasivishwanathan has an MBA in finance but works as a temporary labourer in a spinning mill. He is sure he will get a permanent job there, even though he has to wait for five years before it happens.
Meanwhile, he appears for all government recruitment exams and keeps his details up-to-date at the local employment exchange.
My name is K Kasivishwanathan. I am 27 years old and belong to Srivaikuntam town in the Thoothukudi (formerly known as Tuticorin) district of Tamil Nadu. I was afflicted with polio in my right leg when I was a year old.
After I finished my Class 10, I registered for a job at the employment exchange in Thoothukudi because that is what everyone else was doing.
After I finished my Class 12, I returned to the employment exchange and registered that certificate. My third visit here was to register my graduation certificate.
This is my fourth visit to this office. I came to register the fact that I have completed my MBA in finance.
Though I have been coming here since 2005, I have not received a single interview letter. I have not lost hope. I am sure that, one day, I will get a job because I registered myself at this employment exchange.
I have been receiving unemployment assistance from this office since a year. They give me Rs 300 per month. Last year, it came in one installment. I received Rs 3,600 directly in my bank account.
I don't know how long they will give me this assistance. I hope I get a permanent job before it stops.
I have already appeared for the TNPSC (Tamil Nadu Public Service Commission and SBI State Bank of India) recruitment exams, but I didn't receive an interview letter. This means I did not pass the exams.
I am working as a temporary labourer at the Ettayapuram Bharati Co-op Spinning mill. It is a government mill. My father S Kashi worked there. He died while he was working so they gave me a temporary job as a labourer. I have been working here for the last four months.
They said they will make me a permanent employee after five years. I hope to get transferred to the office inside the mill as I have completed my MBA.
Meanwhile, I will continue to appear for all recruitment exams conducted by the state and central governments.
Muthuselvi is a college student who believes a government job is the answer to all her aspirations. She is determined to appear for every government recruitment exam. Being pragmatic, she says she will work in the private sector while she waits.
My name is M Muthuselvi. I have come to the employment exchange to register for a job with my Class 12 qualification. I belong to Ettayapuram town in Thoothukudi district.
After completing Class 12, I enrolled for a teacher's training course. I have failed one exam. I will give it this year and get that certificate. Then, I will register it here.
I have decided to appear for all the recruitment exams that the government conducts. In my college, they conduct special classes for these exams.
I also read the newspapers regularly. My seniors and teachers have told me that reading the daily news helps when you appear for public recruitment exams. It also helps during the interview stage.
My father is a farmer, but I am not interested in farming. I wanted to join the police force, but my parents did not agree. So I opted for the teacher's training course.
At present, I am a second year student in an arts college. I have chosen history as my major subject.
I have always wanted a government job. I know that registering at the employment exchange is no guarantee, but I feel better after doing it. At least the government knows that I want to work with them.
I know I have to pass the recruitment exam to get a government job. I will try my best. Till I get a government job, I will work in a private company or school.
Karpagam, a second year college student, dreams of becoming a government lawyer, but says she will appear for all the government recruitment exams.
My name is M Karpagam. I belong to Ettayapuram town. My friend was coming here to register for a job, so I came along with her.
I am a second year BA student. After I graduate, I plan to study law. I want to become a government lawyer. If I don't get a government job, I will join a private company as a lawyer. I am not interested in private practice.
I think it will take me five years to achieve my dream.
There are no lawyers in my family. My father is a farmer. I am not interested in farming. Nor am I interested in business.
Today, I have registered my Class 12 certificate. I will return after I finish my graduation and after I complete my law course to register my degrees.
I will appear for all the recruitment exams conducted by the state and central governments. After all, the more exams you appear for, the better are your chances of getting a job.
I am sure that I will get a good job one day. I will keep trying till I get it.
Kasivishwanathan's photograph: A Ganesh Nadar/Rediff.com