It's meant to be a corporate rah-rah to encourage office bonding and bonhomie. But is it really, asks Kishore Singh.
Illustration: Dominic Xavier/Rediff.com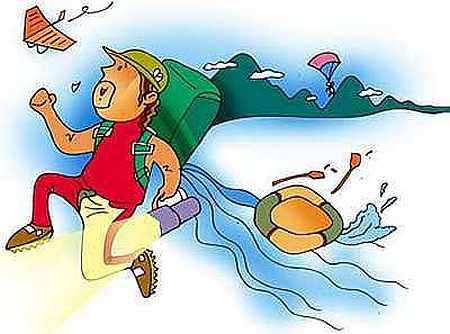 Off-sites are meant to be fun, by order of the management.
Disguised as working holidays, they're drudgery at which attendance is mandatory -- and hell hath no fury like the head of department embarrassed because his team refused to sign up.
Promoted as a hedonistic binge by the HR department -- but woe betide the colleague who speaks his mind in a moment of drunken candour -- they start off innocently enough with discussions on destinations, resorts, bookings, pick-ups and drops.
It's meant to be a corporate rah-rah to encourage office bonding and bonhomie. There's the promise of some frolic, lots of feasting and no little amusement.
Excited chatter over office email groups devotes trail mails to possible fashion choices (and likely disasters), footwear, party and board games and candid lists of who must -- and more importantly, mustn't -- be allowed to sing.
Some plan innocent escapades; others speculate about ways of smuggling cannabis.
Amidst this general affability, the true purpose is revealed, as departments are handed assignments to prepare pie charts and PowerPoints on goals and failures, strategies and accomplishments.
Meetings are held ahead of the scheduled 'group activities' that sound purposeful rather than entertaining, a measure of behavioural booby traps rather than the annual vacation they're touted to be.
Mostly, off-sites are intended to promote inter-department camaraderie and understanding by trainers hired to take the fun out of away-time from office.
In previous years, river rafting in Rishikesh, intended as a group adventure sport, turned out to be a 'team-building exercise' that capsized because no one lent a helping hand to those unfortunate few who fell overboard, causing the trainer to have a near-apoplectic fit about the lack of empathy, risk-taking and unwillingness to rise beyond 'the self.'
It turned out, colleagues weren't being helpful because they were working on selfish (rather than collective) strategies to find a way to defeat the odds and lay claim to the very few toilets at the rafting camp.
Another time, a theatre impresario, hired -- so the team believed -- to turn everyone into an instant actor, ended up as nothing more than a few tasks that didn't pave the way to Bollywood.
A competitive cookout on another occasion proved a fiasco because the chef-trainer proved a trifle too fond of vodka.
As I write this, we're en route to Ranthambore, ostensibly for the annual booze-up, but the management has its array of business weaponry deftly concealed amidst the cartons of liquor. It plans to sneak in an inspirational talk under the guise of a 'breakout'; there are reprimands being disguised as discussions.
Make no mistake, we're under observation at all times: Whether queuing up for breakfast (so don't make the mistake of being the 'lone player' or 'outlier' who orders room service), during safaris into the national park or at the numerous sessions organised for our entertainment.
Despite inviting critical debate, 'honest sharing' runs the risk of too much honesty and can prove detrimental to one's professional health.
Will we spot tigers? 'The destination should not be the goal,' a motivational speaker advised in marketing gobbledygook ahead of the trip, 'it should be the journey.'
Loading our bags, what seemed to consist of an excessive amount of booze has turned out to consist of roll-down screens, projectors and other conferencing paraphernalia.
Whether or not we spot tigers is a matter of statistic -- pretty much the same chance anyone has of having 'fun' at what HR has been having a hard time touting as an 'office vacation'.