Being heterosexual, homosexual, doesn't affect your children's intelligence or their talent, says Chitra Palekar.
What affects them is society's obstruction, parents's rejection.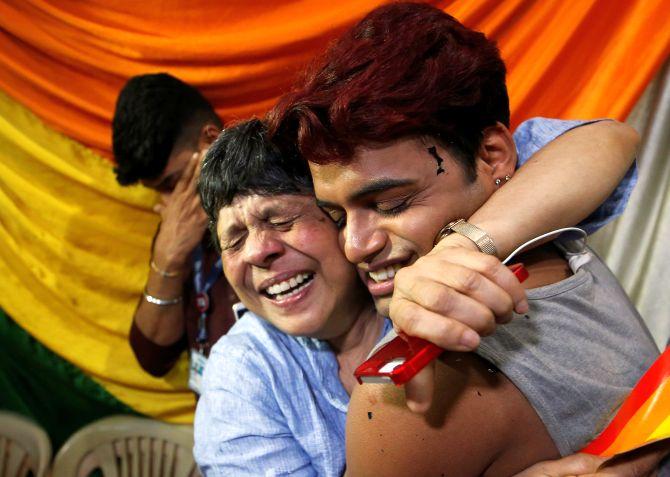 Twenty five years ago, Shalmalee Palekar, celebrated actor-director Amol Palekar's daughter, came out to her mother Chitra Palekar.
In 1993, Shalmalee, who had just graduated, told film-maker and activist Chitra Palekar, 'Amma, I'm a lesbian.'
Like many parents, Chitra was upset and hurt.
Not because of Shalmili's sexuality.
Chitra was upset because her daughter hadn't come to her earlier. Which was four to five years ago -- when she had first discovered she was homosexual.
Shalmalee was mostly worried.
'What will happen if I tell my parents that I am a lesbian?'
'How will they react?'
'Will they throw me out from their lives?'
'Will they love me like they used to?'
These questions had stopped her from telling her parents about her sexuality.
While Palekar accepted her daughter instantly and helped counsel her, not everyone is lucky as Shalmalee was.
What would you as a parent do if you iscovered that your child is gay?
In a conversation with Rediff.com's Hemant Waje, Chitra Palekar advises parents how to deal with a gay child. Hemant listens in.
What you must know
For centuries, we have been taught to only consider two genders -- male and female.
Actually, it is now proved that because of various chromosomes, permutations and combinations, sexuality is like a big umbrella now.
One should remember, it (homosexuality) is not a disease.
My advice to parents is: Don't take anything for granted.
Being heterosexual, homosexual, doesn't affect your children's intelligence or their talent.
What affects them is society's obstruction (disapproval), parents's rejection.
After all, s/he is your child and now it (your sexuality) is not even criminal.
Just accept that, there is nothing else.
It is your child and that is more important.
How to stop bullying
If girls are tomboyish nobody bothers.
When boys become gentle, soft or too feminine, they get ragged (bullied).
If parents think that way (that homosexuality is not normal), your child's friend would obviously feel the same way.
It is the teachers' and parents's responsibility to protect the child, right?
The Supreme Court judgment has just come.
The next step is to start including these topics in the education system.
We are planning to go and talk to children and talk to various educational institutes.
The progressive ones will allow us, I suppose.
As society, we are very reluctant about sex education.
What is important that the children are taught that all human beings are equal. But in that equality, there are differences. Just like the five fingers of our hand.
If there is a leftie (left-handed person) in a group, do we say that he is different? We simply accept him, don't we?
Yes, there were denials some years ago. Now things have changed.
Unless we teach our kids when they are young, they won't know about it.
If the government cannot, we have to (educate).
How to cope with family members, relatives
The Supreme Court's judgment in this regard will be very helpful.
Even the World Health Organisation has said that it is not a disease.
All information is now available on the Internet. Show that to the people (who disapprove).
Make them read stories of people who have accepted their children.
I used to give my articles to people and tell them, 'Look at my daughter, she is doing so well. Just accept it. There is no difference.'
I would speak and they would understand it.
Most important thing is -- Do you love your child?
Would you look down upon your child because some relative doesn't like him/her?
Just because you came to know that their sexuality is different (from what you imagined), does your love change?
Many people told me when my daughter came out to everybody that 'We were shocked that she is a lesbian'.
Then we realised that she is what she was still yesterday. She hasn't changed.
She is the same affectionate girl.
She loves us and we still love her. What's the big deal?
Sometimes, grandparents are the first ones to accept their grandchildren.
What matters is you have accepted the child.
One must argue properly and send your message across.
How to seek professional help
There are many organisations like Humsafar where one can go for support.
Humsafar Trust is an umbrella organisation for LGBTQ. They have counsellors too.
By the time you grow up, your doubts more or less are gone.
However, I will not recommend psychiatric treatment or therapies by doctors as most of them are homophobic.
Many corporates also putting out there diversity programmes in place.
Support groups have also been formed.
Can you identify if your kid is a gay or not?
One has to wait till the child comes to you with an open mind.
What is an open mind, you may ask.
We were so open, but we were indifferent. We didn't realise that our daughter is a lesbian.
Parents have to wait (for the right time).
For example, if children get less marks in their exams, some commit suicide.
Some are upset but trust their parents. They know that they won't be thrown out of the house.
One has to build confidence that whatever you are, whoever you are, you are my child and I love you.
When parents love the child, others don't say much.
Message for parents
You can start by saying I will support you.
Are you having a problem at school or college? Tell me.
Now that section 377 has been repealed, a parent can take legal action against any institution which don't protect children's rights.
It's the same as caste, community or religion.
Many times people come and say, 'My boy puts nailpolish or lipstick. Do you think he's a transgender?'
He may be. He may not be.
Sometimes, a mother puts lipstick or nail polish on her son.
Children like to copy.
Girls likes to wear their father's shirts.
Let them grow up a little.
They may be playing with it out of curiosity.
As parents, you need to be open for anything.
Girls like to wear shorts because it is comfortable.
My daughter and I wear shorts. I am heterosexual and she is homosexual.
There is no fixed age to find out about your sexuality.
Some may not feel attracted towards anybody even when they are 19 or 20 years old as they may be busy in their studies or career.
A small boy may like another boy. A girl may like other girls.
It may not mean anything. It is important not to judge.