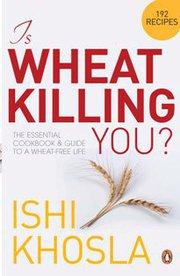 As part of a week-long series, we bring you recipes from Is Wheat Killing You? by renowned clinical nutritionist Ishi Khosla. The book is a guide to gluten-free living and contains nearly 200 easy, tasty preparations for those with gluten-free dietary requirements.

(There is) a genuine need to help those who cannot tolerate gluten, a protein found commonly in wheat, oats, barley, rye and some other grains. A condition where gluten damages the intestinal lining leading to malabsorption of nutrients is called celiac disease. Untreated or undiagnosed celiac disease can cause serious illness.

Celiac disease was first recognized by the Greeks in the second century AD and the word celiac is derived from 'koiliaks', a Greek word meaning 'suffering of the bowels'. It is caused by an immune reaction (hypersensitivity) to gluten, the main storage protein found in wheat and certain other cereal grains including rye, barley, oats, triticale, spelt and kamut. The most toxic component of gluten in celiac disease is gliadin (an alcohol-soluble component of gluten). Others are secalins from rye and hordeins from barley.

Celiac disease is a permanent condition that damages the lining of the small intestines. This limits the absorption of nutrients, particularly iron, folate, calcium and Vitamin D. It also increases intestinal permeability which permits entry of other toxins, which could induce autoimmune diseases. Being autoimmune in nature, failure to recognize celiac disease in time, can lead to serious complications, including cancer. Usually, one does not outgrow the disease and it requires lifelong management.

Till recently, celiac disease was believed to be a rare condition, both by health professionals and the general public. While in the Western world it is beginning to get more attention than before, in India it is just getting recognised.

Lifelong and strict avoidance of gluten-containing grains, including wheat -- a grain that has the highest level of consumption in the world -- can be restrictive to say the least. Parents and caretakers of individuals suffering from this disease also go through difficult situations when bread, roti, noodles, pasta, momos, burgers, pizzas, samosas, upma, semolina, sandwiches, wraps, cakes, cookies and rusks become taboo. In India, the food industry and restaurants have so far hardly acknowledged gluten-free foods.

Gluten gives the flour its strength and elasticity, and lends texture and lightness to dough. Therefore, cooking and baking without gluten can be challenging. The good news is that just about everything can be prepared using alternatives to wheat flour.

Spinach and Gram Flour Cheela

Makes: 25 pancakes

Preparation time: 30 minutes

Ingredients

2 1/2 cups chickpea flour or gram flour or besan
1 cup spinach, finely chopped
2 green chillies, finely chopped
1 tsp garam masala powder
1 tsp salt
1/2 tsp red chilly powder
1/2 cup onions, finely chopped
A few coriander leaves, finely chopped
1 cup water
Oil for cooking

Method

Combine all ingredients, except oil, onions and coriander leaves, in a bowl. Gradually add about 1 cup of water and make a batter of pouring consistency. Heat a heavy frying pan or non-stick pan. Lightly grease it with oil. Pour a ladle of batter on pan and spread it evenly. Sprinkle onions and coriander leaves. Drizzle a little oil if needed along the sides. Cook over low to moderate heat, till golden. Turn over and cook the other side for a few minutes. Remove and serve hot with chutney.

Variation: Moong dal (soaked and ground to a fine paste) can be used in place of gram flour.

Excerpted from Is Wheat Killing You? (Rs 399) by Ishi Khosla, with the permission of publishers Penguin Books India.