'You can't force people to change. You can only give them the option. Freedom is about options, whether you choose to be who you want to be.'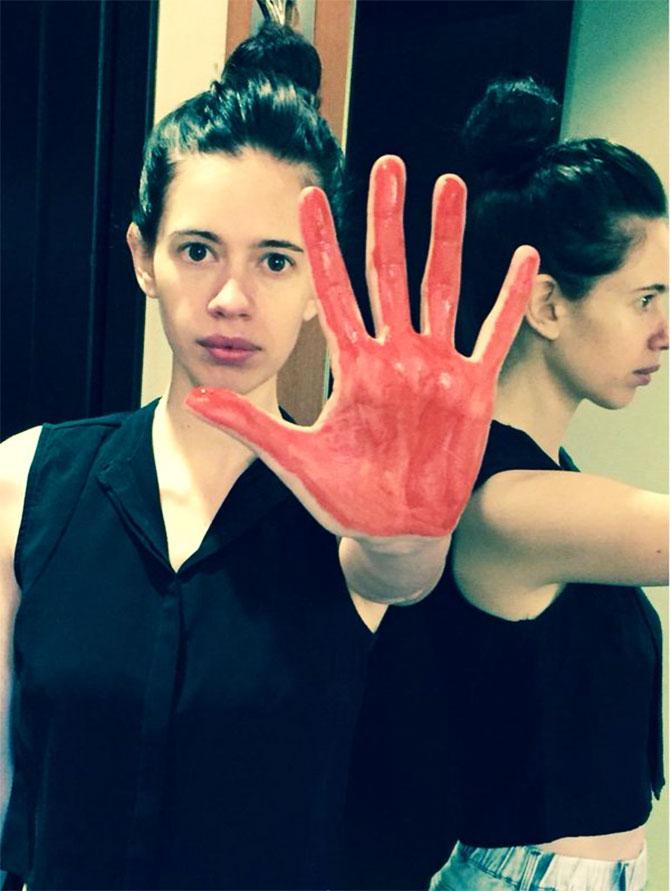 Photograph: Kind Courtesy Kalki Koechlin/Twitter
It is, on the surface, just words.
Just a poem. Or a monologue.
But when Kalki Koechlin speaks, she can leave you disturbed. For her words are powerful enough to pin you down, forcing you to listen to every nuance, every syllable, as she paints pictures you don't want to see. Or hear. Or examine. Or confront.
Pictures of how women continue to be subjugated -- emotionally, physically, sexually -- in a modern, Incredible India.
At the same time, in this conversation with Tista Sengupta/Rediff.com, Kalki celebrates the changes that are finally taking place, the little bursts of awareness that she can finally see in The Indian Woman on Women's Day.
When you performed the monologue An Intense Piece about the Truths of Womanhood at a media conclave a couple of years ago, you pointed out how women have been suppressed over the years and are suppressed even today. You urged women to stand up for themselves.
Do you think this is happening, or will happen, in the future?
It's definitely happening. This is one of the prime reasons why there are so many crimes against women. If women were sitting at home, not going out to work and weren't independent, such crimes wouldn't happen.
Today women are working, taking more time before getting married and even working post marriage. And that's exactly why there's a sort of upsurge of the patriarchal, male-dominated culture that we have been fighting against.
The levels of change are different, with respect to rural and urban areas. In the last 20 years, there has been more focus on educating the girl child.
The changes in small villages might not be to the same extent as the changes happening in cities. But there are people who are working at the grassroot level too.
My monologue is in English, so it caters to a different audience. However, there are people like Maya Sarao, an activist and performer from New Delhi, who performs in Hindi and goes out to these grassroot places.
You can't force people to change. You can only give them the option. Freedom is about options, whether you choose to be who you want to be.
If you lived in a society where there were no options -- like you are forced to wear the burkha and not drive a car, as it happens in Saudi Arabia -- then it exhibits a very different kind of society. I think we are lucky enough to be in a society which at least encourages the freedom of expression.
Again, culturally, there's a lot of pressure. No one wants their family or neighbours to treat them badly.
It's definitely not easy for a woman. But I do think that the choices are already starting to become available.
Why did you decide to do your recent video, The Printing Machine? What were the challenges you faced while making it?
VIDEO: Kalki Koechlin performed the monologue, The Printing Machine, Up Until 2015 at the Hive, Bandra, northwest Mumbai, in February 2015.
A friend of mine wanted me to write for a book of poems that she was compiling. I wrote this in January 2015; it took me a month to pen it down. Later, I performed the poem at The Hive, a cultural hub in Bandra (surburban Mumbai) and then at the Jawaharlal Nehru University (in New Delhi).
This is when Culture Machine (a digital video entertainment company) sent me videos of previous works from their Unblushed series. They wanted to interview me. I told them, 'We have done plenty of interviews. Is there anything else that we can do?'
So they asked me to share my work (what she wrote) with them. They went through some of my pieces and liked this one. We thought of making a video which would be different from the usual interview format.
Akanksha Seda, who directed the video, has come up with the images and the thought process across in the video.
The poem talks about issues that affect all of us. They made headlines in the year 2014-2015.
Initially, I was finding it hard not to be preachy. When you talk about issues, it's very easy to criticise. So I tried to take away opinions and make it more factual.
I think I cracked it when I heard the sound of the printing machine at a photocopy centre. The printing machine is symbolic to all the things we print and put it out in the world.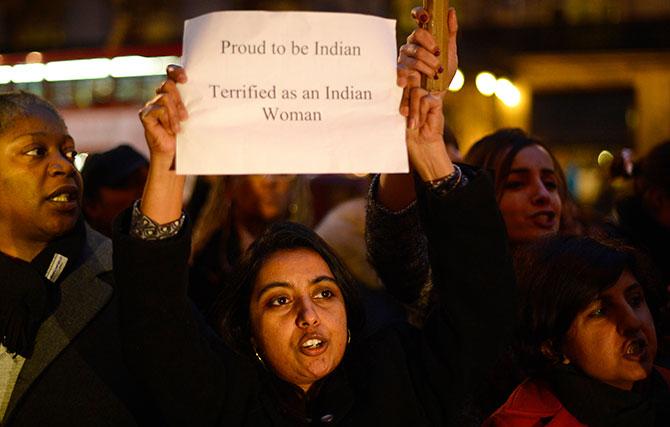 IMAGE: 'It's very important for women to know their rights. Educating ourselves about the laws and how they empower us can really help,' says Kalki. Photograph: Paul Hackett/Reuters
How do you intend to contribute to this cause?
Look, I am not an activist. I am an actor. I try to do a good job at work.
When you make a video or a monologue, you put it out there in the world. Somebody like you watches it, gets inspired and talks about it. For me, that's more than enough. It's already taking its own form.
My job is just one tiny part. We always expect one person to do everything, whereas we are all responsible beings in our own fields of work.
But I know that when an actor or celebrity makes a statement, it definitely encourages young people.
People often blame the movies for harming society. They feel it is the reason for all crimes inflicted on women. What is your take on this?
It's very easy to blame films or people.
A film is a mirror image of our society. If there's something wrong with the way we make films or the way women are stereotyped, then it means that it's happening in real life. These are the films watched by the whole country and people are paying money to watch them.
It is a 'chicken and egg situation,' so there's no point in blaming anyone.
But as a part of the film industry, I think filmmakers and actors do influence thousands of people. We should find more authentic scripts that have a touch of reality and not stereotype characters but make them more layered as people.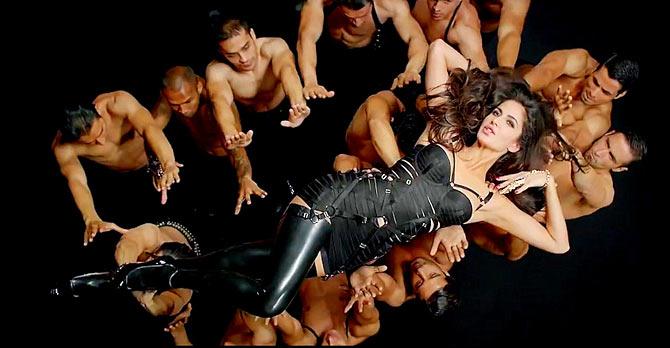 IMAGE: Katrina Kaif in Dhoom 3.
Modern, educated women have heard of gender equality and women's empowerment. How can this awareness reach uneducated women still in the clutches of traditional norms?
Some non-governmental organisations do incredible work. (Delhi/New York-based NGO) Breakthrough has been working towards building toilets for girls in schools, so that they can go there and study. This definitely makes a lot of difference.
Another (Karnataka-based) NGO, Milaap, doesn't believe in charity. They believe in giving loans and ensuring that, once the needy women get a job or become successful entrepreneurs, the money is returned.
It is a very dignified concept for women. It gives them a feeling of pride as they don't take your money; they just borrow it.
Well-educated women too face suppression at work and at home. They want to raise their voice against it but many times, find themselves unable to do so for various reasons. What do you think they should do?
It's very important for women to know their rights. We should be well-informed about gender equality and sexual harassment, especially at work. Educating ourselves about the laws and how they empower us can really help.
There are marital laws that tell you how a husband and wife should treat each other and so on.
I always feel if there are enough women talking about it, you will get somebody to listen. Men can't live without us, as we are a part of functioning society.
Look at women in small tribal areas from older societies. They come together and oppose something that a man has done wrong.
As one individual, a woman will be ostracised, raped or killed. Women should get together and become the pillars of support for each other.
I didn't realise the value of my women friends, until I went through a divorce and I needed their support.
It's important to have that sisterhood.
VIDEO: Kind courtesy Culture Shoq
ALSO SEE: 'India is intolerant towards women'