India is also short of about a thousand colleges.
Abhishek Waghmare reports.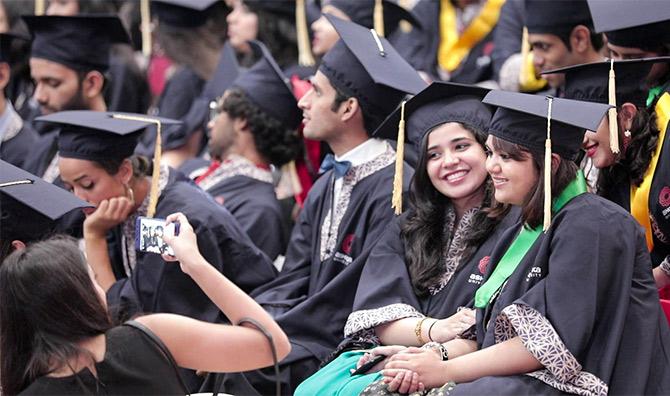 The number of teachers in graduate and post-graduate colleges and universities declined for the second consecutive year from 1.52 million in 2015-2016 to 1.37 million in 2017-2018, according to the government's latest survey on higher educational institutions.
The pupil-teacher ratio, or the number of students that a teacher takes care of, also painted a gloomy picture -- it went up from 20 to 25 in the same period.
This comes at a time when the number of universities has steadily increased from 799 to 903.
India is now short of about a thousand colleges than the previous year.
However, the report says that the decline is due to "deletion" of colleges from the AISHE portal which did not register under AISHE, and not closure of colleges.
Colleges per million population has remained unchanged at 2.8.
The ministry of human resource development released the All India Survey on Higher Education for 2017-2018, on the occasion of Guru Purnima.
Highlighting the efforts taken by the National Democratic Alliance government in reforming the education system in the country through enhanced coordination among departments and "breaking the barriers", HRD Minister Prakash Javadekar concluded: "We lack in quality and innovation but we have to think together, act together and take it forward."
The gross enrolment ratio for higher education, which is defined as the proportion of population in the age group 18 to 23 pursuing higher education, improved from 25.2 per cent in 2016-2017 to 25.8 per cent in 2017-2018.
Decline in the number of teachers is serious especially when data has shown the alarming vacancies in various streams.
As much as 35 per cent teacher posts are vacant in central universities.
Even when the ad-hoc, adjunct and visiting faculty -- who are not permanent teachers -- are added to the fold, 19 per cent positions still remain vacant in central universities, the committee on HRD in the Rajya Sabha noted with concern in its report on demand for grants for 2018-19.
Faculty vacancy in Indian Institutes of Technology is 34 per cent, while that in engineering colleges -- which are seeing a decline in preference -- is 5 per cent.
Continuing the trend, enrolment to engineering declined in 2017-2018 as well.