'What can a teacher do that ChatGPT cannot?'
'We are back to where we started. But at least there's some displacement.'
If you feed the phrase 'ChatGPT in school debate' to GPT3.5, chances are you'll get greeted by this cheeky line above.
It's true that one of the first debates to have been sparked off right after the GPT3.5's introduction to the world revolved around the generative AI's place in education, especially in the K-12 segment.
With reports, most unconfirmed, of schools in several countries banning the AI en masse, parents may have believed that that's one worry off their plates.
However, a recent letter to parents sent out by the Heritage International Xperiential School in Gurugram shows that schools in India's megacities are back on the debate, and seem to be in the mood for some serious rethink.
Here's a short paragraph from the letter, for instance.
'The capability of ChatGPT leaves teachers excited yet somewhat apprehensive.
'If students can use this tool to complete assignments, is that cheating?
'How will we know the tasks have been done by the student and not an AI tool without always using filters?
'If students can learn simply by asking ChatGPT questions, then what is the role of the teacher?
'This final question is the most intriguing and has sparked many conversations amongst our staff. What can a teacher do that ChatGPT cannot?'
So, back to where we started but at least there's some displacement. And HIXS isn't the only one. Seema Jerath, principal at DLF Public School, Ghaziabad, echoes HIXS's concern.
"I'm glad we're asking how best generative AI can be gainfully used by teachers and students and not whether it should be used. We're certainly not in favour of banning this, knowing that generative AI is here to stay," says Jerath.
She also listed the several advantages ChatGPT can already bring to the classroom. Children with special needs will find it easier to do certain tasks.
"Generative AI can also reduce teachers' work. They can generate text, videos, presentations, create quizzes, games, MCQs, excel sheets, and even lesson plans.
"With a reduced workload, teachers will be better able to offer personalised learning opportunities to their students, which is the need of the hour.
"They will also be able to focus on socio-emotional and life skills better, thereby working on raising the human potential of every learner," Jerath adds.
The GPT series is already helping school seniors in their transition to college life.
Writes Rohan Mehta in the MIT Tech Review, 'Few things are as mentally draining as applying to college these days, and as I slaved away at my supplemental essays, the promise of using ChatGPT as a real-time editor was attractive.'
While Mehta admits that ChatGPT's 'advice was fundamentally incompatible with the creative demands of the modern college essay', he also explains that 'using ChatGPT to verbalise the space of possibilities -- from the scale of words to paragraphs -- strengthened my own thinking'.
Jaspreet Bindra, visiting faculty at the Department of Entrepreneurship at Ashoka University and founder at Tech Whisperer Ltd, a UK-based company that provides services in digital transformation and technology infusion through technologies like AI and blockchain, says that most high-school and undergraduate students have quickly caught on to the generative AI tools and have already moved past ChatGPT to more powerful alternatives such as ChatSonic, Jasper and Notion AI.
Bindra also points out that with such a fast adoption, the challenge for schools would be to keep up with those learners, who have picked up the skills faster than their peers, and rapidly move on to newer and more powerful tools.
For schools, therefore, the need to embrace generative AI and evolve is urgent and immediate.
Several schools in Delhi-National Capital Region as well as in urban centres like Bengaluru, Mumbai and Hyderabad, which Business Standard spoke to, are thinking of contacting their respective state or central boards to begin a discussion on getting a plan of action in place for introducing the technology in schools.
"A regulatory framework will be essential to such a plan of action. Boundaries must be set," says Smriti Khanna, the headmistress at a reputable school in Hyderabad's HITEC City.
Educators like Khanna and Jerath point out that students have already started using generative AI to do their homework, solve math problems, and write essay answers, etc.
"This can severely impact their learning and they may begin losing core skills, score marks without understanding concepts," Jerath says.
"We are planning to appeal to the school boards to help come up with a comprehensive plan on which aspects of schoolwork should be allowed AI assistance and how frequently, how to detect and regulate the use of tools like ChatGPT in assignments, and how the teachers can introduce these tools to their students so as to make them aware of their dangers," says Khanna.
Biswajit Saha, director of the Central Board of Secondary Education (CBSE), echoes these concerns.
"The introduction of ChatGPT as a learning tool has a considerable application, but at the same time schools should ensure that students are made aware of its limitations," says Saha.
"We need to focus on students providing citations for the information ChatGPT uses to generate answers," Saha says, adding, "Teachers and students can also use the tool as a pedagogical aid and for brainstorming alternative opinions rather than creating the responses themselves."
Saha also points out that currently, at the national level, the focus is on developing ethical guidelines and policies for the use of generative AI in educational contexts.
Like CBSE's philosophy while introducing virtual and augmented reality tools in the classrooms, here too the focus is likely to remain on building training modules that will educate teachers and students alike in the usage and applications as well as the potential risks and limitations of the tools.
Such an approach will respond to the appeal by industry insiders like Bindra who believe that, above all, generative AI tools will help in the smooth integration of skill development courses at the K-12 level, under the New Education Policy 2020.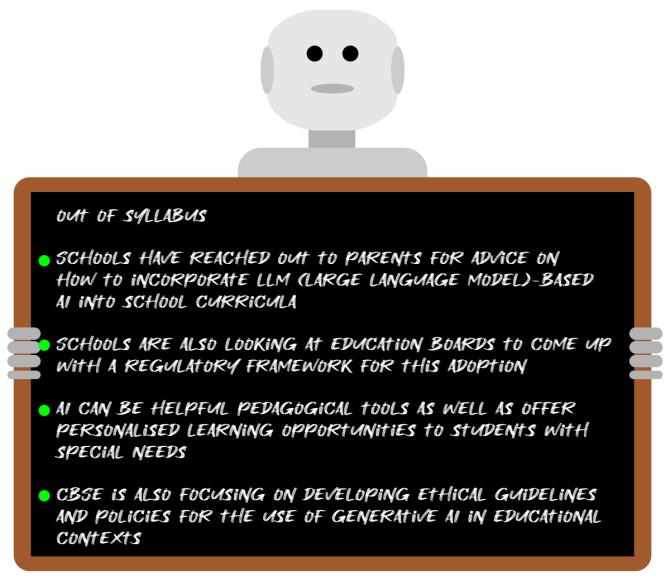 Feature Presentation: Ashish Narsale/Rediff.com