The impact of AI automation in India is the lowest.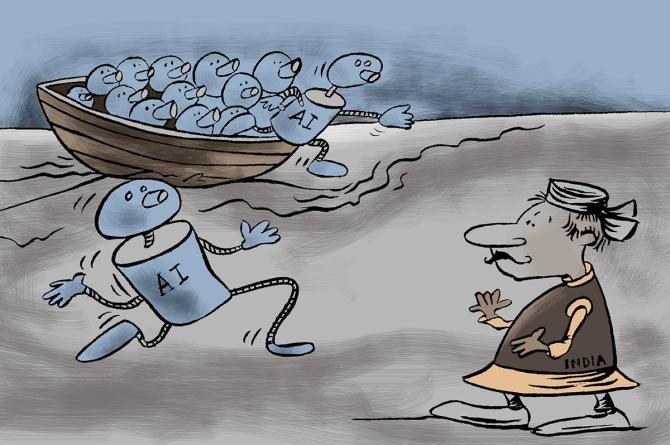 Only 11-12 per cent of full time equivalent employment (FTE) in India can be automated, the lowest out of many countries, despite the growing popularity and adoption of artificial intelligence (AI) across the globe, according to a recent country-wise assessment by Goldman Sachs Global Investment Research.
The global average of work which could get automated, including emerging and developed markets, is around 18 per cent, says the report.
The study was based on 30 countries across the world, with eight developed markets taken into consideration.
Goldman Sachs says that, based on its assessment, generative AI could expose over 300 million FTE across the globe to automation.
The FTE is calculated by employee scheduled hours divided by employer hours for full time work.
For example, if the employer's full time work week is 40 hours a week, employees who work the same are considered 1 FTE; if they work for 20 hours, they are calculated as 0.5 FTE.
The impact of AI automation (including generative AI like ChatGPT) in India is the lowest, followed by Kenya, Vietnam, Nigeria, mainland China and Thailand where the impact on work which could be automated ranges from 13-16 per cent.
In contrast, the highest impact of work which could get automated by AI is in Hong Kong, followed by Israel, Japan, Sweden, the US and the UK where the percentage of jobs which could be automated ranges from around 25-30 per cent.
On the plus side, AI adoption is expected to boost annual productivity growth by a global average of 1.4 percentage points over a ten year period.
Goldman Sachs estimates that this means a $7 trillion increase in annual global GDP over the 10 years.
However, in India, the annual productivity growth is expected to be only 0.7 per cent over a 10 year period because the use of AI will be one of the lowest in the world.
The assessment is significant.
With the sudden popularity of AI-based ChatGPT, questions are being asked as to how many jobs and functions will become redundant and this has prompted fears of job losses.
Goldman Sachs estimates that the impact of AI on jobs will be felt more in developed economies rather than in emerging markets.
Its research has closely looked at the US and Europe and has come to the conclusion that at least two thirds of current jobs are exposed to some degree of automation and that generative AI could substitute one fourth of the current work.
Goldman Sachs has also given some insights on the kinds of jobs which are more likely to be automated than others, based on detailed analysis of the US and Europe.
In the US, 46 per cent of office and administrative staff work, 44 per cent of legal work, and 37 per cent of architectural and engineering work can be automated.
But it's a very different story for other kinds of work. In building and grounds cleaning, only 1 per cent can be automated.
For installation, maintenance, and repair work, only 4 per cent of work can be automated.
In construction, the figure is 6 per cent. In these areas, automation can only complement existing jobs, not replace them.
Feature Presentation: Ashish Narsale/Rediff.com