From Singapore to Almora, Abhishant Pant has survived without cash, and he wants to continue in that state all his life.
Rediff.com's Syed Firdaus Ashraf discovers how Abhishant did it.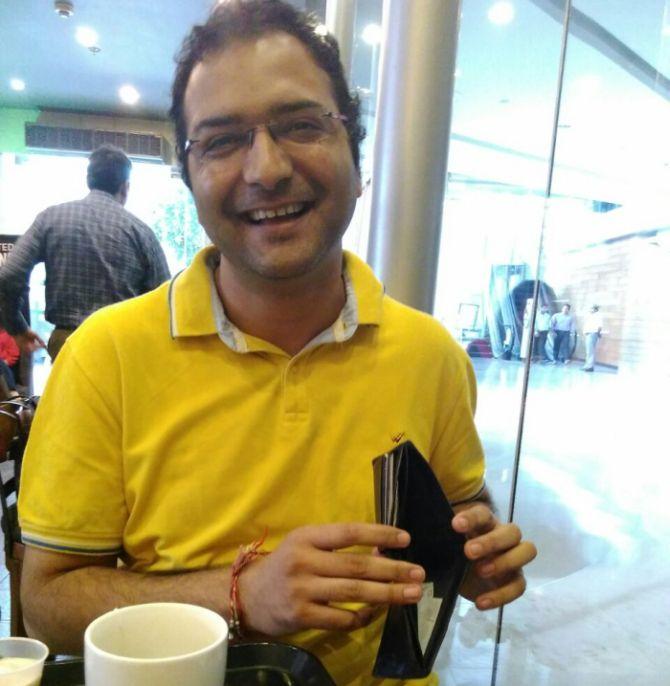 IMAGE: Abhishant Pant, a FinTech professional, shows off his empty wallet. Photograph: Syed Firdaus Ashraf/Rediff.com
Most urban Indians have been managing their lives with difficult-to-obtain cash since that late night prime ministerial proclamation two weeks ago.
The daily travails and the plight of the largely cash-run Indian countryside stare at you from newspaper front pages and television screens even as full-page newspaper advertisements inserted by ewallet companies urge Indians to go cashless.
Abhishant Pant, 36, a FinTech professional, has been living in a cashless state of mind for several months now.
While Indians rush to banks and ATMs to deposit/exchange no-longer-legal-tender Rs 500/Rs 1,000 bank notes and withdraw cash, Pant is chilling at home. He only had loose change amounting to Rs 546 in his 'piggy bank' when the PM declared the note ban.
"I was giving a lecture on payments at an IIT conference in February when someone asked whether it is possible to live without cash in this era of digital payments. I felt it was possible and decided to execute the idea myself," he says.
He was to travel to Singapore and felt he would not face any problems in that nation, arriving without cash in hand.
Reality confronted him soon enough at Singapore's Changi airport when he hailed a taxi.
"The taxiwallah refused to take digital payment. So, I had to wait for another cab. Luckily, the third taxi I hailed agreed to do so," Abishant recalls.
Why didn't he carry some cash for an emergency?
"I intentionally didn't," he says. "When you have a safety net, your experience is not real. If I knew I had an option, I would have opted for it. I would have ended up paying in cash, which I did not want. I survived in Singapore for five days only on digital payments."
When Abhishant wrote about his experience, Cashless in Singapore and learning for India on LinkedIn, readers said it was possible to do so in Singapore, but not in India.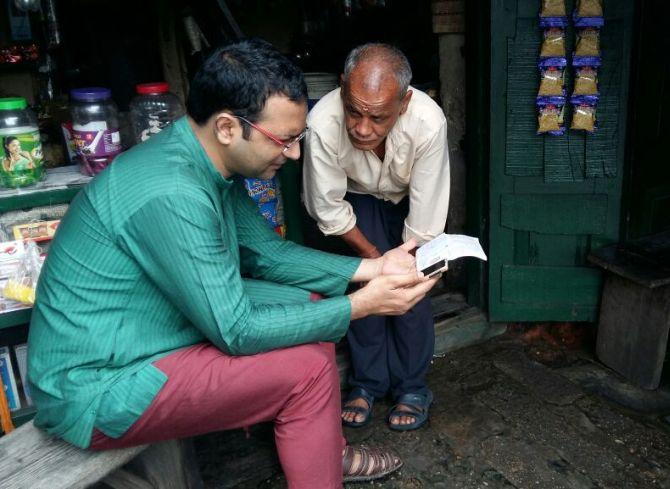 IMAGE: While travelling in Almora, Abhishant amazed an elderly gentleman, showing him how to transfer money to a bank account through a mobile wallet even without access to the Internet.
Abhishant took up the challenge and on March 13, vowed to never use cash and only opt for digital payments.
There were problems he had not anticipated, but he says a couplet by the Pakistani poet Ahmed Faraz helped him go ahead: Iss afsoos mein na guzar dena teri zindagi aey Faraz,
Kaash mauke do mauke pathar toh utthatey
(Don't spend your life regretting Faraz that you never made an attempt to take a difficult path).

'Every person must have a bank account, a pension plan, life insurance, general insurance and access to credit.'

"There are 18 kinds of services that any middle class Indian needs. I told my house maid, newspaper vendor, dhobi etc that I would not pay them in cash and their payments would be transferred to their bank accounts," he says.
It was difficult to convince them, but they finally agreed. But this was in Mumbai, India's financial capital. What about remote corners of the country?
Abhishant tried his cashless agenda in Almora, Uttarakhand.
"I had to pay someone, but he had no bank account. I then asked him for his son's bank account. Luckily, the son had an account and I showed the elderly gentleman how to transfer money from his mobile phone to his son's account," Abhishant recalls.
"The villager was so happy to see this technology. 'Aisa bhi hota hai? Meri bhasha mein bhi hota hai? (Do such systems also work in my (Hindi) language?)' he asked," Abhishant remembers.
Then, the elderly villager quipped, 'You are a rich man and have an expensive phone. You can do such things, not us.'
"I told him he didn't need a smartphone for this. He could pay through a mobile wallet from any phone. I showed him Airtel Money, it was in Hindi. I told him he did not need the Internet to use it. These are telecom-based wallets and one can send money to any bank account 24x7, 365 days," says Abhishant.
While eating bhelpuri in Delhi, Abhishant "recharged the bhelpuri vendor's mobile with Rs 50 talktime."
"He was happy to receive the digital payment," Abhishant recalls.
"Anyone doing business or selling anything has a mobile phone," he says. "So you can recharge their phone and, thereby, pay for the goods or services you avail of."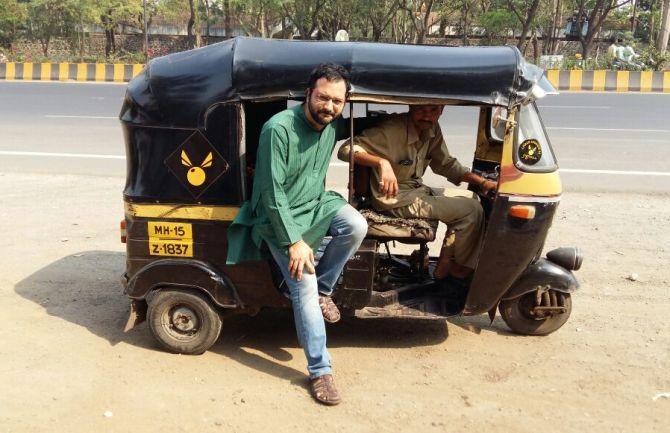 IMAGE: Even if people don't have bank accounts, Abhishant says everyone has a mobile phone, and one can pay them for their services by recharging their mobile phones.
But he must have missed having cash sometimes?
"Yes," Abhishant acknowledges, "I am a foodie. In Mumbai, there are iconic eateries like Ramashray, Mani's, Panshikar or A-1 Samosa. They don't accept digital payments. But then, as Shah Rukh Khan says in Om Shanti Om, 'agar kisi cheez ko shiddat se chaho to puri qayanat tumko ussey milaney ki koshish mein lag jaati hai, and I found a way out."
"I found the Faroma app, which delivers food from these eateries at your doorstep. Believe me, digital payments work and work wonderfully," he says.
Ask if this is not an elitist way of living, considering that 220 million Indians live on Rs 31.77 per day and do not have bank accounts, and Abhishant replies, "The answer is the Pradhan Mantri Jan Dhan Yojana. If you say there are 220 million people in India who do not have a bank account, I have two options: One is to wait for these 220 million to open a bank account, or make them do it."
"My maid lives in a chawl, just 100 metres away from a bank. But she opened a bank account only after I told her she would get her payment in digital mode. It took her 28 years to reach a bank, located only 100 metres away from her home."
Is it not dictatorial to force poor people to open bank accounts when they may not want to?
"In the greater common good, challenges will always arise. China might not be a perfect country, but it is the best example in such a case. Millions moved above the poverty line in China within two decades. Today, the Chinese have good food to eat and good clothes to wear and, frankly speaking, a dictatorial attitude is good if it is going to work for the larger good, or how else things will work?" Abhishant asks.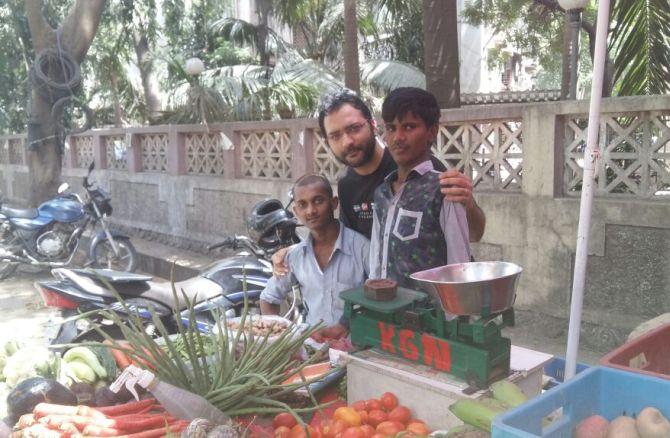 IMAGE: Abhishant encourages daily wagers to take advantage of the Pradhan Mantri Jan Dhan scheme and open bank accounts so that they can get loans at rates of interest much lower than which private lenders offer.
"In the last 60 years India has progressed a lot," he adds, "but it is still far behind many countries. Today, if we do not take the right steps, then this huge young population is not going to get proper employment opportunities. The youth will become a demographic bomb for us."
Abhishant lists four things every Indian must have: "First is to have a bank account; second, a pension plan for long-term financial security; third, life insurance and general insurance; and fourth, access to credit."
Supporting Prime Minister Modi's Jan Dhan scheme, he says, "In the last two years, 25.51 crore (255.1 million) bank accounts were opened. And, if, say, my maid opens a bank account, she may get easy loans from banks. Banks give loans on the assessment of the ability to pay. Now, imagine if every house that she works in transfers her salary to her bank account, she can get easy access to credit at 12%, instead of paying 24% or 48% to a moneylender."
So, why he didn't apply for a job in the Prime Minister's Office to implement Modi's vision?
"I am a Left-leaning person by ideology," he laughs. "But on this issue I support the PM."
"Mark my words, 10 years later, Prime Minister Modi will be known for his Pradhan Mantri Jan Dhan Yojana."