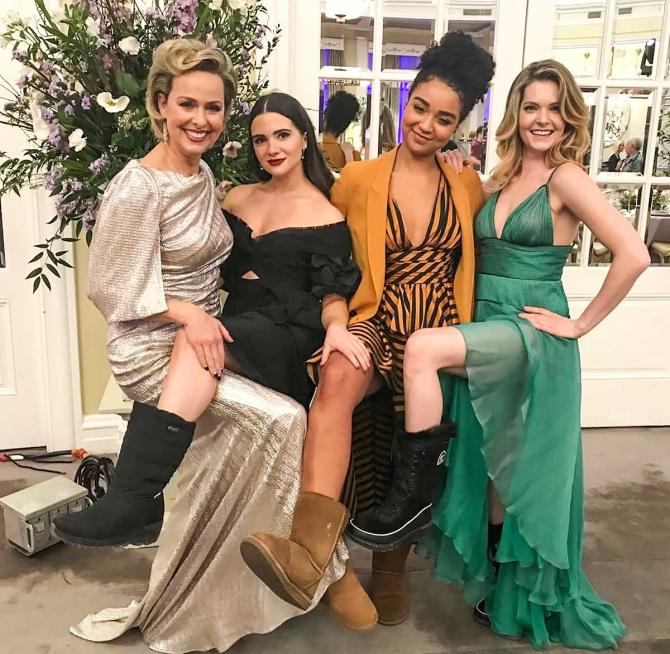 A good boss is an asset to your career.
The opportunity to work under someone who has the knowledge, vision and personality to steer you and the organisation towards success is rewarding.
If you have watched The Bold Type -- a series streaming on Netflix awaiting its fifth season this year -- you'd agree that Jacqueline Carlyle (played brilliantly by Melora Hardin) is the perfect prototype of an ideal boss.
As the editor-in-chief of Scarlet, a leading women's magazine, she plays a bold, inspiring, leader who will never take NO for an answer!
With low tolerance for drama and gossip, she dominates board room discussions, breaks all stereotypes and paves the way for her colleagues to sit up and take notes.
Some takeaways from this fictional character we all can follow in real life:
1. Dress like a boss
As the editor of a women's magazine, Jacqueline knows the importance of dressing immaculately, every day.
Be it pantsuits, skirts or dresses, she nails comfort and functionality with ease often setting the trend and tone for her colleagues to be inspired from.
Now, whether you work in a glitzy lifestyle magazine like Jacqueline or a non-glam corporate set up, it is important to dress for the occasion. Remember, your clothes amplify your personality at work and will gradually encourage your team and colleagues to follow suit.
2. Push to inspire your team-mates
As the editor and boss, Jacqueline is not easy to impress.
During pitch meetings, she is always looking for ideas that push the envelope and inspires her team to try harder, think out of the box and take bigger risks.
The way she nudges young writers like Jane Sloan to give their 200 per cent makes them uncomfortable initially, but the results speak for themselves.
If you are leading a team or aspire to lead one someday, it is very important for you to identify real talent and push your co-workers to perform better every day.
3. Accept your mistakes
Jacqueline obviously is not perfect.
When the magazine undergoes an overhaul, she makes an unpopular decision to turn off comments from their social media without consulting anyone or considering feedback from her core team.
But when the plan backfires, instead of defending her decision, Jacqueline apologises and comes out clean with her team.
The way she admits her mistakes and takes in feedback is crucial to her colleagues who look up to her.
Being the boss may demand you to take quick decisions that may or may not be favourable.
The key is to know when things are failing and to take remedial action before it is too late.
4. Face your fears
Having spent over a decade in the organisation, there comes a time when Jacqueline is led to believe that her tenure at the magazine is coming to an end.
She fears that she is making too many mistakes and considers quitting before it is too late.
But she is reminded by a colleague how scared she was before joining the organisation and how she turned her fears into opportunities and learning experiences.
While sharing her career journey, it's highs and lows, she tells her colleagues to identify their fears and weaknesses and run towards them.
Jacqueline says: 'Looking back, that's exactly why it was the right decision (to join the magazine) because it was the one that scared the shit out of me.'
In another instance, while taking on an influential photographer, the models start backing out fearing they may lose their careers. But Jacqueline reminds them: 'You ladies are all so much more powerful than you realise. Don't let anyone take that from you.'
Don't let your fears come in the way of your success.
5. Importance of fitness
As the editor of an international publication, Jacqueline's job demands her to be available 24 x 7.
She is a workaholic who hasn't had a family vacation for years, something she never complains about.
But when it comes to fitness, Jacqueline is self aware and has set up a treadmill in her office.
When she is not attending meetings or chasing a big story, she takes the stairs or sweats it out between work.
Even for a fictional character, Jacqueline reminds us why it is important to take breaks and finish your fitness goals.
6. Patience over impulse
When the board appoints a new and young editor to make Jacqueline feel insecure and eventually quit, she takes it all in her stride because she trusts her abilities and years of experience.
When she offers to help new editor Patrick for an event he is hosting, he declines the offer.
She decides to wait for the right time to show him what she is capable of without hurting his sentiments.
Similarly, there may be times when a colleague -- junior or senior -- may try to take advantage of a situation to prove his/her worth over you.
Remember that the workplace is not a place to seek revenge. When the right time and opportunity presents itself, grab it and prove your true potential.
7. Always has good advice
Even a 10 second conversation with Jacqueline helps her colleagues sort problems and find solutions.
No, she is not an agony aunt who expects people to run to her for help. She doesn't tell them what do. Instead, she asks them the right questions, which makes them realise what they should be doing right.
For example, when her best employee Jane resigns she doesn't stop her. Similarly, when she decides to rejoin the organisation, she doesn't hire her back.
It's much later we realise that Jacqueline was actually pushing her best employee to move out of her comfort zone, explore her abilities and polish them.
Similarly, when Richard says he is confused about marrying Sutton minutes before their wedding day, she helps him see the bigger picture and make the right decision.
Be it career, relationships, fashion or life, in general -- Jacqueline Carlyle knows exactly what you want to hear at the moment and guides you like a mentor.