'It is time the government should intervene more strongly than ever before and save the textile industry which is the pride of our nation.'
Pallavi Singh started her career working with designers like Rohit Bal and Namrata Joshipura.
After working for nearly a decade, in December 2016, she invested all her savings and founded the label Arcvsh, designing pret wear for women.
In February 2017, Pallavi made her debut at the Lakme Fashion Week summer/resort as a Gen Next designer.
"We started with just one person, gradually hiring more," Pallavi Singh recounts her journey as a young entrepreneur.
Since then, there has been no looking back for the young designer who has showcased her collections at India Fashion Week and also retails at stores in California, Jeddah and Qatar.
Pallavi has a team of 16 employees along with numerous weavers and artisans who depend on designers like her for a living.
"We have definitely taken a hit enduring this unexpected life turn in terms of revenue/sales and our production operations," Pallavi tells Divya Nair/Rediff.com.
How are you and your team dealing with the lockdown?
Professionally, we are trying to engage frequently with our clients and audiences through social media. We are in touch with our team on a regular basis to make sure of their well being.
We all know that at this time we are experiencing uncertainties looming over us. The economy has fallen like a house of cards.
A hit on the business front is inevitable.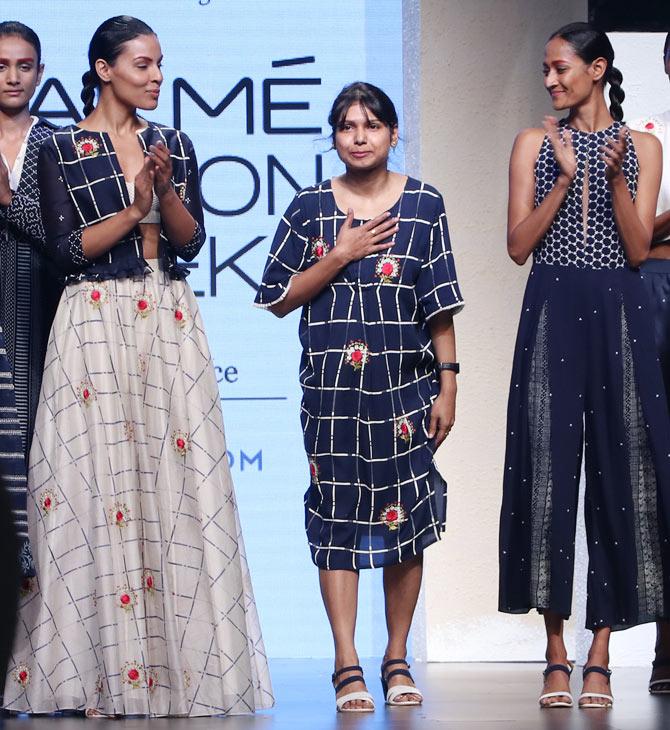 How do you inspire your team during these difficult times?
I talk to them personally and make sure they are hopeful and don't lose faith in the future.
Soon enough, we will get back to our regular chores at our workplace.
We are in constant touch (with employees). However, with stores being shut, the whole supply chain is affected.
We all know that it is the physical sales that keeps the ball rolling from demand to supply chains, manufacturing and production and operations.
An emerging designer like us can definitely pitch in to help them, but it is time the government should intervene more strongly than ever before and save the textile industry which is the pride of our nation.
What are your long term plans?
So far, with the current experience I have learnt that two things that can save you from a lockdown/pandemic like this:
1. An optimistic approach
2. Financial strength to support the workers and business.
We have definitely taken a hit like everyone else enduring this unexpected life turn in terms of revenue/sales forecast and our production operations.
But going forward we would definitely ride on the brand's reputation we have created so far.
We are brainstorming to come up with more aggressive marketing plans and interesting promotional outreach for our target audience to continue their buying with a more evolved and sustainable shopping experience.
There would definitely be no dearth of creativity for our customers to choose from our side.
What are some measures the government can take to promote/encourage the fashion industry?
The government should first of all support the organisations, weavers and manufacturers financially by announcing effective working capital for the industry to bounce back.
It must encourage customers to continue to buy and shop for Indian products on a wider and larger scale, which will definitely help sales figures to go up and our economy respectively.
Your message to designers and first generation entrepreneurs?
Take this as an opportunity to try and reflect upon for more effective choices for the post lockdown phase.
I have always believed that one should stay true to aesthetics as the product is the key. And it should have a wider outreach to do justice with its commercial viability.
In current times, consumers are spoilt with the extensive choices they have. Designers are often thronged with varied requests from different directions to make the products demand friendly.
So it is very important to hold your ground and stay true to the DNA of your brand by striking a balance between creativity and commercial viability.