Quinoa is said to play a role in the treatment of as many as 20-odd ailments, notes Surinder Sud.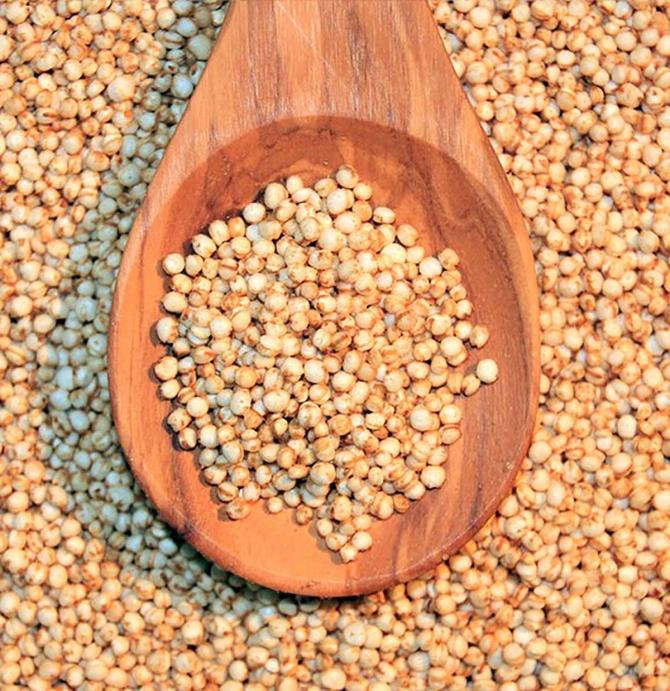 From being a virtually unknown commodity outside its native tract of Bolivia and Peru a couple of decades ago, quinoa emerged as one of the world's topmost superfoods because of its nutritional and therapeutic virtues.
Though the global quinoa boom has touched India as well, especially after 2013, which was observed as the International Year of Quinoa, the buoyancy did not last long for want of adequate marketing and promotional backing.
As quinoa production surged, its prices crashed, from around Rs 100 a kg in 2015 to below Rs 20 in 2018, virtually halting the further spread of this wonder crop.
However, the coronavirus-driven rage for immunity-boosting foods has triggered fresh demand for this health food, paving the way for a revival of interest in quinoa farming.
The high-end restaurants in big cities have begun to offer quinoa-based dishes in the vegetarian sections as the gourmet's choice.
Some enterprising farmers have resumed its cultivation as well.
Quinoa (Chenopodium quinoa) is essentially a flowering plant belonging to the amaranth family.
Quinoa's closely related plants familiar to Indian consumers are Bathua (Chenopodium) and Rajgira (amaranth), which also have similar nutritional value and are often passed on as quinoa.
Its small seeds have traits somewhat similar to those of cereals, qualifying them to be called pseudo-cereals.
These are packed densely with nutrients of superb quality with medicinal (curative as well as preventive) attributes.
Moreover, these are free of gluten, which causes allergic reactions in many people.
Andhra Pradesh and Rajasthan were the first to recognise the worth of quinoa as a hardy crop that can grow where others can't.
It was, therefore, promoted in the drought-prone areas of these states.
Later, its cultivation spread to parts of Telangana, Karnataka, Uttarakhand, and some other states as well. The latest to try it out successfully is Ladakh.
The US National Aeronautics and Space Administration has approved quinoa as part of the astronauts's regular food.
India's Defence Research and Development Organisation has also taken note of quinoa's worth.
One of its institutions, the Defence Institute of Bio-Energy Research, based in Haldwani, Uttarakhand, launched a multi-location research project in 2015 on quinoa farming.
According to a paper by DIBER scientists, carried in the October 2019 issue of Indian Farming, a publication of the Indian Council of Agricultural Research, quinoa contains all the essential amino acids -- something rare in food crops.
It is a very rich source of protein (13.9 to 21.9 per cent) with a high content of lysine (5.1 to 6.4 per cent) and methionine (0.4 to 1.0 per cent).
It also has a wide range of vitamins, minerals, flavonoids (antioxidants and anti-inflammatory agents), and dietary fibre, which make it a highly nutritious and resilience-building food.
Significantly, its nutrients remain intact even on cooking.
Interestingly, almost all parts of the quinoa plant, including stem, leaves, and seeds, are edible and have therapeutic properties.
In fact, this plant is said to play a role in the treatment of as many as 20-odd ailments, including liver problems, angina, toothache, urinary tract disorders, and fever.
It is deemed beneficial also for intestine health, cholesterol regulation, and colon cancer prevention.
Besides, it is used in the form of anti-inflammatory poultices for dressing wounds, sores, bruises, and sprains.
This apart, thanks to its high digestibility (over 95 per cent), the absence of gluten, and remarkable nutritional qualities, quinoa is deemed an ideal component of baby foods.
Recipes are now available for using quinoa flour in making idlis, dosas, and many other Indian foods, apart from exotic products like cookies, bread, pasta, flakes, and others.
Further research and development are needed to evolve quinoa-based, value-added products and procedures for their commercial production to popularise this super food among the common people.
However, like soyabean, another protein-rich commodity, quinoa seeds, too, contain an unpalatable ingredient which needs to be removed before consumption.
While in the case of soyabean, the rogue element is phyto-estrogen, which can be toxic if ingested in high amounts, in quinoa, it is saponin, a soapy compound found in the seed hull (outer covering) which imparts a slightly bitter taste to quinoa and its products.
Saponin can be removed by soaking quinoa grains in water for 30 minutes and later shaking them in hot water (70 degrees Celsius) for 20 minutes more.
At industrial level, saponin is eliminated by mechanically removing the outer layers of the seed.
Thus, the emergence of the processing industry is imperative for quinoa to become a common man's immunity-imparting food supplement.
The need is to produce innovative, value-added quinoa products which are easy to consume.
Farmer producer organisations and other start-ups can take up this job with some financial assistance and hand-holding by the government.
Including quinoa products in the government's nutrition programmes like the mid-day meals scheme and the Poshan Abhiyan (nutrition campaign for kids and mothers) also merits consideration.
This potent source of nutrition and medicinal qualities should not be allowed to become a victim of neglect.