'You look at her in wonder, blinking to see if she is real, as she talks calmly about her project to spread menstrual health awareness and bring cheaper sanitary napkins to the poor.'
Miss World Manushi Chhillar makes a huge impact at GES 2017.
Vaihayasi Pande Daniel listens in.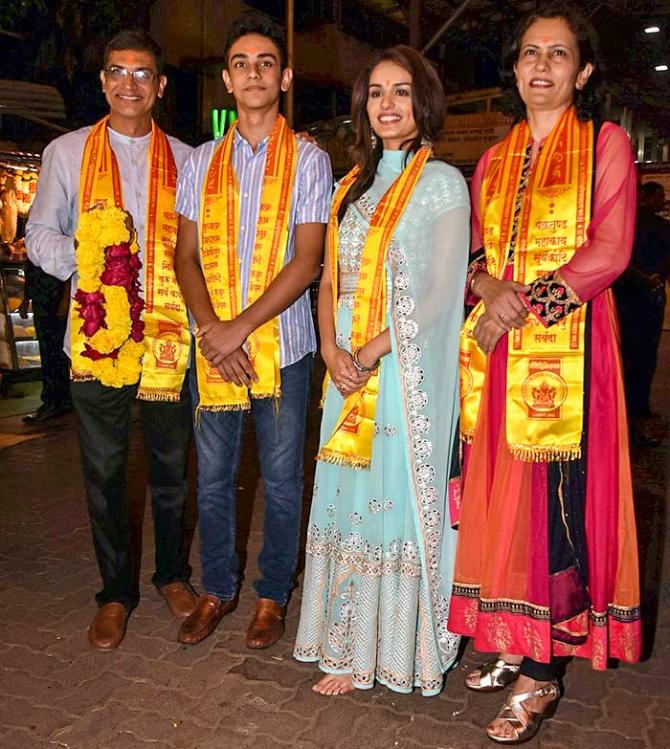 IMAGE: Miss World 2017 Manushi Chillar with her parents Dr Neelam Chhillar and Dr Mitra Basu Chhillar and brother Dalmitra at Mumbai's Siddhi Vinayak temple a couple of days before she flew to Hyderabad. Photographs: Pradeep Bandekar
Manushi Chhillar could be a figment of your imagination, so unreal is she.
A dainty child-woman, though tall, in a sparkling cream chiffon sari, a crown awkwardly balanced on her head, she radiates positivity.
"I dream to be happy," she says many times.
The young woman has plenty of poise. But it's more than that. There is a kind of angelic innocence about her coupled with a calm practicality that every youngster these days has, that wins you over.
At 20, a medical student, on her way to becoming a cardiac surgeon, now Miss World 2017, this young woman, you would not be mistaken in thinking, has it all -- she is gorgeous, smart, eloquent and beams happiness and simplicity.
If there is anything wrong with the world, she is sure everyone can roll up their sleeves and fix it.
The start to the solution of any problem, in her books, is a smile and an optimistic outlook.
You look at her in wonder, blinking to see if she is real, as she talks calmly about her project to spread menstrual health awareness and bring cheaper sanitary napkins to the poor.
She co-won the Beauty with a Purpose segment of the competition, with this project, having met 5,000 village women.
In the two busy decades of her life -- she is trained in Kuchipudi and went to the National School of Drama -- Manushi has accomplished considerably more than people twice her age.
The daughter of two doctors, one a medical doctor and the other a PhD, Neelam Chhillar and Mitra Basu Chhillar, Manushi went to Delhi's St Thomas School and is studying at the Bhagat Phool Singh Medical College in Sonipat, Haryana.
IMAGE: Manushi at a media interaction in Mumbai soon after her arrival in India after winning the Miss World title, the first time an Indian has won the pageant in 17 years.
When she walks into the cavernous Global Launch Hall at the Global Entrepreneurship Summit 2017, unfolding at Hi-Tech City, Hyderabad, trailed by her minders, it becomes literally a riot.
In minutes she is walled in by a battery of photographers and umpteen Indian delegates, foreign attendees too, clicking a string of pictures on their cell phones, through telescopic lenses or shooting videos.
After a while she is hidden behind a barrier of eager-beaver shutterbugs. She is unflappable.
Half the crowd turns their backs to Manushi, taking cheat selfies of themselves with her in the background.
More enterprising but uncouth young men grab chairs, stools, whatever they can get their hands on, and stand up on them, taking shots of themselves on level with her, bound for Facebook or a Whatsapp group, no doubt.
In a short question and answer session, that takes place at the end of Day 2 of the summit, with Ronnie Screwvala -- formerly of UTV, now the founder of the online education programme UpGrad -- Manushi reveals her plans, her thoughts about how she can give back and her simple but sweet life philosophies.
She will be taking a year off from medical school to fulfill her Miss World responsibilities, travelling all over the world but representing India.
Manushi says she has every intention of continuing her medical studies once that year is over. She knows that the best she can do with her life is to give back as a surgeon and a doctor.
This Miss World, who brought the crown back to India after 17 years on November 18, believes that if you love what you do and doing it achieves the give back process, then it will happen essentially effortlessly.
"I think if you make others happy you are contented."
But can an individual change the world? Screwvala didn't think he could though he acknowledged that the younger generation was much better at it.
Manushi instantly disagreed. She felt every individual indeed had at their disposal even the smallest means and power to make a difference.
When asked how, she said even the simplest things could be the start of a change and offered brightly, "I think everyone can make a difference, I think even smiling at someone in the morning can make her day... If you make someone feel better they are going to make others feel better."
That, she reasoned, would make his day a better one and he in turn might smile at a few people and make their days better and a chain reaction would take over.
"You don't need to be Miss World to do that."
Screwvala applauded her, "That is very nice. That is very nice!" The crowd clapped.
Manushi says she learned how to interact with people from her parents. "My father always says a doctor is also an actor. Fifty per cent of the doctor's work is making a patient feel better."
She said she was very close to her mother who would often take Manushi to her clinic on Sundays as a child, and was grateful for what Neelam had done for her as a mother.
A very touching moment, she recalls from the night she was crowned at Sanya, China, was her mom thanking her after her win, when, Manushi says, she didn't even have to.
"Miss World, a charity event, is about giving back to society. All of us, we get to learn so much as individuals. We get to learn contentment you feel when you make others happy... It helps me see things from a different perspective," she said.
"We all heard our prime minister yesterday. He spoke about the power of the people to give back to change the country for the future. I think that is very relevant being part of the youth of this country I think it is my duty to give back."
"I think personally yes (being Miss World) it is a big responsibility," she added with a hugely confident ring to her voice, "but I know what I am doing and when you know what you are doing you don't feel the pressure."
Her parents did well naming her Manushi. Or a special human being.