Colleges and universities across India have been asked to observe September 29 as Surgical Strike Day.
Tell us what your college is doing to remember this memorable day in India's military history.
Please share your stories and pictures with us.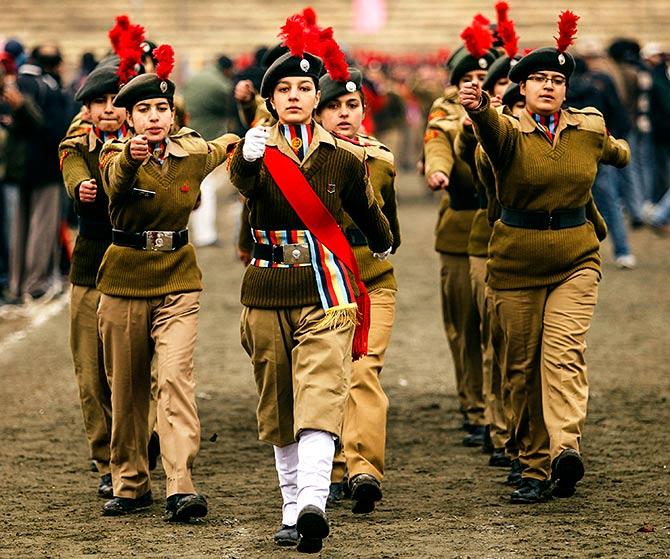 On September 19, the University Grants Commission issued a circular to all universities in India to observe September 29 as Surgical Strike Day.
That day this year will mark the second anniversary of the Indian Army's strike against terrorists operating across the Line of Control in Pakistan occupied Kashmir.
According to Union Human Resource Development Minister Prakash Javadekar, the idea is to encourage students to remember the armed forces.
The UGC has directed National Cadet Corps units at all colleges and universities to hold a special parade to mark the day.
While Javadekar claims that the circular is 'only advisory in nature, not mandatory or imposed', universities and students are divided on whether they should follow the UGC ukase.
"This is not the first time India did a surgical strike. It happened during the UPA and NDA regimes. What is so special about the strike that took place in 2016?" Maskoor Ahmed Usnani, president, student union, Aligarh Muslim University, asked Rediff.com's Divya Nair.
"By celebrating this particular strike, you are clearly ignoring the sacrifice of the army and policemen who laid (down) their lives in the previous strikes that took place since 1965."
"We already have August 15 and January 26 as days of national importance," says Usnani. "Central universities are institutions of learning and should be spared from a political agenda."
Meanwhile, the Akhil Bhartiya Vidyarthi Parishad at Jawaharlal Nehru University, New Delhi, plans to celebrate the day with fervour.
"Very few people know about our war heroes. This is a great way to educate them about the people who gave their lives for our country," says Vijay Kumar, president of the ABVP's JNU unit.
"It's a nice idea to talk about their valour and remember their sacrifices," Kumar adds.
Tell us how your college/university observed Surgical Strike Day, September 29, 2018?
E-mail us your reports and photographs to getahead@rediff.co.in (subject: Surgical Strike Day) along with your NAME, AGE, LOCATION and COLLEGE/UNIVERSITY. We will carry the best responses on Rediff.com