The IIT-alumna -- who is one of only two girls among the top 20 who cracked the Common Admission Test this year -- in conversation with Rediff.com's Divya Nair.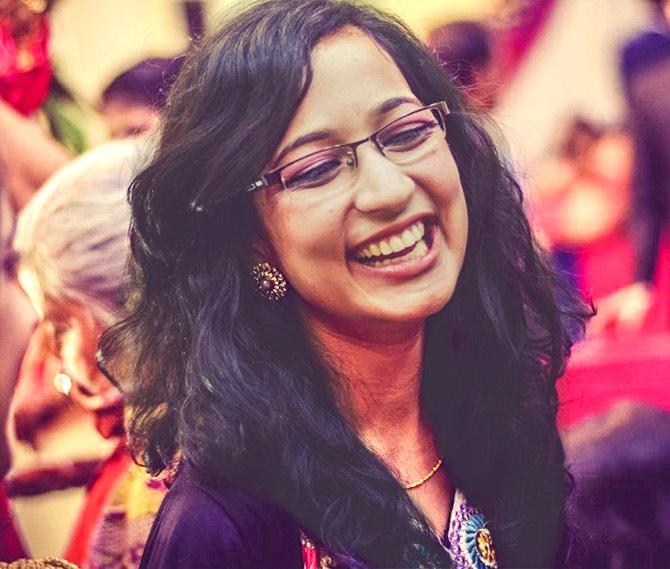 Chhavi Gupta secured the perfect score in CAT this year.
Photographs: Kind courtesy Chhavi Gupta
This year only two girls cracked the Common Admission Test with a perfect score. Chhavi Gupta, an alumnus of the Indian Institute of Technology-Delhi is one of them.
Was she expecting it?
"I was confident to score in the 99th percentile. My family and I saw the result together in the morning of January 8. Although I was expecting a good result, seeing 100 percentile was a moment of immense happiness for all of us. My parents are elated since then," the topper told Rediff.com over the phone.
For her family, she says, the news comes as a little surprise because she was always passionate about studies.
"I love math and science," said the scholar, who secured 91.2 per cent and 94.4 percent in Std 10 and 12.
With an All India rank of 3344 in the IIT-Joint Entrance Examination, Chhavi clinched her seat at IIT-Delhi. She holds a dual degree -- bachelors and masters in technology from the IIT-Delhi – and is employed as a business analyst at Opera Technologies, Delhi since 2016.
Chhavi Gupta tells Rediff.com how she cracked the examination in her first attempt.
How did you prepare for the exam?
Since I was working, I had signed up with the TIME institute.
I used to give mock tests at least every other weekend and analyse the same to keep a check on my strong and weak areas and see how I'm improving.
I did not have much time during weekdays as I was working. September onward, I tried to study for at least an hour before office.
What helped was I practiced in a CAT-like atmosphere all the time, did all questions with a timer and tried to study for 3 hours at a stretch.
Do you think being an IITian helped you?
Being from a math background I was not afraid of Data Interpretation and Quantitative Analysis sections and that helped me.
What were your weakest areas? How did you tackle them?
My accuracy in the Verbal Ability (VA) portion (especially parajumbles) was a bit poor. I practiced them a lot. I did all the mocks' VA 2-3 times to ensure that I understood where I was going wrong.
Initially, I would spend longer time analysing and attempting difficult problems. I realised that if I was spending more than five minutes on a problem it wasn't going to help.
I started working on simpler questions first further moving to the difficult ones. Time management is very critical to cracking the exam.
Where do candidates go wrong with CAT?
A lot of people miss mocks in the initial months of preparation.
Even till August, September many people were not writing mocks because they were not fully prepared. There's nothing like being fully prepared in an aptitude test.
One must start giving mocks as soon as possible to get an idea of their own weaknesses.
How do you think an MBA can add value to your career?
An MBA can provide me with the necessary skills to excel in a leadership or managerial role later in my career.
It would help me get a different perspective as well because I'll be able to interact with intellectuals coming from different academic and social backgrounds.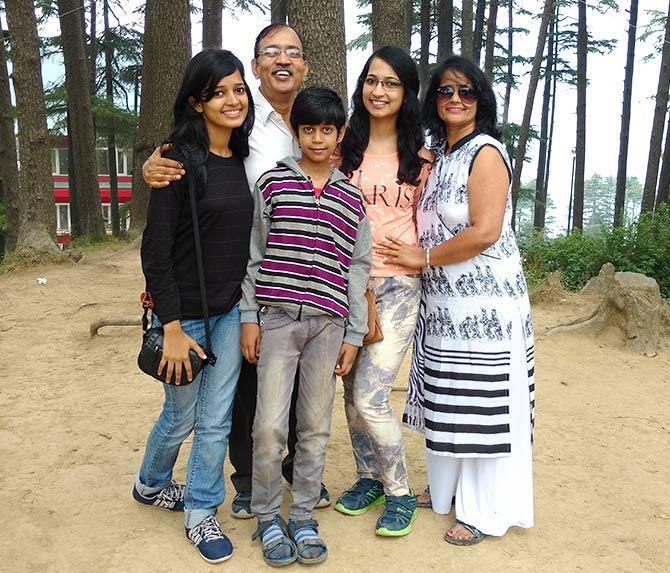 Chhavi Gupta (second from right) with her family.
She lives with her parents -- her father is a government servant and mother is a pharmacist.
Her elder sister is studying medicine and younger brother is in Std 6.
Have you got any admission offers yet?
Yes, I've got calls for interviews from the Indian Institute of Management-Ahmedabad, Bangalore and Calcutta. The other IIMs will be releasing their shortlists shortly.
How are you preparing for the GD/PI rounds?
I try to read newspapers on a regular basis, post which I'll get involved in discussions about important topics with groups on Whatsapp/Facebook. I also attempt mock interviews.
Besides academics, what are your interests?
I'm an avid fiction reader, and am trying to expand the genres that I read. Reading books helps me break away from the grind.
I read a couple of non-fiction books, including India Unbound by Gurcharan Das. I read Jeffrey Archer.
I also like to watch interesting TV series and listen to music.
The best life/career advice you've got...
Do the best you can.
This is so important because we never regret not doing something which we won't be able to. But missing out on things due to lack of hard work or sincerity hurts a lot.
Who inspires you and why?
My dad inspires me a lot. He is one of the most honest and hardworking persons I've ever met. His continuous hardwork pushes me to not give up in my life.
What are your plans after MBA?
I wish to get into a good consultancy role after my MBA.
Your advice to young readers.
Don't get stressed about any examination. It is natural to get anxious ahead of the examination. But you shouldn't let it affect you on the day of the examination.
If you've prepared well, you'll do your best. It is important that you stay calm and follow your preparations.
Don't get scared of mock tests and attempt as many as you can!