Do you save more money if you use bank portals for online shopping?
Chirag Madia finds out.
Illustration: Uttam Ghosh/Rediff.com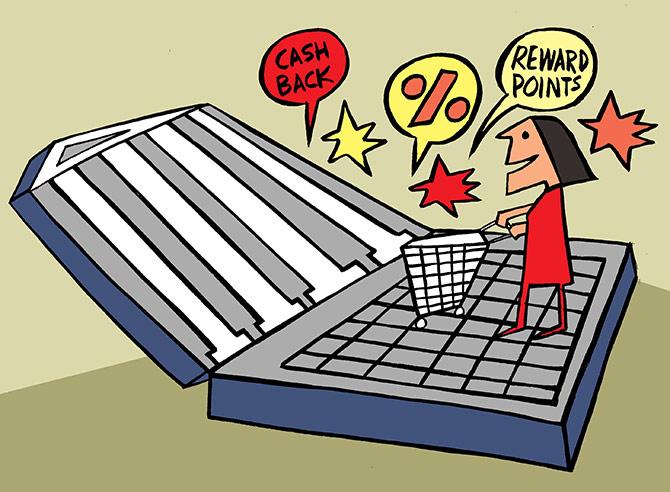 Banks are gradually foraying into e-commerce.
The State Bank of India recently launched its comprehensive digital service platform, YONO, acronym for 'You Only Need One'. The platform allows customers to shop across 14 categories.
It also lets them book cabs, dining, flights and hotels.
HDFC Bank was the first to offer this facility through its SmartBuy platform which offers customers shopping across many categories and also allows them to book flight tickets.
Bankers say they have launched this facilities to offer convenience and a one-stop solution to their customers.
Says Manju Agarwal, deputy managing director for corporate strategy and new business, SBI: "It is a banking application, where customers can do banking transactions, online shopping and buy other financial products as well."
"So it's a one-stop solution for customers' lifestyle-related requirements and financial needs. Discounts on shopping can range from 5 to 15 per cent on the YONO platform," Agarwal adds.
HDFC's Smart Buy also offers customers an opportunity to earn accelerated reward points (10 times) or 5 per cent cashback on all transactions.
"The benefit to customers is two-fold. One, customers can compare the prices on offer by major players in the category and make an informed decision to buy from the most cost-effective place," says Parag Rao, country head-cards, merchant acquiring, HDFC Bank.
"Two," Rao adds, "they also gets the benefit of 10x reward points or 5 per cent cashback by routing their transactions via SmartBuy."
For example, an Apple iPhone 6 of 32 GB purchased through HDFC SmartBuy would cost investors Rs 24,999. The price would be the same if it is purchased from other e-commerce platforms.
But the HDFC customer would get 5 per cent cashback on using HDFC Bank's debit card for buying this phone, a significant saving.
For flight bookings bank customers get the benefit of zero-processing fee along with Rs 200 discount and easy instalments through EMI on HDFC Bank credit cards.
Online travel companies, however, say that offers and discounts available on bank platforms are one-off promotions which run from time to time and differ among categories, and it's better for customers to buy from the specific e-commerce platform.
For example, if one books a single journey flight ticket from Yatra.com, he gets "500 e-cash points" which is equivalent to Rs 500 and can be used for other bookings for flights and hotels.
"The benefit with Yatra.com is that customers get loyalty points, and they can redeem these benefits in the next purchase within three months," says Sharat Dhall, chief operating officer (B2C), Yatra.com.
"In addition," says Dhall, "we have launched additional benefits wherein customers can transfer the points to their friends and family members. Customers also have the option to get shopping vouchers from our 25 partners, which can be very beneficial for them."
Customers should weigh the pros and cons of all the options available to them and buy products and services from the site that offers them the best deal.