Nutritionists now prefer to call millets as nutri-cereals or super foods and recommend their inclusion in the diets of underfed people and health-conscious individuals.
Surinder Sud reports.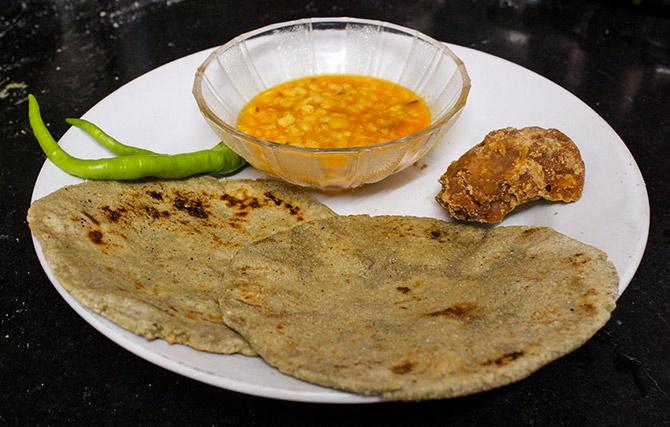 Photograph: Courtesy Jay87.mehta/Wikimedia Commons
The agriculture ministry's move to observe 2018 as the National Year of Millets is an acknowledgement, even if belated, of the nutritional value of these small-seeded cereals, which have unfairly been neglected after the green revolution.
The government had earlier urged the United Nations to also designate the year as an International Year of Millets to draw global attention towards the need to promote the production and consumption of these virtual storehouses of nourishment.
Nutritionists now prefer to call millets as nutri-cereals or super foods and recommend their inclusion in the diets of underfed people and health-conscious individuals.
While wheat and rice have played a notable role in strengthening food security to combat hunger, millets can extend it to nutritional security to tackle the menace of hidden hunger or undernourishment.
The main millets grown traditionally in India are bajra (pearl millet), jowar (sorghum) and ragi (finger millet), apart from minor millets like kutki (little millet), kodo (Kodo millet), sawa (barnyard millet), kangni (foxtail millet), cheena (proso millet) and others.
These grains are loaded with vital micro-nutrients, some of which are not found in fine grains like rice and wheat.
Millets, though an essential part of the staple diets in arid and semi-arid regions in the past, were pushed out of the consumption basket by the relatively less wholesome but texturally finer cereals like wheat and rice.
The government also contributed to promoting wheat and rice by providing assured marketing at remunerative prices and supplying them through the public distribution system at heavily subsidised rates. Millets, on the other hand, were left to fend for themselves despite being versatile crops usable as food, feed, fodder and raw material for biofuel and brewing.
Thankfully, the outlook on millets has now changed. These are preferred over rice and wheat because of their better quality protein, balanced mix of amino acids and high content of crude fibre and essential minerals, including iron, zinc and phosphorus.
Their intake can, therefore, redress widely prevalent micronutrient deficiencies, especially among women and children. The scourges like anemia (iron deficiency), pellagra (niacin paucity) and vitamin B-complex inadequacy can be overcome through millets.
Modern day challenges like obesity and diabetes can also be countered with these grains because these are free of gluten and contain dietary fibre and antioxidants.
This apart, millets can conveniently be grown in un-irrigated, less fertile and marginal lands tilled predominantly by the resource-poor small and marginal farmers.
They can withstand harsh conditions and are climate change-resilient with meagre carbon and water footprint.
Besides, their farming does not involve much expenses on cash inputs like fertilisers and pesticides. The risk of crop failure is very low.
It is, therefore, good that the Centre and, more so, several state governments have begun to draw up programmes for the revival and rehabilitation of millets.
On the recommendation of the National Institution for Transforming India Aayog, the Centre has decided to convert the existing coarse cereal wing of the National Food Security Mission into a Sub-Mission on Nutri-Cereals to devote exclusive attention to the advancement of millets.
More importantly, plans are on the anvil to provide the much-needed marketing support to millets through procurement and supplying them through the PDS. Millet products are also likely to be included in the mid-day meals in schools in several states.
Odisha has, in fact, already constituted a Millet Mission and announced plans to procure these grains at remunerative prices from the next cropping season. Karnataka has also begun to promote millets in drought-prone areas by offering marketing assistance.
Significantly, the state government is trying to establish linkages between millet growers and the millets-based health food industry.
Among the other states where millets farming is catching on, the notable ones are Andhra Pradesh, Tamil Nadu, Kerala, Telangana, Uttarakhand, Jharkhand, Madhya Pradesh and Haryana. If this trend endures -- and there is hardly any plausible reason why it should not -- it may help the country alleviate malnutrition and improve public health.