Here's all you need to know about Lupus, the autoimmune disease that the singer is fighting.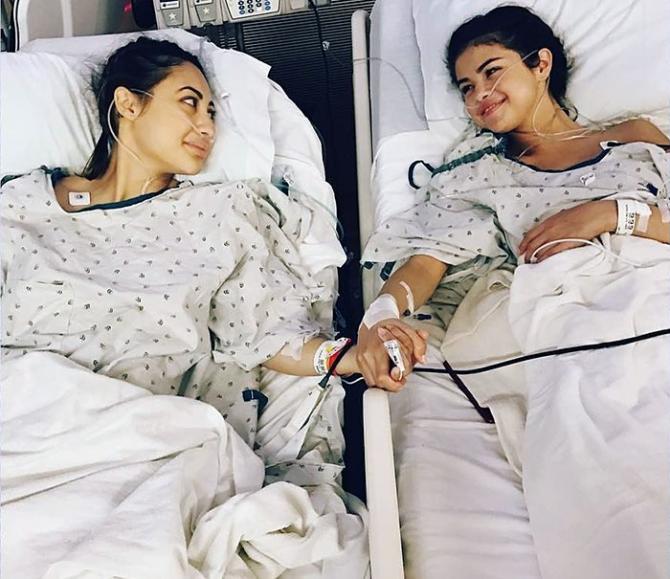 Selena Gomez had a kidney transplant this summer and the singer couldn't help but share a heartfelt message for those who helped her in the fight against Lupus, especially her best friend Francia Raisa, who donated the organ.
The It Ain't Me singer opened up about her surgery through a touching Instagram post, sharing a post-surgery picture of herself and Raisa laying side-by-side in hospital while holding hands.
The picture was captioned as, "I'm very aware some of my fans had noticed I was laying low for part of the summer and questioning why I wasn't promoting my new music, which I was extremely proud of. So I found out I needed to get a kidney transplant due to my Lupus and was recovering."
"It was what I needed to do for my overall health. I honestly look forward to sharing with you, soon my journey through these past several months as I have always wanted to do with you. Until then I want to publicly thank my family and incredible team of doctors for everything they have done for me prior to and post-surgery," she added.
The 'Bad Liar' hit-maker continued, "And finally, there aren't words to describe how I can possibly thank my beautiful friend Francia Raisa. She gave me the ultimate gift and sacrifice by donating her kidney to me. I am incredibly blessed."
"I love you so much sis. Lupus continues to be very misunderstood but progress is being made.
Selena Gomez's mother Mandy Teefey, in an emotional post, has recalled how she felt 'helpless' and 'scared' when her daughter had to undergo a kidney transplant.
Speaking about the pic that her daughter shared, she said, "
"For all those moments of not knowing if we were going up or going down, I can always come back to this picture and know we can always make it back up."
"As a mother I was helpless, scared and all I could do was pray for both of them, Francia's beautiful family," the 41-year-old continued, before joking, "I am pretty sure I am banned from that hospital. Mama Bear was in high gear."
Teefey went on to say that while her daughter gained a kidney, she herself gained another daughter in Raisa. She then made sure to thank everyone for their support.
"We survived from all the love, prayers and God," she wrote.
Gomez's need for a new kidney was due to her ongoing struggle against chronic autoimmune disease Lupus.
Wondering what Lupus is?
According to the Lupus Research Alliance, "Lupus is one of many disorders of the immune system known as autoimmune diseases.
"In autoimmune diseases, the immune system turns against parts of the body it is designed to protect. This leads to inflammation and damage to various body tissues.
"Lupus can affect many parts of the body, including the joints, skin, kidneys, heart, lungs, blood vessels, and brain.
"Although people with the disease may have many different symptoms, some of the most common ones include extreme fatigue, painful or swollen joints (arthritis), unexplained fever, skin rashes, and kidney problems.
"At present, there is no cure for lupus. However, lupus can be effectively treated with drugs, and most people with the disease can lead active, healthy lives.
"Lupus is characterised by periods of illness, called flares, and periods of wellness, or remission.
"Understanding how to prevent flares and how to treat them when they do occur helps people with lupus maintain better health.
"Intense research is underway, and scientists funded by the NIH are continuing to make great strides in understanding the disease, which may ultimately lead to a cure."
With inputs from ANI and www.lupusresearch.org.
Lead pic: Courtesy Selena Gomez/Instagram