The ridiculously hot Padma Lakshmi spills her secret.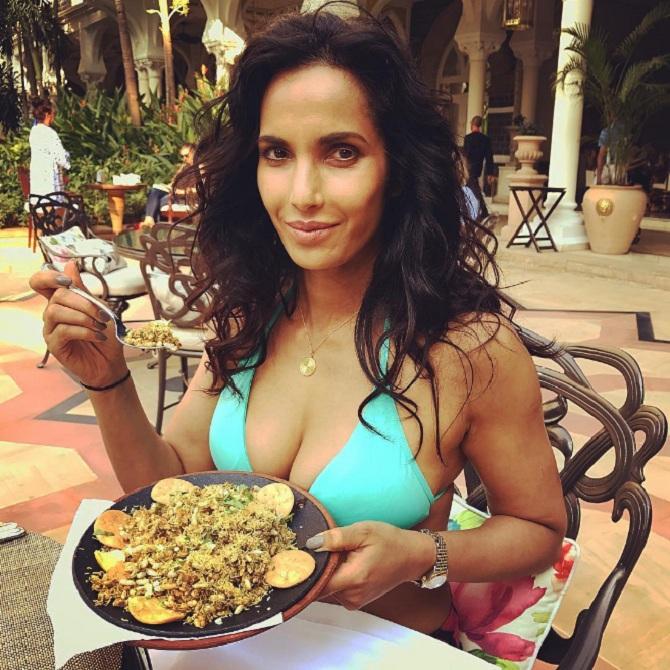 Padma Lakshmi enjoys Bhel Puri in Mumbai.
Photograph: @padmalakshmi/Instagram.
As the host of Top Chef, Padma Lakshmi -- among other things -- is paid to eat.
'When filming Top Chef, I consume about 5,000 to 8,000 calories a day,' she reveals in a recent column in The Hollywood Reporter. 'We start with anywhere from 15 to 18 contestants, and I have to take a bite or two from each of their plates to adequately judge each dish. Every day. It adds up.'
After a six-week season of heavy eating, she typically gains 'anywhere from 10 to 17 pounds [4.5 to 8 kg] every season.'
And then begins the problem: 'What's taken me six weeks to gain takes me 12 weeks to take off.'
As a result, year after year, Padma Lakshmi finds herself in a race to lose weight in time for the Emmy Awards in September.
Padma Lakshmi writes, 'Top Chef luckily has been nominated every year since I took over as host in 2006. I find myself in the unique position of eating for a living while still being expected to look a certain way -- let's call it "red carpet ready"...
'Like many women in Hollywood, I gear up for the awards by dieting, vigorously exercising, searching for a dress no one else will have and hoping for the best. It's always a nail-biting extravaganza at fittings, praying that a few pretty dresses that came down the runway on a teenage model who is a size 0 will miraculously fit my 40-something body...
'Every year I manage to somehow make it to the awards, usually with two hours of working out a day and a disciplined diet. My diet for the Emmys is pretty straightforward. It's like a poem: no meat, no wheat, no cheese, no fried foods or sweets. And, of course, no alcohol.'
Despite all this, and her high metabolism, she worries every year that she 'won't fit into anything nice.'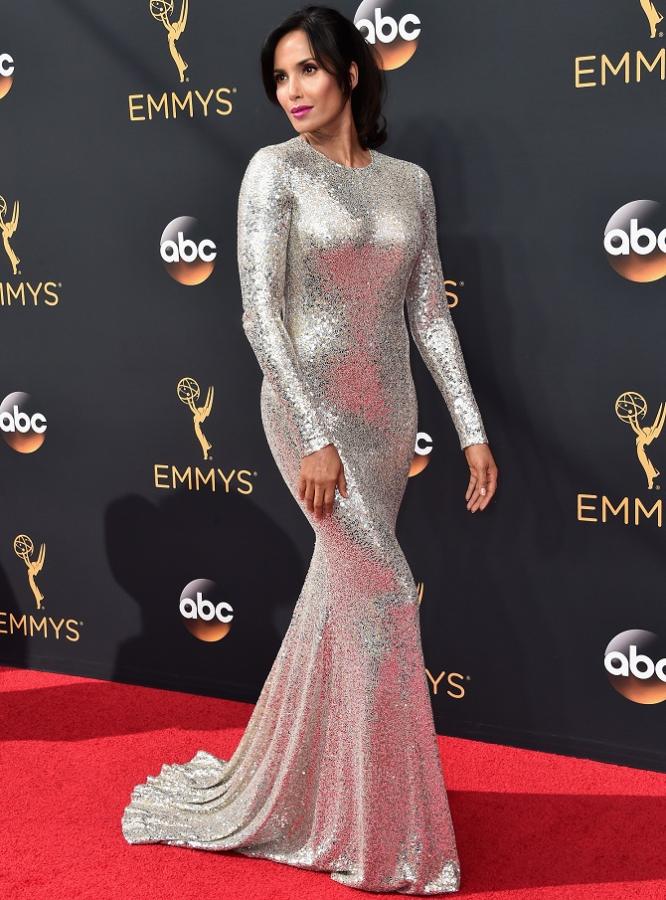 Padma Lakshmi at the Emmy Awards in 2016.
Photograph:

Alberto E Rodriguez/Getty Images

.
But this year, Padma Lakshmi has chosen a different path.
She recently realized that her daughter, who is now 7-and-a-half years old, has watched her struggle and internalised it as a problem. The wake-up call came when her daughter began to say things like 'I don't want to eat because I'm watching my figure,' or, 'I weigh too much.'
'Her comments stopped me dead in my tracks,' Padma Lakshmi writes. 'Her words scared me. Language matters. We send signals to our daughters every day. And I am her first touchstone of femininity.'
In her column, Padma Lakshmi doesn't lay the entire blame on society: 'The truth is, my own vanity also plays a big role. I want to look good, to be fit and to fit into those fancy couture dresses... I too enjoy the spectator sport of seeing what everyone wears on the red carpet.'
And she resolves to do her bit to change it.
'I can't block my child from reality and the culture that we live in,' she continues. 'But I have a responsibility to make sure that she has a healthy self-image and a normal childhood. I don't want her to ever be ashamed of her body. I want her to cultivate her mind.'
So, this year, Padma Lakshmi has decided that her weight will not be her focus, and that one day on any red carpet cannot and should not be as important as ensuring that her daughter 'doesn't measure her worth by her dress size.'
Her solution? Eat what makes you happy, exercise without being obsessive and embrace those additional kgs, if any.
And the philosophy sure looks good on her.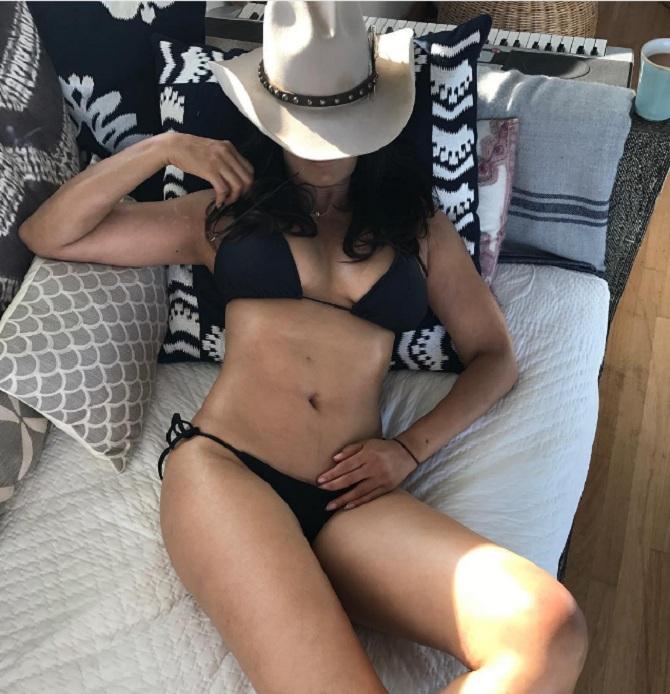 Padma Lakshmi says she is 'thick happy'.
Photograph:

@padmalakshmi/Instagram.