Brinda Sapat takes you through some real super-easy moves that burn fat like nobody's business. Ready?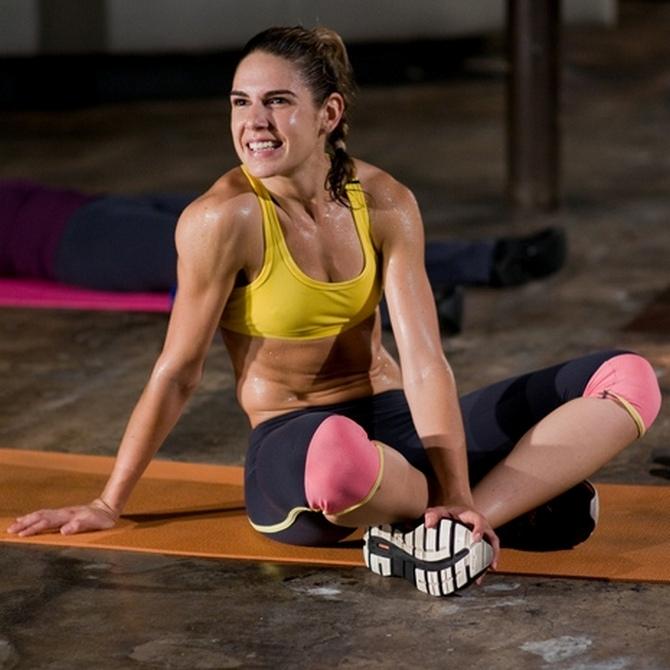 High-intensity interval training pushes the body to the max and gives you a high fat burn.
This is a 16-minute workout with includes eight exercises done for 20 seconds, with a rest period of 10 seconds between.
The cycle repeats 4 times.
Do the workout 4-5 days a week.
Let's go!
Note: Please consult your doctor before beginning this workout. Stop if you feel any pain, breathlessness or any other discomfort.
You will need:
A clock with a seconds hand
A carpeted, wooden, grass or sand surface to workout on.
Surface-appropriate training shoes
Music you enjoy
A bottle of water
Begin with a five-minute warm up of jogging on the stop, stair climbing, jumping jacks, dancing; etc
Do exercise number one at your best intensity for 20 seconds, then rest for 10 seconds.
Repeat the same exercise again for 20 seconds; and so on until you have done that same exercise four times. Then move on to the second exercise and so on until you finish all eight.
1. Jumping jacks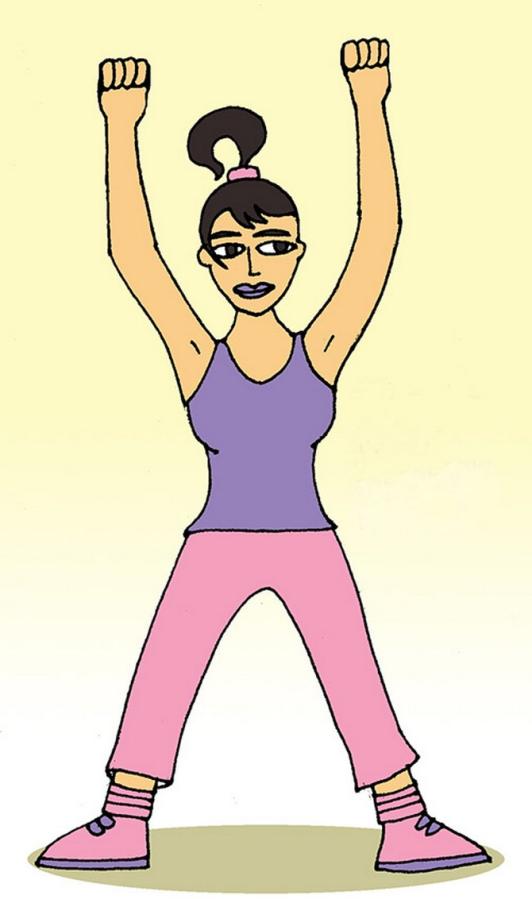 Jump taking your legs wide out and arms up overhead from the sides.
Do them as fast as you can.
2. Mountain climbers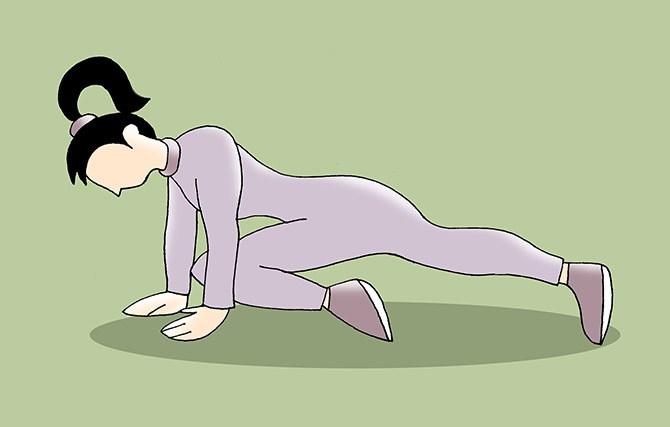 Get into a plank position.
Maintain a straight line from head to shoulder to hip to feet.
The back should not arch, nor should the hip rise up.
Bring your right knee in towards your chest then extend it back again.
Next bring the left knee in.
Keep alternating legs going as fast as you can while maintaining the proper hip position.
3. High knees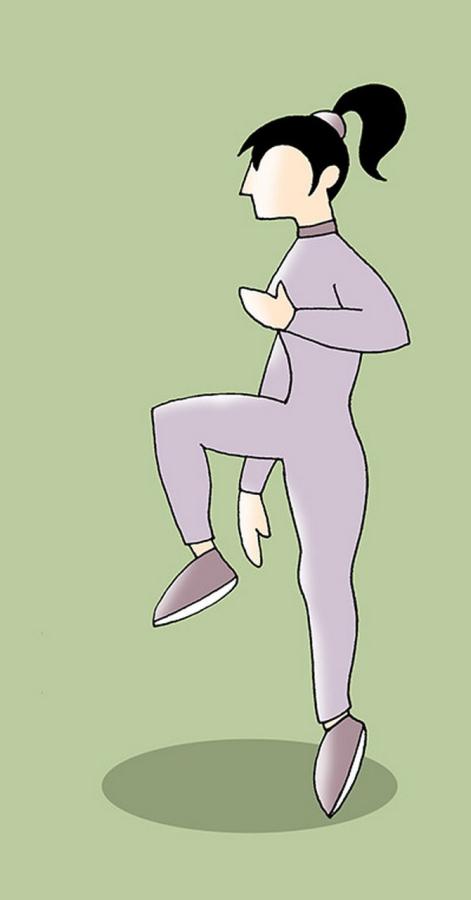 Jog bringing your knees as high up in the front of you as you can
4. Squat and Side-Leg Lift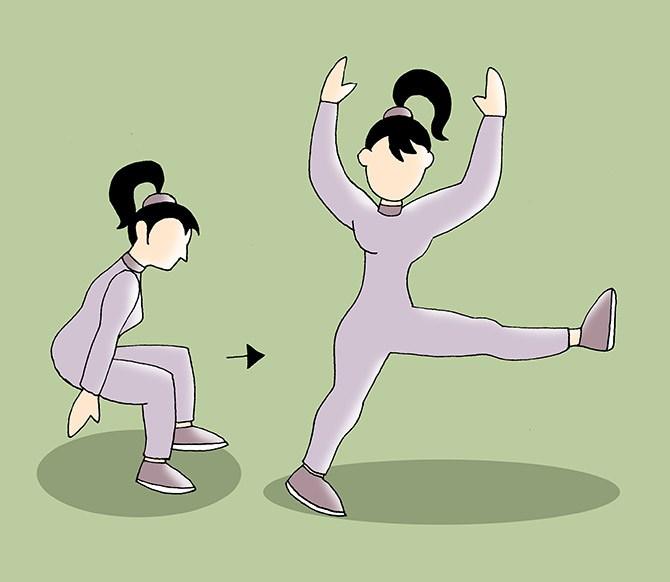 Stand with your feet a little more than hip distance apart; hands by your sides.
Push your hip back, bend your knees and lower your thighs till they are almost parallel to the floor.
Make sure your knees stay in line with your ankles and don't come forward.
Press your heels into the floor, push yourself up to standing and as you do lift your right leg out to the side, and lift your arms up overhead.
Bring the leg down and lower down into the next squat. As you come up this time, lift the left leg to the side.
Continue with the reps, lifting alternating legs each time.
5. Skip sideways and lunge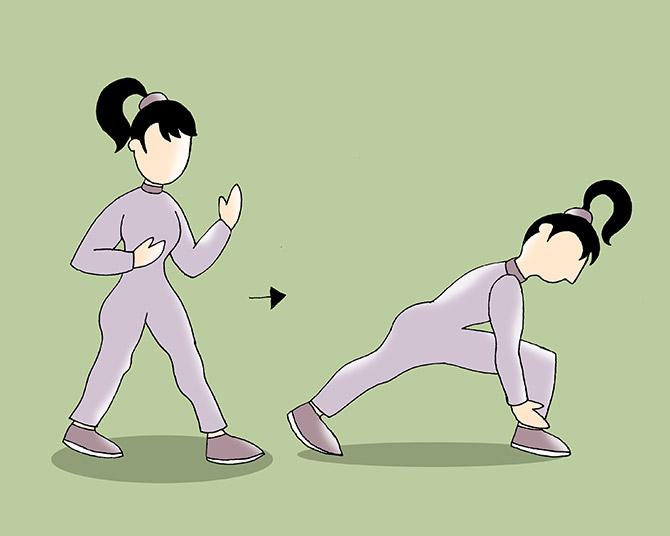 Skip to the right by taking two steps sideways with a little skip, allowing you to travel across faster and reach down towards your right foot with the left hand, then skip to the left.
Keep going side to side.
6. Plank with leg raises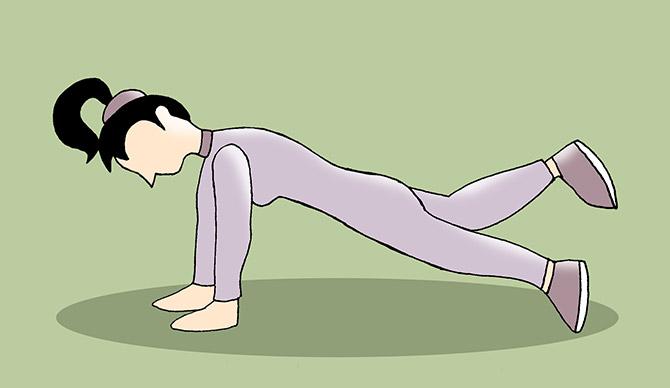 Get into a plank position.
Face down, hands on the floor and legs extended.
Maintain a straight line from head to shoulder to hip to foot.
Hold this position and raise alternating legs up and down.
Keep the hip in line with the body as you lift the leg.
7. Switch

Stand and with a hop take the right leg forward and left backwards, then switch.
Keep alternating and move at a fast pace.
8. Swimming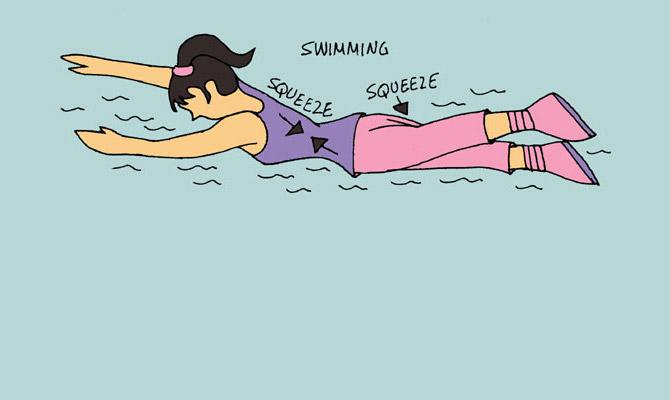 Lie face down on your tummy.
Extend both your arms out in front of you.
Raise your upper body (till the chest comes off the floor), right arm and left leg, lower them and raise the left arm and right leg.
The movement mimics freestyle swimming. Go as fast as you can, alternating sides.
When you are done round off with some relaxing stretches.
Couple this workout with a low fat, well balanced diet and you are on your way to a slim and trim body!
Lead image (used for representational purposes only): Calibe Thompson/Creative Commons
Illustrations: Uttam Ghosh/Rediff.com