Dave Goldberg would have done well to clip the emergency stop mechanism to his shirt or shorts -- a move that could have saved him from dying says Dhruv Munjal.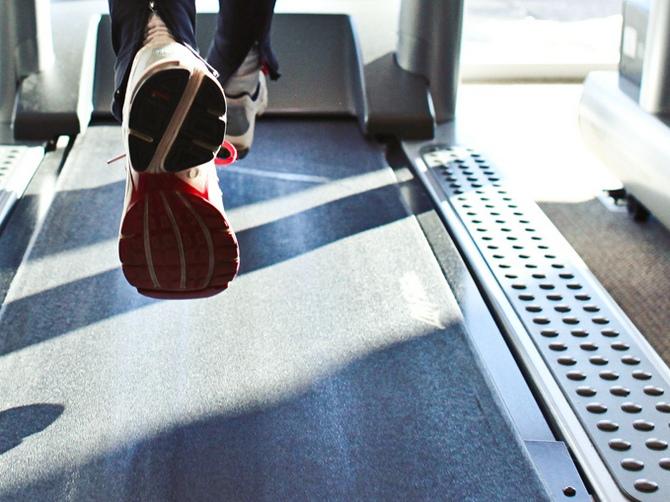 For somebody who likes to run outdoor, I have been on a treadmill only a handful of times in my life.
The last time that happened was about seven years ago when I was on vacation -- much like Dave Goldberg who died last week after an accident on a treadmill at a Mexico hotel while on a family holiday.
Goldberg, CEO of SurveyMonkey and husband of Facebook COO Sheryl Sandberg, suffered from a traumatic brain injury and hypovolemic shock after he slipped while on the treadmill.
In a lot of ways, Goldberg's death highlights the unseen dangers of treadmills.
People whose gym regime is incomplete without a brisk run on a treadmill should be aware that the exercise machine may not be as safe as it seems.
While treadmills seldom prove to be fatal, they can cause injuries -- often serious ones.
Search for the keywords "treadmill accidents" on Google and the first results you get are of links that direct you to "funny treadmill accidents" videos on YouTube.
After Goldberg's demise, accidents while running in the gym are definitely no laughing matter.
In the United States alone, for example, the last two years have seen over 32,000 treadmill-related injuries -- some of them fatal.
Another study reveals that 66 per cent gym injuries are related to treadmills.
Incidentally, the treadmill is among the best-selling exercise equipment in the US, with over 28 million users.
So how does one stay safe while running on a treadmill?
Leena Mogre, the director of Mumbai-based Leena Mogre Fitness, says that any piece of exercise equipment has its share of dangers, but the hazards that treadmills pose are significantly higher.
First-time runners, she says, should be extra careful when using a treadmill, which can sometimes be quite a daunting challenge even for a seasoned outdoor runner.
"Running on the treadmill and running in the open are very different. You have to get used to the equipment. And the first couple of times, you should go slow," she says.
Mogre squarely blames distractions for most injuries caused while using a treadmill.
"Most people in the gym run while watching television. Others spend a lot of time talking to a person running on another treadmill.
"Your attention can easily get diverted by doing that," she says.
"You have to understand that the treadmill is controlling you, not the other way around."
In the smartphone era, a lot of people spend their time in the gym fidgeting with their mobile phones.
Mogre feels that talking on the phone or messaging makes you lose focus.
"You have to prioritise. Listening to music is fine, but you can either talk on the phone or exercise," she says.
"The moment you get distracted, your body is not in sync with the treadmill.
"The treadmill might be moving at a fast pace, while your body may not be quite up to speed."
Also, looking down while running can cause you to lose balance and tumble off.
In Goldberg's case, he appears to have lost balance on the dizzyingly fast belts of the treadmill and then hit his head against its frame.
In such a situation, Goldberg would have done well to clip the emergency stop mechanism to his shirt or shorts -- a move that could have probably saved him from dying.
Experts says that all treadmill users must familiarise themselves with the shut-off button in case of an emergency.
Also, parents must ensure that children are kept away from any sort of equipment in the gym.
In 2009, former heavyweight boxer Mike Tyson's four-year-old daughter died after getting entangled in a cord connected to a treadmill.
Children often cause themselves serious external injuries after getting their hands caught in the moving belt.
Therefore, supervision is key, says Mogre. And, if you have a treadmill at home, then it must always be disabled after use.
Many injuries are caused when people try to get off the treadmill.
The machine must be stopped gradually, and you should get off when it is at its lowest speed.
Also, walk on the rubber strips and not the belt while getting off. "If you stop abruptly on a swiftly-moving treadmill, then it can lead to serious injury," says Mogre.
"Also, people with severe health conditions such as heart problems should not be using the treadmill."
A power cut while a person is on the treadmill can is not that big a problem since the machine does not come to an abrupt halt.
So how do you stay safe on a treadmill?
Post your comments on ZaraBol -- #SurvivingTreadmills -- and we will carry the most relevant responses right here on Rediff.com.
Photograph: E'Lisa Campbell/Creative Commons