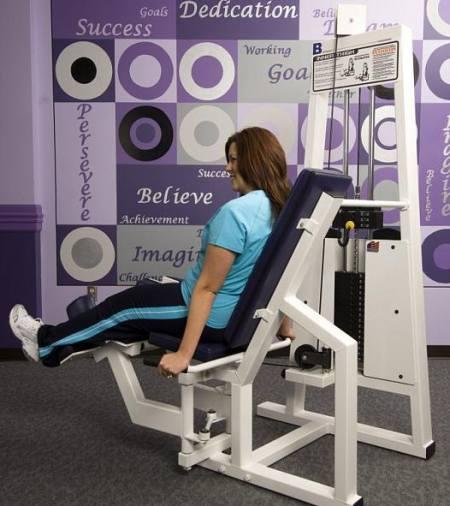 In a world where people do not have the time to go to the gym, home exercise equipment is becoming popular. But do they work?
How do you not pay attention when someone tells you that to be super fit and super healthy all you need to do is to lie down on a floor mat while a "magic" machine burns all extra fat and rids your body of toxins? A lean woman on a telemarketing channel is doing precisely that. The magic machine she's talking about is a portable contraption with cushy foot-holders on which you rest your calves while lying flat on your back. When you turn the machine on, it swings from side to side and with it swing your legs. The machine, says the woman, guarantees you all the benefits of walking. It seems worth ordering -- even if you enjoy walking. After all, why sweat it out when you can achieve the same benefits in a far easier, and pleasurable, way?
The machine arrives. It is compact and looks sturdy. Using the remote that has control buttons on it, I turn it on and it starts swinging. There are speed options -- low, medium and high. The duration of the swinging massage-cum-exercise can also be regulated -- 10, 20 or 30 minutes. It's relaxing; there is no denying that. In a few minutes, the fatigue begins to lift. The 20-minute workout, if you can call it that, leaves me quite refreshed. But wait a minute. Along with relieving stress and fatigue, the portable machine claims to also reduce the overall body weight, improve the digestive system and functioning of the internal organs, control diabetes and blood pressure, correct certain spinal misalignments, release waste and toxins and, among several other things, strengthen the immune system. Really? Just by making your legs swing?
Kamal Chhikara, instructor at the Reebok CrossFitRobust gym in Delhi, who has also tried this machine, says, "Though it feels good and relaxes the body, it is not about fitness." Walking, he says, is not just a movement of the leg. "It's a proper human pattern where the arms swing, the joints move and the heart rate and temperature increase."
Alakananda Banerjee, head of the department of physiotherapy and rehabilitation at Max Hospital in Saket, Delhi, is also of the opinion that while the vibrating movement of the machine might tone the muscles to an extent, it cannot be equated with walking a kilometre or two.
Well, never mind. The telemarketers have more. Next arrives another portable machine -- the "mini gym" that promises to be the all-in-one solution. It has a base, measuring about 3 feet by 2 feet, and two cushy handles that can help you do everything -- cycle, perform abdominal, hip, leg and arm exercises, pushups and can also work as the stepper. There are at least six exercises you can do on this one machine. You can also adjust its resistance levels from grade one to three.
For a beginner, it's useful. For those who've already had the taste of a proper gym, well, maybe not. It works well for abdominal exercises and to exercise the arms using the front and back positions. For someone who detests pushups (like me), this machine is, in fact, quite helpful with its cushioned arms offering the much-needed support.
"If used mindfully to understand the technique and how the muscles behave, this device can indeed be useful," agrees Chhikara. "Even in the gym we have resistance bands for beginners who haven't tried a particular movement. Or else, the instructor supports a beginner by putting his hand under the chest. This machine uses the same technique." But this is where it ends. Once you get the hang of the technique, you have to let go of the machine and do the pushups on the floor or the mat, unsupported, with gravity working against you.
In a world where people are turning increasingly fitness conscious but have little time to go to the gym, home exercise equipment, like the ones I've fallen for, are becoming a popular option. But physiotherapists like Banerjee caution that using them without consulting an expert or verifying their claims could mean inviting injury. "We come across several such exercise-related injuries," she says. "No single exercise can be tailor-made for all kinds of people. The person's age, sex, body structure, health and even ethnicity have to be considered."
That wise advice has put a question mark on my long list of fitness possessions: the recently-acquired walk-simulator (Rs 3,600 approximately) and mini gym (Rs 2,500), and the past acquisitions that include a rotary massager (Rs 2,200), a stationary cycle, a stretch rope, exercise weights that keep rolling on the floor of the study-cum-guest room, the bench-press placed intelligently out in the balcony where the rain cannot spoil it and the exercise rod hidden behind a curtain.
Photograph: Contours Express/Wikimedia Commons
Note: This picture is used only for representational purpose